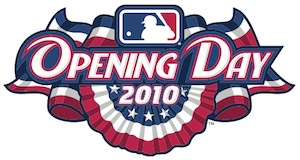 Precisely five months ago to the day, the New York Yankees downed the Philadelphia Phillies on a Wednesday night to claim the 27th World Series championship in franchise history. Today, the title defense begins, and no one wants to see the Yankees repeat more than the 25 men who make up the 2010 Yankees.
Over the last month, as the Yanks have played through their Grapefruit League schedule, we've previewed the individual pieces that make up the 2010 club. We haven't, however, offered up an overview of the team. Instead of running through the typical tropes — the Yankees need to stay healthy, the team has to hope that its aging core can stave off the inevitable decline — let's just enjoy the day.
The last time the Yankees had a chance to repeat when Opening Day rolled around was in 2001. It was the middle of my senior year in high school, and in a pre-Sept. 11 world, the Yankees were flying high as back-to-back-to-back World Series champions. That team knew that Paul O'Neill would probably be playing his final year in pinstripes and that Tino Martinez would perhaps wind up elsewhere in favor of soon-to-be free agent Jason Giambi. We didn't care though because the Yankees had beaten the Mets just a few months before. They were kings of New York and lords of baseball.
Today, we're back there again after nearly a decade away. The rest of baseball hates us; Boston's fans are itching at the chance to stick to the World Champion Yankees tonight; and I wouldn't have it any other way. It's always great being on top.
The next six months are going to be a marathon of baseball. We'll see, yet again, the ins and outs of the regular season. We'll see the team win some games, lose games. We'll nitpick pitching changes and offensive decisions. We'll bemoan the at-bats given to Marcus Thames or the innings giving to some bad reliever at the expense of the Next Big Thing down in Scranton. We'll scream at Derek Jeter when he squares around to bunt, and we'll sigh in exasperation as Brett Gardner takes a mighty hack and hits a pop up. We'll watch A-Rod strike out; we'll see Mariano Rivera blow a save or two. We'll see Bad A.J. and Good A.J., Home Run Javy and Untouchable Javy. It's all just the nature of the game, and it's all baseball.
In ten hours, the title defense begins. In ten hours, Josh Beckett will deliver a pitch to Derek Jeter, probably a fastball, probably a pitch Jeter will take, and baseball — honest to goodness regular season, this time it counts baseball — will be back. I can't wait.