When you've already taken the first two games of a series, when your Nos. 4 and 5 starters have limited them to four runs in those contests, and when you have your ace on the mound, you expect to complete the sweep. The Yankees failed in that regard yesterday. Sabathia actually pitched pretty well after Kurt Suzuki took him deep in the first, but that was enough offense for the A's. Dallas Braden prevented the Yankees' offense from doing too much damage, and the result was a rare low-scoring game.
Biggest Hit: Tex hits a long fly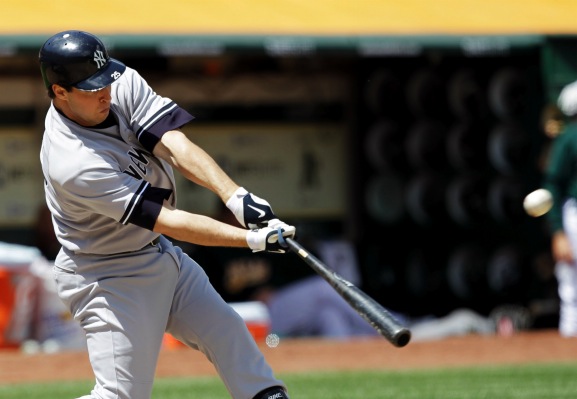 Down 4-1 in the top of the sixth, the Yankees needed to put a dent in the lead. Nick Johnson worked a six-pitch at-bat to lead off the inning, but swung at a changeup outside on a 3-2 count and grounded it to second base. That brought up Mark Teixeira.
As he often does, Braden jumped ahead in the count by getting a slider over for strike one. He came inside with a fastball on the next pitch, which Teixeira fouled away for strike two. Ahead in the count, Braden turned to his odd weapon, the screwball. According to dark overlord David Appelman, Braden had thrown the pitch just one time before yesterday's game. This one he delivered low and away, but Teixeira launched it to left-center, clearing the wall by plenty.
It was the Yankees second solo home run of the day off Braden, and unfortunately it was all they would get. Still, it's another encouraging sign from Tex. He slump continues — he was just 2 for 12 with a walk in the series, though both hits went for extra bases — but we know he's coming around.
Biggest Pitch: Suzuki's three-run blast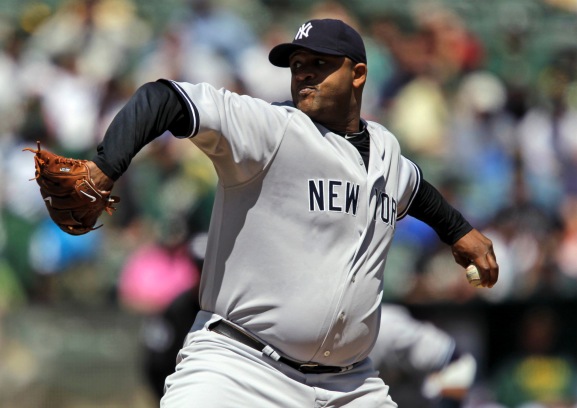 As mentioned in the opening paragraph, CC Sabathia pitched pretty well yesterday. He went all eight innings, giving the bullpen — specifically Joba Chamberlain and Mariano Rivera — a breather. He also used just 97 pitches, which is even more impressive when you look at his first inning. He threw 18 in that frame, meaning he needed just over 11 pitches per inning the rest of the way. Still, he had trouble settling into a groove during the first.
It started with a pitcher's nightmare, a four-pitch walk to Rajai Davis. They were all fastballs, and only the third and fourth pitches came close. That puts the pressure on, because Davis presents a perpetual threat to steal. He didn't during Daric Barton's at-bat, but his speed allowed him to advance on a groundball to second. He did, however, steal third during Ryan Sweeney's at-bat, which also resulted in a four-pitch walk.
The next pitch was CC's only real mistake of the game. After walking two batters on eight pitches, Sabathia needed to start strong against Kurt Suzuki. He delivered a 93 mph fastball that PitchFX classified as a sinker. The problem, though, wasn't with the pitch. It was the location, middle-in, and Suzuki guessed right. He hit a no-doubter to left, staking his team to a 3-0 lead. Normally the Yankees offense can cover such a deficit, but yesterday they just weren't feeling it.
Rodriguez to Cano to Johnson
Suzuki was responsible not only for the biggest positive WPA swing in the game, but also the biggest negative. In the sixth inning Sabathia again ran into some control problems. He allowed a single to Daric Barton on a 3-2 count, and then let him advance to second on a wild pitch. Then, for the second time in the game, he walked Sweeney on four pitches. Suzuki came up in a familiar situation, and just like the last time he swung at the first pitch. The result, though, couldn't have been any more different.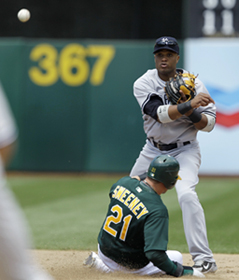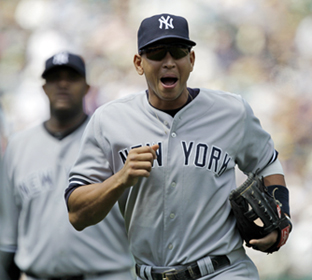 Both photo credits: Marcio Jose Sanchez/AP
This time Sabathia opened with a changeup, a bit below the zone. Suzuki grounded it sharply to A-Rod at third, who ran to tag third, then fired to second. Cano made a quick transfer, whipping the ball to Johnson at first, who stretched and completed the triple play. It was the first Yankees' triple play since 1968, and the first one I have ever seen while watching a baseball game live.
You can watch the video here. I think I've watched it about a dozen times since the game ended.
Annoyances
The whole offense was a bit of a downer. Particularly, though, Gardner grounding into the double play in the fifth, and then Cano grounding into the double play in the sixth, made me want to break my remote.
Mark Teixeira had a chance to put a dent in A's lead in the third. He came up with men on first and second with two outs, but couldn't manage a base hit. Johnson got a crack first, and he flied a pretty hittable pitch to left field. Tex actually worked a pretty good at-bat, seven pitches, but couldn't finish when Braden threw him a belt-high outside changeup. In a couple of weeks, I think, Teixeira parks that one, or at least hits it off the wall. He also only managed to foul off a changeup right down Broadway two pitches earlier.
Joys
The triple play, of course.
Marcus Thames continuing to pound the ball against lefties. This is why the Yankees signed him and kept him on board despite a slow spring. I'm sure many of us thought he'd be the first to be DFA'd this year, but that's almost certainly going to be Winn. Too bad the Braves would never trade them Hinske.
Dallas Braden. You can file his performance under annoyances, but his post-game interview was great. He basically ripped on A-Rod for jogging across the mound, even touching the rubber, while returning to first base after a Robinson Cano foul ball. A-Rod later said that, "It's not really a big deal." I wonder why Braden made it seem like one.
WPA Graph
This one is pretty boring.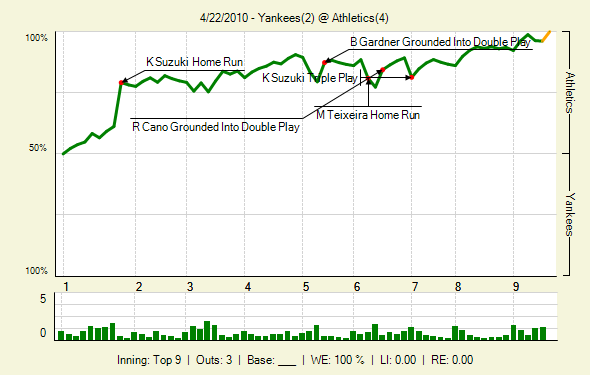 The full breakdown at FanGraphs.
Next Up
The Yanks travel down the coast for their second meeting of the year with Anaheim. Thankfully, there's only one 10 p.m. start. That would be tomorrow night, with A.J. Burnett going for the Yanks against Ervin Santana for the Halos.