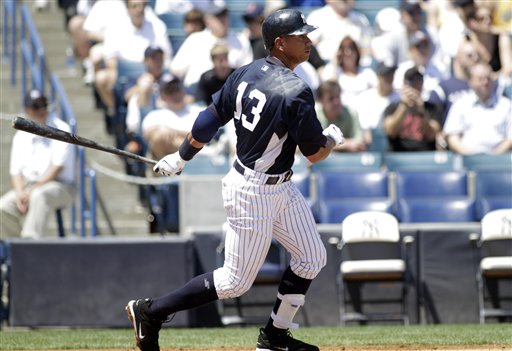 The Yankees' 2010 exhibition season is officially over; all that's left is tomorrow's friendly game against a handful of the team's top prospects. They finished the Grapefruit League season at 13-15 with a few ties mixed in, and escaped Florida relatively healthy. Spring Training stats don't mean a thing, but let's look at some leaders…
Batters (min. 20 at-bats)
AVG: Jon Weber, .452
OBP: Jorge Posada, .463
SLG: Mark Teixeira, .596
Hits: Robbie Cano, 20
HR: Nick Johnson & Teixeira, 3 each
RBI: Cano, 12
BB: Johnson, 13
SB: Ramiro Pena, 3
Pitchers (min. 8 IP)
ERA: Boone Logan, 1.74
WHIP: Logan, 0.58
K: Phil Hughes, 20
BB: Andy Pettitte, 2
GB/FB: Pettitte, 4.25
Small samples sizes and nothing really interesting. Meh. The season can't start soon enough.
Here's tonight's open thread. The Devils, Rangers, and Knicks are all in action, and the Rangers' game is tremendously important in terms of their playoff chances. Talk about whatever you want, just be cool.
Oh, and make sure you don't miss the 2010 RAB Pledge Drive.