This morning I planned to write about the three Robinson Cano plate appearances from last night in which he drew a walk. I knew there would be a few interesting tidbits — for starters, that it's not the first time in his career that he's done it — but what I didn't expect to find was a trend in his swings for the year. It appears that he's been laying off pitches outside the zone when it's delivered low and inside. This was not only something I saw last night, but, according to Cano's charts from the year, something that has happened all season.
I wondered if this was something that has happened just this season, or if Cano has always been selective on pitches in this location. I don't have the skills at this point to run a study like this, but two people I work with at FanGraphs, Jeff Zimmerman and Dave Allen, were kind enough to supply some research for me. These are all in the form of heat maps, which are self-explanatory. First up is Jeff, who supplied Cano's swing data, both from 2007 through 2009, and then a separate chart for this season.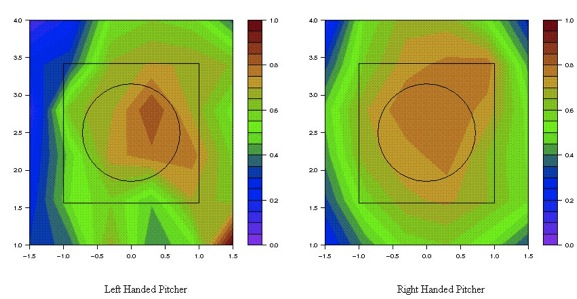 That's 2007 through 2009. It appears that, at least against right-handers, Cano has done a good job of laying off the low and inside pitch. He fared a bit worse against lefties, as you can see that greenish brownish streak off the plate low and inside, where it is a bit more green against righties. How does that compare to 2010?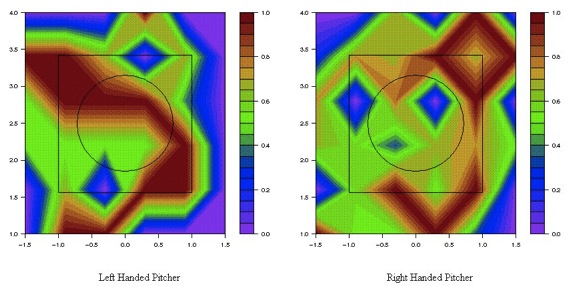 Cano has done a bit better against lefties this year on the low and inside pitch. In fact, it looks like he has a pretty good command of the strike zone at this point. He performs a bit worse against righties, especially when the pitch is more low than inside, but that's something we've come to expect from Cano.
Finally, I wondered if Cano should be laying off the low inside pitch. This is where Dave Allen played a large role. He sent a chart, complete with FanGraphs background, showing Cano's run values. Sure enough, he's green low and in. Then again, he's green in the middle of the plate, too, so I'm not sure how much that tells us. Still, it's worth a look.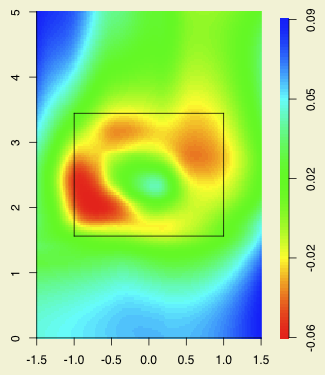 Again, thanks to Jeff and Dave for supplying these heat maps. I wish I could produce this type of stuff myself.
With that, this is your open thread for the evening. Talk about whatever right up until game time, when we'll gear up for a game thread.