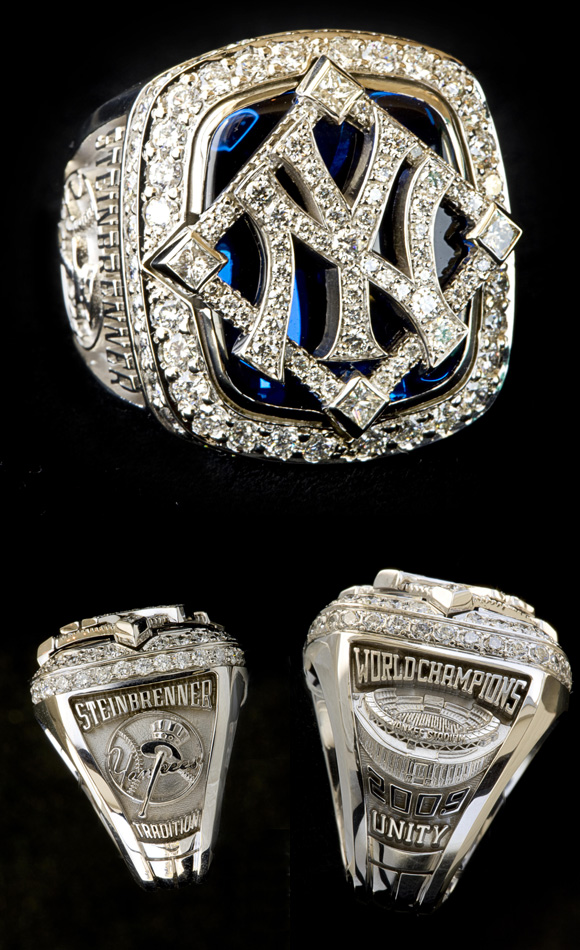 Take a good, long look at that beauty. That's what you get when you win the World Series.
The Yankees and the Balfour jewelry company teamed up to bring the team a hand-crafted ring made of natural-finished white gold. The NY logo is diamond-clustered, and it rises up from a diamond-lined baseball diamond. On one side, Yankee Stadium is engraved on the ring while the other features the Yankees logo and a nod to tradition and unity.
In addition to the new rings the Yanks handed out today, Balfour and the Bombers announced an upcoming museum exhibit set for Opening Day 2011. The jeweler is going to produce replicas from all 27 World Series rings in franchise history and display them along with information about the details of each. This bling-filled display will go up at Yankee Stadium next year.
Meanwhile, Joe, Mike and I hit up Opening Day today to watch the Yanks beat the Angels 7-5 in a game that wasn't nearly as close as the final score indicated. We'll have our extended recap up later tonight. For now, I have pictures. The full set of my photos from the ring ceremony is available here on flickr. Below are a few of my favorites.
Mariano admires the ring
A-Rod salutes the crowd
A group hug with Hideki
After the jump, I've embedded the full slide show. Use this thread as your open thread. In local action, the Mets and the Rockies play at 8:40 p.m., and there's a new episode of LOST tonight. Have it. Be good to each other.
Photo Credit: The photos of the ring are courtesy of the New York Yankees. All other photos by Benjamin Kabak.