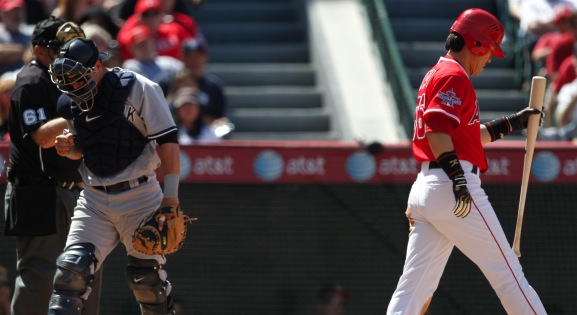 Every time the Yankees head out to Anaheim we can be sure to hear two things. First, that the Yankees, during their decade-plus run of success, haven't fared very well against the Angels, especially at Angels Ballpark. Second, that Alex Rodriguez has hit a lot of home runs there. To the second, of course he did. He spent the first nine years of his career on two teams in the AL West. Of the two remaining, one plays in a Stadium that has campouts in its foul territory. Of course he hit more homers at Angels Ballpark than any other stadium. To the first, well, it's true.
A-Rod did not hit a home run yesterday, but the Yankees did score a victory in Anaheim. Andy Pettitte was the real story, going eight strong while striking out eight in a dominant start. The Yankees, owned by Pineiro just last week, apparently learned something and ran up the score in the middle innings. It ended with a decisive victory for the Yanks.
Biggest Hit: The No. 9 hitter comes through
Part of the reason the Yankees' offense is off to such a hot start lies at the bottom of the order. They've gotten some clutch performances from their 7-8-9 hitters, which has helped make up for struggles from Nick Johnson and Mark Teixeira atop the order. Yesterday the Yanks got a big boost from the bottom of their order, as the No. 9 hitter slapped the biggest hit of the game.
I wasn't a huge fan of how they got there, though. A-Rod and Cano both managed singles off Joel Pineiro to set the Yanks up for a big inning. With runners on first and second and none out up came Nick Swisher, who had doubled home the Yankees first run just two innings earlier. This time, though, he didn't get a chance for another big hit. Instead he laid down a successful sac bunt, if you consider giving away a run a success.
With Ramiro Pena and Francisco Cervelli due up, Mike Scioscia had a no-brainer of a decision. Walk Granderson and deal with the bottom two hitters in the order — both reserve players. Pena's ensuing strikeout came as no surprise. It actually represented the biggest negative WPA swing of the game, -.073, because it took off the sac fly. That brought up Francisco Cervelli. While he's not as bad a hitter as Pena, he's still not the guy you want up with the bases loaded and two out. Yet he came through, grounding one under Brandon Wood's glove and into left for a two-run single.
Despite the positive result, I don't like taking the bat out of Swisher's hands there. He's been swinging it well all season, making a lot of outs on well-hit baseballs. He had a homer on Friday and a double already in the game. Why sacrifice him when Scioscia can walk the next hitter and deal with the bottom of the order?
Biggest Pitch: Uh, Napoli's single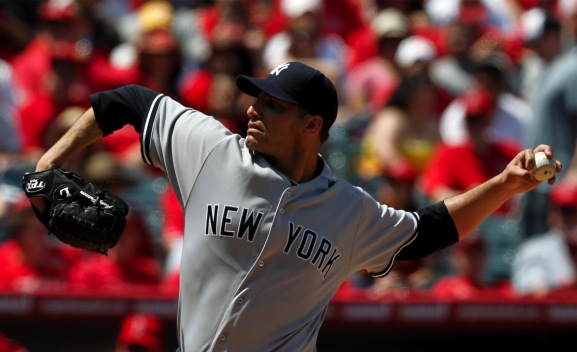 When a pitcher is as flat dominant as Andy Pettitte was yesterday, there tend not to be many big dings on his register. From the fourth on the Angels were pretty much out of the game, so their biggest hit clearly came in the early innings. That would be the third, when Mike Napoli singled to lead off the inning. Seriously. In the context of the game, that was the most grievous hit Pettitte allowed. The game was still 1-0 Yanks at that point, so it put the tying run on base, but not much else.
While it was a well-earned hit — Napoli worked a seven-pitch at-bat — he ruined it one batter later. Brandon Wood singled to left, a bit towards center. Napoli, by no means a fast guy, tried to sneak in the extra base, but Brett Gardner was having none of it. He actually took his time and made an accurate throw, giving Ramiro Pena enough time to apply the tag and get Napoli at third.
Pettitte finished the inning, but it was certainly his shakiest. After the Wood single Erick Aybar lined out to Cano and Abreu singled. Pettitte then caught a break on a 2-2 fastball to Torii Hunter, which just caught the inside edge. PitchFX did not like it. Nor did Hunter. But the home plate ump did, and that's all that matters. It was the last time Pettitte had to worry about anything.
Pettitte again mixes it up
Part of Pettitte's success this season has been his even mixing of pitches. While he clearly goes back to the four-seamer most often, he's used four secondary pitches, including a two-seam fastball, to retire hitter after hitter. In this game he not only went to his secondary pitches, but also threw them for strikes with consistency. Of his 114 pitches, 75 were strikes. Even more impressive, of his 65 non-four-seamers, 45 were strikes.
He also went to his secondary stuff pretty democratically, using 21 curveballs, 21 cutters, and 16 two-seamers (only seven changeups, but he always uses that less frequently). Here's something, too. His two-seamer actually looks like an excellent complement to his four-seamer. I'd like to see what happens when he starts working it in more — but only after what he's doing right now stops working. I like to break down baseball to its core, but never would I suggest someone like Pettitte change what he's doing right now.
His four-seam fastball averaged 88.19 mph and maxed out at 90.4, breaking horizontally 0.30 inches and vertically 10.07. His two-seamer averaged 88.4 mph and touched 91. It broke horizontally 7.06 inches and vertically 7.39. According to FanGraphs' pitch type values Andy's fastball has been a positive for him so far this season, after being negative for the past three. The two-seamer, I think, is a big part of that.
Joys
Cervelli coming through again. It's impossible to not like the kid, and although I think that some fans are starting to overhype him, he's still a quality backup catcher. I love his antics behind the plate, and I love his attitude. The Yanks couldn't ask for much more from a backup catcher.
That Derek Jeter guy just knows how to hit, doesn't he. Another 2 for 5 day for the Captain. One of these days he'll slow down, but I don't think that's coming soon.
Cano just keeps hitting. It's still early, and we've urged caution when writing off certain players (::cough:: Nick Johnson ::cough::), but Cano has fit perfectly into the five hole.
Swisher was 2 for 4 with an RBI double. I still don't get why he bunted in the fourth.
Few things make me happier than an excellent Pettitte start.
Brett Gardner's extended announcement that he wants the left field job full-time.
Annoyances
I wasn't going to mention the sac bunt again, but what the hell? Just not a move I'd ever favor. I'm glad it worked out, of course, but letting Swisher swing there would have been the preferred move.
That's about it. Hard to complain about a decisive win.
WPA Graph
Booooooooring.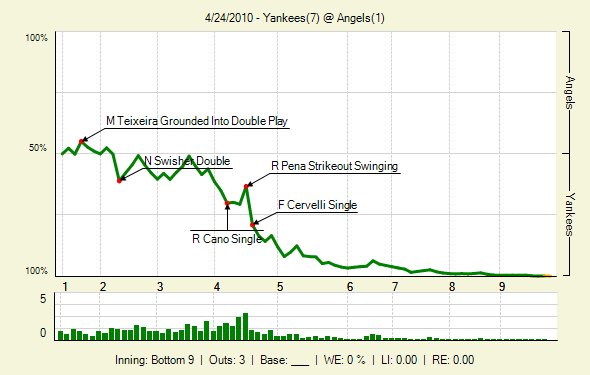 Full breakdown at FanGraphs.
Up Next
Rubber game tomorrow afternoon. It'll start a little earlier, 3:35, this time on YES rather than Fox. Javy Vazquez tries for redemption against the Angels, while Scott Kazmir tries for the same. My money is on Vazquez.