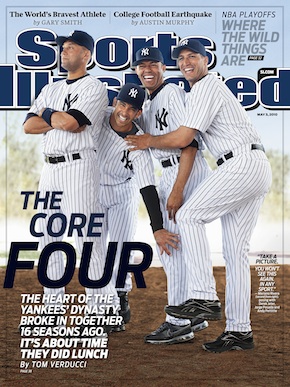 We hear a lot about the Yanks' Core Four these days. Andy Pettitte, Mariano Rivera, Jorge Posada and, of course, Derek Jeter make up the Yanks' elder statesmen. They're widely respected by opponents, have played together at the Big League level since 1995 and each own five New York Yankees World Series rings. In this day and age of free agency and player movement, that three of them have played together for so long with only Pettitte's brief, three-year departure from 2004-2007 to mar the foursome is a testament to their baseball longevity.
As these four Yankees bask in the glow of their fifth championship, Tom Verducci from Sports Illustrated brought them together for an intimate lunch and a resulting magazine cover. The interview covers a wide range of topics from their experiences in the minors to their family plans, and I wanted to highlight some of it.
SI: I want to go back to 1992, when Andy was throwing to Jorge, a converted second baseman, in Class A in Greensboro, N.C. Posada: Go back to 1991. I was catching a bullpen from him [at short-season Class A] Oneonta, and he's throwing me knuckle- balls. The ball hit me right in the knee. I said, "No more knuckleballs."
Pettitte: I had a knuckleball when I signed.
Jeter: Yeah, you're still throwing knuckleballs.
Pettitte: I'd get two strikes on somebody and throw it as hard as I could. Struck everybody out. And then they told me after the first year, "You've got to can it." They said, "After you've pitched for 10 years in the big leagues, if you want to break it back out, you can."
SI: So now you can throw it again.
Pettitte: It's no good now. I lost it.
SI: How about when Jeter showed up in Greensboro? He joined you guys on August 20, 1992.
Posada: [Laughs.] Good-looking fellow.
Rivera: Where was I?
SI: Fort Lauderdale, High A.
Posada: You were older. Let's make sure everybody knows that. He's the oldest.
Rivera: I saw Jeet….Oh, my God. I was with my cousin [former major league outfielder Ruben Rivera] in Tampa. We were playing, if I'm not mistaken, the Cardinals in St. Pete. I looked at Jeet [who was in the Gulf Coast League before Greensboro]. . . . I was skinny." This boy was dying. I was like, Who is that?
Posada: He comes in the clubhouse, and he's got high tops, with an ankle brace. And remember that Louisville Slugger bag that you stick your bats in? He had that. I was like, Wow, this is our first-rounder?
Rivera: And throwing the ball away. . . . But I saw the hitting. He hit the ball hard, and far. I said, "Wow." …
SI: Mariano, I remember you once said you cried a lot in the minor leagues, right?
Rivera: Not that I cried a lot. I did cry, like two, three times. That was my second year, in Greensboro, 1991. Because I couldn't communicate. But imagine, I came from Panama. My first year, in Tampa, most of the people I played with spoke Spanish. So I was fine. My second year I went to Greensboro. And no Spanish at all. It was hard. I think that was one of the toughest times that I had.
Later on, the four talk about their family lives:
SI: How long are you going to do this? I'm assuming you guys all are in the same boat as far as that goes. Does anybody plan out, "I want to play X number of years?"
Rivera: I don't think so. I mean, how many times have I retired?
Jeter: He retires every other year.
Rivera: Every contract I think, Well, this is it for me. Jeter: [Points at Pettitte.] Him, too. "This is my last year. One more year."
Pettitte: What are you talking about? I was [retired]. I was.
Rivera: I was retired every year after my contract was up. [But] I'm still going.
SI: This game keeps pulling you back.
Rivera: I love this game. This is what I know how to do. For me, it's kind of hard to just leave and be competitive. I'm competitive.
Jeter: It's tough to leave when you're having fun…

Rivera: I think it's easier for [Jeter] because he doesn't have a family. He can do this until…he'll be 40 and have no kids still. But to me, and I can talk about Andy and also Sado, you miss your kids. You miss your family. This year it has hit me hard, especially in spring training. My kids were in New York. I was in Tampa. And I was missing them a lot. So that line, where's your family and where's your game . . . how do you draw that line? How long are you going to do this? How long are they going to support you? And then flying, and those things that petrify you. I'm petrified by flights. I suffer on those flights.
Verducci's story highlights how these four players make up a unique core of athletes. For many of us who came of age when Jeter, Rivera, Pettite and Posada arrived in New York, they are the Yankees, and I wonder when we'll see it again. Rivera isn't sure it will happen soon. "The beauty about this group of guys is it's family," he said. "As a family we all pull for one another. It's beautiful. I don't think you will have this, or see this, again, in any other sport. Period."
The interview isn't yet available online, but a different part of the discussion is. The four talk about changes to the game since they started player, and that too is illuminating. Players get bigger; the strike zone changes; their teammates retire, get traded or let go. Still, there they are, Derek Jeter, Jorge Posada, Andy Pettitte and Mariano Rivera, Yankees through and through.