Fresh off a drubbing at the hands of the Rays last night, the Yankees returned to the field this afternoon looking to get back in the win column. Joe Girardi handed the ball off to his ace, and CC Sabathia didn't disappoint.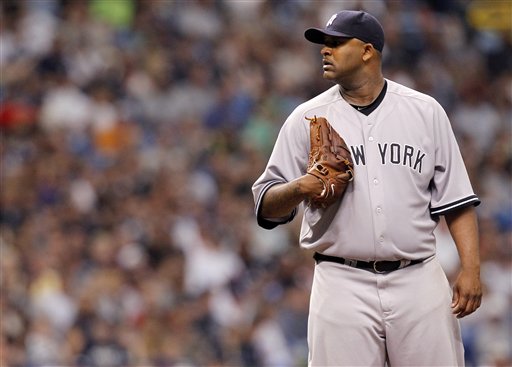 Si Si
Forget big hits and big outs, the story of Saturday's game is clear. Coming off an outing in which he gave up five runs in 5.1 innings, Sabathia wasn't about to be shown up by David Price, another fire-balling lefty who dominated the Yankees Friday night for close to eight innings. Less than 24 hours later on Saturday afternoon, CC was quite literally large and in charge.
The 4th inning ended just the like the three before it, with three outs recorded and no one reaching base. It was too early to start to starting thinking about a date with perfection, but it was apparent Sabathia had it all working. Evan Longoria walked to leadoff the 5th, and it wasn't until the 7th inning that the Rays were able to muster another baserunner.
CC absolutely dominated the Rays across seven-plus innings, taking a no-hitter into the 8th and never allowing more than one batter to reach base in any inning. Just 69 of his 111 pitches were strikes, but home plate Wally Bell had a pretty tight strike zone. Apparently he didn't get the memo from Joe West about speeding up the game. Fourteen of those 69 strikes came when Tampa batters swung and missed, a whopping 20.3%.
Joe Maddon's lineup was stacked with righthanders, but Sabathia mowed through them with a fastball that topped out at 96 and a changeup that shined like justice. Kelly Shoppach, CC's former catcher in Cleveland, broke up the no-hit bid with a 0-1 single in the 8th, which prompted Joe Girardi to go and get his starter without hesitation. Sabathia had thrown 111 pitches, most of them with little or no stress, but throwing that many pitches this early in the year isn't exactly ideal. Girardi said Shoppach was going to be CC's last batter one way or the other, but that's something every manager says after their starter loses a no-hitter late in the game.
If true, I think he was just taking mercy on those poor Tampa hitters. They were simply no match for the Yankee ace.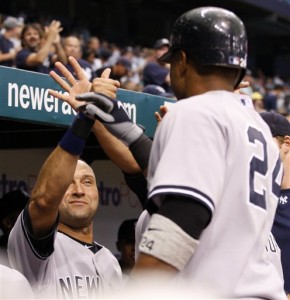 Biggest Hit: Robinson Cano's two run homer
When you win by a score of 10-0, none of the hits are really all that big. In terms of WPA, it was Robbie Cano's two run shot off of Wade Davis that opened the scoring in the 4th inning. We had ourselves a good old fashioned pitching duel up to that point, but once Cano went deep, the Yankees never looked back.
Frankly, the biggest hit of the afternoon didn't even come off the bat of a Yankee. It was Shoppach's knock that ended CC's chance at history.
Biggest Out: B.J. Upton's fly out
Sabathia was in control all night, and there really wasn't a moment where a hit would have swung the momentum into Tampa's favor. B.J. Upton flew out harmlessly to end the 5th inning with Longoria on third, which was the biggest threat the Rays could mount against the Yanks' ace. Still, the score was 4-0 in favor of the good guys at the time.
Things that made me smile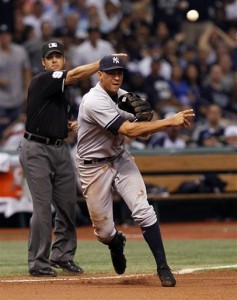 How about that defense? Mark Teixeira preserved the no-no with a diving grab of Jason Bartlett's line drive to end the 5th, then A-Rod did him one better by making a diving grab of his own on a B.J. Upton line drive in the 7th, throwing out the speedy centerfielder with a few strides to spare. That's the moment when the no-hit talk really got serious. The team was playing superb defense behind Sabathia, which is what you need to hold a big league team to zero hits over the course of a game.
Tex and A-Rod also did some good things with the stick as well. The Yanks' first baseman broke out of a 0-for-17 slump by picking up a trio of hits, while A-Rod picked up his 1,000th knock in pinstripes. Part of me still feels like he just got here.
And what about this Brett Gardner character? He ever so quietly went 2-for-4 with a walk, two runs scored, two driven in, and his third stolen base on the season. The 27 total pitches he saw were more than any other player on the field, and he's hitting a cool .385-.467-.385 in three starts and one appearance as a defensive replacement. Forget this Marcus Thames against lefthanders nonsense, let's see what Brett The Jet can do with a full-time job.
Frankie Cervelli taking inside pitches. That exaggerated bend at the waist he does while throwing his open hands in the air gets me every time.
WPA Graph
Make sure you check out the individual player breakdowns at FanGraphs' box score.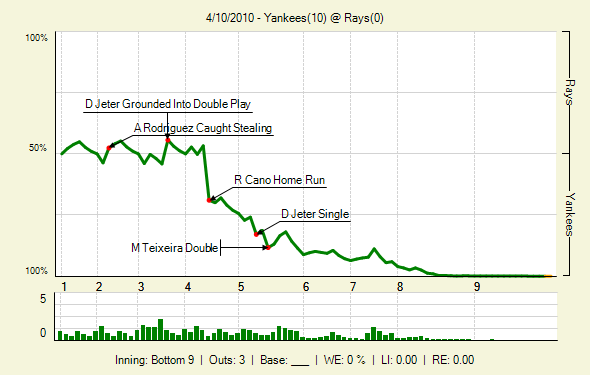 Next Up
These two teams are right back at it tomorrow afternoon. First pitch is scheduled for 1:40pm ET, and it'll be nationally broadcast on TBS if you're outside the NY market. A.J. Burnett will try to one up Sabathia, getting the ball against Jamie Shields. Good luck with that.