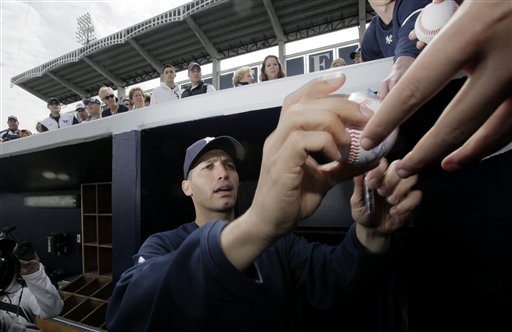 At long last, the Yankees wrap up their official Spring Training schedule today. Tomorrow they'll play a friendly game against their top prospects before heading to Boston to kick off the 2010 regular season against those small market Red Sox.
Andy Pettitte takes the mound today with just four official innings to his name because he's had to deal with an inordinate number of rainouts. Most of his work has come in simulated or minor league games. Don't worry, it's bright and sunny in Tampa today, so the game with definitely be played. There aren't any position battles to decide or roster spots left to be won, so this game is all about getting some work in and not getting hurt. Here's the starting nine…
Jeter, SS
Johnson, DH
Teixeira, 1B
A-Rod, 3B
Cano, 2B
Swisher, RF
Granderson, CF
Gardner, LF
Mike Rivera, C
Scheduled Pitchers: Andy Pettitte and Mariano Rivera. Damaso Marte was supposed to go, but his shoulder is acting up. Boone Logan, Grant Duff, Amaury Sanit, and Josh Schmidt are also available.
Also scheduled to play: Francisco Arcia, Juan Miranda, Luis Nunez, Ramiro Pena, P.J. Pilittere, Austin Romine, Justin Snyder, Marcus Thames, Jon Weber, and Randy Winn.
First pitch is scheduled for 1:05pm ET and can be seen on both YES and ESPN. After the jump is today's chat, so join in.