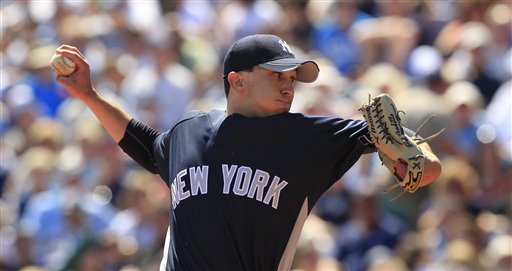 I don't know about you guys, but I've been waiting for this day all spring. The Yankees will play a friendly exhibition against their top prospects this afternoon, so we'll get to see Jesus Montero attempt to go shot-for-shot with Alex Rodriguez, Slade Heathcott roam the same swath of grass as Curtis Granderson, and David Adams try to out-line drive Robbie Cano. The only guy who won't be there is CC Sabathia, as tomorrow's starter went up to Boston ahead of everyone else.
The nine players in the Yanks' lineup will combine to make roughly $112,275,000  in 2010. The Future Stars' lineup cost a total of $8.5M or so in signing bonuses, with Heathcott accounting for roughly one-fourth of that. I expect it to be a blood bath. Here's the lineups…
Yankees
Derek Jeter, SS
Jorge Posada, C
Mark Teixeira, 1B
Alex Rodriguez, 3B
Robinson Cano, 2B
Swisher, DH
Granderson, CF
Winn, RF
Gardner, LF
Javy Vazquez, SP
Future Stars
Slade Heathcott, CF
Corban Joseph, 3B
Jesus Montero, C
David Adams, 2B
J.R. Murphy, DH
Colin Curtis, LF
Bradley Suttle, 1B
Eduardo Nunez, SS
Melky Mesa, RF
Jon Albaladejo, SP
Chad Jennings has the rest of the pitchers and position players that are available. There's a whole lot of 'em.
First pitch is scheduled for 1:05pm ET, and yes, the game will be broadcast on YES. After today, the games count.