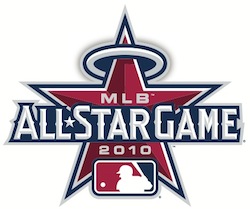 Major League Baseball just can't keep its hands off the All Star Game. Although this glorified exhibition game "counts" for something, the powers-that-be have been tinkering with the format over the last few years. After the 2002 game ended in a tie, the All Star Game became the determining factor for home field advantage in the World Series, and the rosters expanded to ensure a deeper bench.
Today, MLB announced a new round of changes — including the universal DH no matter the home ballpark — that will be implemented this year when the game heads to Anaheim. The changes came out of the workings of the Commissioner's Special Committee for On-Field Matters, and the Players Association has given them its blessings. They are as follows.:
The designated hitter rule will now be utilized by both teams regardless of whether the All-Star Game is played in an American League or a National League ballpark. The National League's starting DH will be selected by the N.L. All-Star manager, while the American League's starting DH will continue to be selected via fan balloting.
Any pitcher selected to an All-Star Team who starts a regular season game on the Sunday immediately preceding the All-Star Game will not be eligible to pitch in the All-Star Game and will be replaced on the roster. The pitcher who is ineligible to play in the All-Star Game will be recognized as an All-Star, will be welcome to participate in All-Star festivities and will be introduced in uniform.
Rosters will be expanded from 33 players to 34 players, consisting of 21 position players and 13 pitchers. Last year's 33-man rosters consisted of 20 position players and 13 pitchers.
In addition to the existing injured catcher rule, one additional position player who has been selected to an All-Star Team will be designated by each All-Star manager as eligible to return to the game in the event that the last position player at any position is injured.
By and large, these rules seem to guard against the injury potential while also enhancing the entertainment value of the game. With pitchers no longer batting, AL managers aren't forced into some awkward double-switch situations, and the reality is that fans would rather see a slugger rather than a weak-hitter pitcher come to the plate during the Midsummer Classic. Perhaps with some extra offense, the NL, winless since 1996, will have a fighting chance.
These recommendations are among the first in a series that should come from the Commission's committee. Consisting of, according to USA Today, "Tony La Russa, Mike Scioscia, Jim Leyland and Joe Torre, eight current and former front-office executives and Hall of Famer Frank Robinson," this group has already urged MLB to compress the playoff schedule, and the panel is set to release a longer report on the game last this year.