In his last three starts, CC Sabathia has thrown to Francisco Cervelli. For the most part, this appeared to be the luck of the draw. Each start has been either a day game after a night game, or else a night game before a day game. The latter case happened just once, in the rain-shortened game against Texas. Posada had to sit for either Friday's or Saturday's game, and since Joe Girardi has been deliberately pairing his starting catcher with A.J. Burnett, Saturday's starter, it was a clear choice to write Cervelli's name in the nine spot.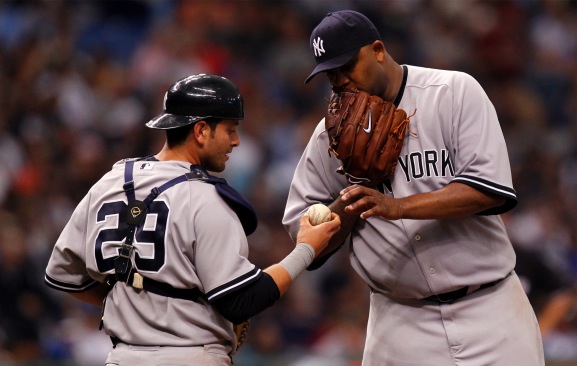 Yet, despite the coincidental nature of Cervelli catching Sabathia, there seems to be something there. Last season Cervelli caught Sabathia 10 times, which equalled Jose Molina's total and was just five fewer than Posada's. Adding it up, Sabathia threw to the backup catcher 20 times while he threw to the starter just 15. Posada's May injury skews that number a bit, since Molina was hurt at the time and Cervelli started most games. Still, that was a short stretch. If Girardi deployed the backup catcher only when Posada needed a rest, we should have seen more Posada starts when CC was on the mound.
A glance at the results reveals a discrepancy. With Molina and Cervelli catching, Sabathia performed much better. In those 20 games he averaged almost 7.1 innings per start. In the 15 games with Posada he averaged just 5.2 innings per start. As expected, the results favored Cervelli and Molina. Opponents hit .195/.244/.307 when Sabathia threw to Cervelli and .233/.273/.349 when he threw to Molina. With Posada behind the plate, though, the results were pretty terrible, as opponents hit .262/.344/.414. This would appear an indictment of Posada. As with most baseball concepts, though, this one isn't black and white.
In 2008 Sabathia got off to a poor start. He pitched like a repeat Cy Young winner down the stretch, but when he started the season with Cleveland he was beyond horrible. In six April starts he lasted just 32 innings and allowed 28 runs. Last year we saw much of the same. It was a bit better, as he pitched 32.1 innings in five starts, allowing 17 earned runs, but it was still his worst month. The poor start extended into May a bit, and through his first six starts Sabathia had allowed 21 earned runs in 39 innings. It seemed, then, that Sabathia was simply a slow starter. He proved that later in the season, as he pitched like the ace the Yankees had envisioned.
Posada caught two of those early poor starts, Opening Day against the Oroles and then the 6.2-inning, seven-run performance against the A's later that month. He also caught the home opener against the Indians. While Sabathia allowed only one run in that span, he also allowed five hits, including three doubles, and walked five. Also, on the season's final day, Sabathia allowed nine runs on eight hits and five walks in just 2.2 innings. Behind the plate: Jose Molina. These all seem like aberrant performances, either due to a slow start — Molina caught two bad games during Sabathia's first six starts — or nonchalance at season's end.
Sabathia surrendered five or more runs in eight starts last year. Posada caught four of them, though again three were either in April or otherwise the last game of the year. Molina caught three, while Cervelli caught just one. On the other end, Sabathia allowed zero or one runs in 13 starts, and the distribution is quite even. Posada and Molina caught four each, while Cervelli caught five. Again, this all looks good for Cervelli. In their 10 starts together last year Cervelli caught just one clunker and five gems.
There might be something to the Sabathia-Cervelli connection, though I'm not willing to draw any conclusions based on 13 starts. There's just so much more going on for a pitcher beyond the guy who receives the pitches. As Sabathia showed last season, he was equally apt to throw a gem or a clunker with Posada or Molina behind the plate, and Molina has a far better defensive reputation than Jorge. Again, maybe there's something there, but I don't think the data shows anything definitive.
Of course, if Sabathia pitches poorly tonight we'll hear plenty about his work with Jorge. I'd still dismiss it, though. Then again, I don't expect a poor start from Sabathia, so I don't expect it will be an issue anyway.