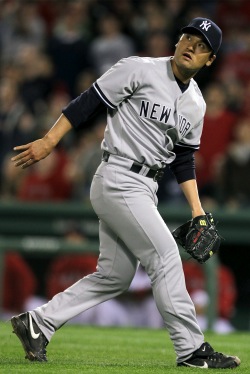 Last night's game represented Phase I of a bullpen experiment. With 2009's primary setup man moving into the rotation, Joe Girardi will have to go through the sometimes painful motions of figuring out who belongs where in the bullpen pecking order again this year. Much like 2009, David Robertson was brought into a sticky situation – a strikeout situation – in the 6th inning, but Girardi opted to deploy Chan Ho Park in the 7th inning even though Robertson had thrown just six pitches.
GM Brian Cashman did nothing but gush when he signed Chan Ho Park, and he certainly looked the part with six stellar spring outings (7 IP, 4 H, 0 R, 0 BB, 8 K). Of course, Spring Training stats mean nothing, so Park's audition for a late inning setup job started yesterday. Summoned out of the bullpen to face three guys who don't exactly represent power threats (Marco Scutaro, Jacoby Ellsbury, Dustin Pedroia), he didn't just relinquish the Yanks' two run lead, but he left the game with the go-ahead run in scoring position.
After sitting 93-95 with his fastball during his relief stint with the Phillies last year, Park sat 90-93 last night, which really isn't that big of a deal since it's April and it was his first outing for the year. Once the weather warms up and he gets some more innings in, he should be back up to normal velocity. More importantly, he was missing his spots big time. Just look at where Jorge Posada set up and where the pitch ended up on Pedroia's homer. It was supposed to be a fastball down and away, probably to try and get a double play ball, but it ended up at the letters and out over the plate. Pedroia's a good hitter, and he did what good hitters are supposed to do.
What I really want to touch on is why Park was brought into the game in that spot anyway. Robertson had thrown just those six pitches, and had plenty more in the tank if Girardi wanted to give him at least start the 7th. Instead, the manager needed to begin the process of figuring out who are going to be the team's late inning, hold a small lead in a big game relievers. It's not always going to pretty, and there will be plenty of times when such an audition costs the team a game, which is exactly what happened last night. But as we've seen in the past two years, we're looking at short-terms losses for long-term gains.
Despite his fantastic spring and rock solid relief work for the Phillies last year, no one really knows what to expect out of Park in the AL East. He has the traits that lead you to believe he'll be successful – he gets groundballs, throws strikes, can go multiple innings – but until we see him out there, we have no idea how he'll respond. That's why it's important to get him out there in these kind of spots sooner rather than later. To make a decision and figure out his role as soon as possible. Will he continues to miss those spots, or is that just a function of throwing only seven starts in camp? It's trial by fire, plain and simple.
Easing Park into it by starting him out in lower leveraged innings may sound like a good idea, but that just prolongs the process. He's 36-years-old, not some rookie that has to learn the ropes. He should know the routine and know what's expected of him. There's no sense in dragging this out, run Park out there in this big spots in April and let's see what he's got. Is there a chance he's the next LaTroy Hawkins? Sure, but right now we have no idea. He didn't get off to a good start last night, but one outing and 22 pitches isn't enough of anything to base a decision on. He'll get another chance to prove himself, probably this series, and that's just the next step in determining his value to the 2010 New York Yankees.