The Yankees arrived on the West Coast on a high note, having won their last four games and seven of their last eight overall. The team enjoyed a nice moment before the game, presenting  Chad Gaudin and Edwar Ramirez with their 2009 World Series rings, but there was no mercy to be found once everybody took the field.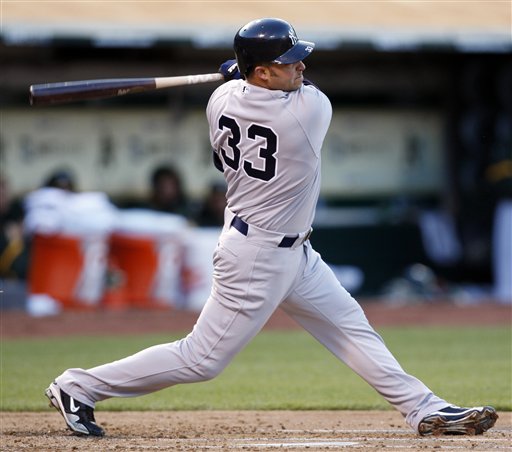 Biggest Hit: Nick Swisher's two run single
Before the game even got underway, I said Gio Gonzalez was exactly the kind of pitcher that the Yankees should destroy. He throws way too many pitches out of the zone, and this lineup isn't going to help him out at all. Sure enough, they made him pay before starter Javy Vazquez even came out of the dugout.
Derek Jeter and Nick Johnson started the first inning off by making two very quick outs (just five pitches between the two of them), but Mark Teixeira doubled them up by taking four straight fastballs for a 3-1 count before ripping the fifth into the corner for a double. Alex Rodriguez and Robbie Cano followed with walks, and Jorge Posada reached base with a little help from Daric Barton's stone hands at first. The Yanks were up a run, but they had a golden opportunity to cash in more.
At the plate was Nick Swisher, who coming into the game had made outs in his last nine plate appearances and hadn't picked up a hit since tripling off Joel Pineiro last Wednesday. He had become anxious at the plate, hacking at the first more than a few times in the previous series against the Rangers. Gonzalez poured a first pitch fastball in for a questionable called strike, then two more for balls and a 2-1 count. Gonzalez had thrown Swisher three fastballs clocked at 93, 93, and 94, and he went right back to the well for another 94 mph heater, which Swisher promptly deposited into centerfield for a two run single. The Yankees had an early three run lead, and never looked back.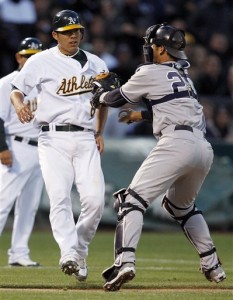 Biggest Out: Travis Buck's 1-3 double play
After the Yankees staked Javy to a three run lead, he did his best to try and hand at least part of it back in the second. With runners on first and third and one out, Travis Buck worked himself into a full count before squaring up a hanging curveball out over the plate. The ball was ticketed for centerfield, but Vazquez stuck his glove out and picked it off as it went by. Mark Ellis was running on the play, so Javy lobbed it over to Teixeira to double him off first for an easy third out.
Combined with A-Rod's heads up play to get the lead runner at the plate for the first out, it was one of the best escape jobs we'll see all season. When you've got men on second and third with no outs, you hope to get out of the inning with just one run scoring. But to get out with the shutout intact? That's big.
Honorable Mention: Kevin Kouzmanoff's strikeout
The Yankees seemed to be in control of this one of this one all game long, but it almost got away from them for a bit in the 7th. Boone Logan, making his Yankee debut, recording two quick outs before a poor throw by Jeter extended the inning. Barton followed up with a single to right, and Logan couldn't put the lefty swinging Ryan Sweeney away, loaded the bases on a free pass, all with two outs.
Out came Joe Girardi from the dugout, and in came Joba Chamberlain from the bullpen to face Kouzmanoff, the A's cleanup hitter. Joba started him off with a slider off the plate for ball one, but he picked up two strikes when Kouz fouled off a fastball and another slider. The fourth pitch was yet another slider, the third of the at-bat, though the A's third basemen couldn't hold up in time and went down on a check swing strikeout. Obviously a grand slam is the worst case scenario, but even if Joba had allowed a ball to get into the gap, all of a sudden we're looking at a one run game with seven outs to go.
Vazquez grinds it out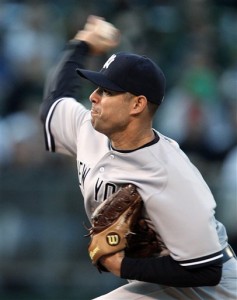 With the memory of his two first starts fresh in everyone's minds, Javy Vazquez went out tonight trying to pick up not just a win for the team, but also a win for his confidence. Staked to a three run lead before he even threw a pitch, Javy fired off four shutout innings before serving up garbage time homers to Travis Buck and Kurt Suzuki, but more on that later.
It was clear from the start that Vazquez didn't have his best stuff, and he struggled to put hitters away all night. Sixteen of the 23 batters he faced saw at least four pitches in their plate appearances, and ten saw at least five. The A's are a patient team, but it's not a lineup that should require just under a hundred pitches for five innings of work.
Vazquez threw 107 pitches on the night, mixing it up with 51 fastballs, 24 curveballs, 19 changeups, and 13 sliders. His fastball didn't start to crack 90 mph with regularity until the third inning, and he put at least one batter on base in every inning he pitched. Vazquez helped himself out with some fine defense, starting a pair of double plays while adding a nice play on a comebacker that hit him in the leg to record an out.
That two run homer to Suzuki to cap off Javy's night makes his pitching line (5.1 IP, 6 H, 3 R, 3 ER, 3 BB, 6 K) look worse than it should be, but overall he battled throughout the game and made some big pitches when he had too. It's nothing to write home about, but I'm sure he feels good and now has something to build off of.
Happy Moments
That first inning was a treat. After Jeter and Johnson made those first two outs on five pitches, the guys behind them proceeded to load the bases, push three runs across, and force Gonzalez to throw another 31 pitches in the frame before recording the last out. Also, Javy getting out of that second and third with no outs jam in the 2nd. It wasn't textbook, but it worked. Disaster was imminent, but the A's got nothing out of it. Alex just never seems to make a bad decision on the field, the guy is a baseball robot.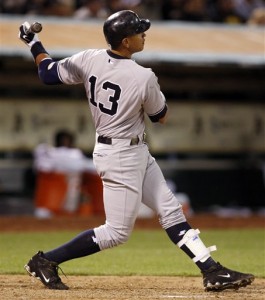 Speaking of A-Rod, holy schnikees was that a bomb off Craig Breslow in the 5th. It was one of those homers that he didn't even bother to watch in flight, he knew it was gone as soon as it left the bat. A-Rod's now one homer behind Frank Robinson for seventh place on the all time list.
Patience. The Yankees' lineup is just devastating if the opposing starter does anything less than pound the zone; only once in the last five games has a starter completed at least five against against the Yanks. They scored seven runs on just five hits tonight, coaxing ten walks out of A's pitching. Even Cano got in on the act, drawing three walks to bring his season total to five. Overall, the Yankees have scored at least three runs in every game this season, and at least five runs in ten of the 13 games. That's getting it done with the stick.
Joba looked fantastic tonight. PitchFX had him topping out at 96 with the fastball, and overall he just looked very sharp. Best he's looked all season, and probably the best he's looked since 2008.
Oh, and hey look, it's Edwar! Glad to see he hasn't changed one bit.
Annoying Moments
That two run homer by Kurt Suzuki in the 6th. Not so much the homer, but the non-play on the lazy fly ball to shallow center before that. Someone has to make that play, and it's on Curtis Granderson and Robbie Cano for failing to communicate. The homer to Buck in the 5th didn't bother me. Vazquez had a six run lead and full count on the leadoff batter, just throw a fastball over the plate and hope this is part of the 65% of the time or so that Buck makes an out.
I know injuries are a serious thing, but damn. Home plate ump Ed Rapuano takes a foul ball off the face mask, staggers around for a bit, stays in the game, then has to leave a few batters later. Logan got up in the bullpen, warmed up, came into the game, threw his warmup pitches, then makes one pitch to Mark Ellis before he has to wait out a 13-minute delay after Rapuano leaves. I mean, come on. Could've timed it a little better.
WPA Graph
You can find individual player breakdowns at FanGraphs' box score.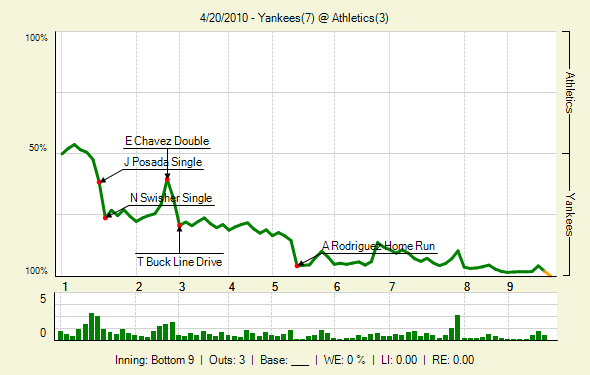 Up Next
Another late West Coast game tomorrow, as these two teams are back at it for game two of the series. Phil Hughes vs. Ben Sheets. Should be a good one.