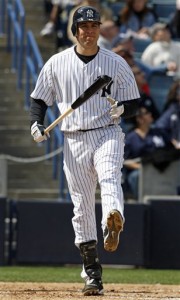 We knew it was coming, but it's still kinda tough to look at. Mark Teixeira, for whatever reason, is simply awful in April, and he's doing it again this year. Through the Yankees' first eight games, he's hitting a cool .097-.263-.129 in 34 plate appearances, good for a .238 wOBA. All three of his hits came in the same game last week, though before today he had more walks than strikeouts. It's a small consolation, but at least he's still finding ways to get on base occasionally.
The bad news is that even with Tex's dormant bat, the Yankees are second in the league with 46 runs scored, three behind the Tigers who've played one more game. I should probably make it clear that that's bad news for the rest of the league. Robbie Cano is absolutely killing the ball with a .382-.389-.676 batting line through the first eight games, and even his outs are hard hit. Jorge Posada is batting the quietest .400-.516-.800 in history, and Nick Swisher is getting on base more than 45% of the time out of the eight hole. As ridiculous as it sounds, Tex is the easy out in the lineup right now.
And that's the problem: the automatic out is smack dab in the middle of the lineup, not the bottom where they usually hide. Derek Jeter and Nick Johnson have collectively reached base 30 times in the team's eight games, yet Tex has only drive in three runs. When he's had men on with two outs, he's made the final out of the inning 75% of the time, which is far too much with Alex Rodriguez batting behind you. There's an easy way to fix this until he starts hitting, just bat him lower in the order.
I don't think Joe Girardi would ever do it out of the loyalty or whatever, but if Tex is going to continue to toss up 0-fers for the next few games, why not drop him a few spots? The lineup wouldn't require any fancy rejiggering, just push everyone up so A-Rod hits third, Cano hits fourth, Posada hits fifth, etc. That arrangement is obviously working, so there's no need to screw with it. Batting Tex eighth would be embarrassing on both a team and individual level, but I don't see a problem with slotting him into the six spot.
In that scenario, your lineup is…
Derek Jeter
Nick Johnson
Alex Rodriguez
Robinson Cano
Jorge Posada
Mark Teixeira
Curtis Granderson
Nick Swisher
Brett Gardner
Again, I don't think it'll ever happen, but where's the harm? The lineup becomes a bit more circular, and now there's no weak bat behind Jeter and Johnson. As soon as Tex warms up ever so slightly, you move him back up. Simple, right*?
* That probably means I'm dead wrong. [/JoPoz]
The Yankees are winning at games at a .625 pace, so there's not much to complain about, but I don't see what's wrong with a little tweak here or there to maximize the lineup's production for the next week or two.