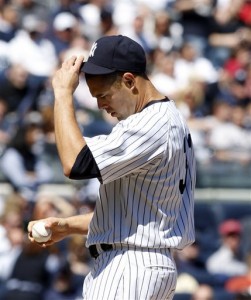 Considering all the backlash, Javy Vazquez wasn't all that bad yesterday. I know, sounds crazy, but it's true. He allowed just two runs through his first five innings of work, both of which came in the third inning when Erick Aybar singled in Brandon Wood (who singled and stole second) before being doubled in by our old buddy Bobby Abreu. Javy allowed another run in the sixth when Kendry Morales doubled in Torii Hunter, and the fourth run charged to him came while he was sitting in the dugout; Al Aceves had come on and allowed a two out, worm burning single back up the middle to noted power hitter Maicer Izturis. The overall line isn't pretty (5.1 IP, 6 H, 4 R, 4 ER, 2 BB, 4 K), but his first five innings were just swell before his pitch count approached triple digits. It's nothing to write home about, but it's nothing to cancel your season tickets over.
But what if that double to Morales could have been prevented through a different plan of attack? I certainly am not privy to the Yanks' scouting reports and what not, but I thought the pitch selection to Morales in the 6th was a little questionable. Clearly, Javy missed his spot on the payoff pitch, which was the biggest mistake of all: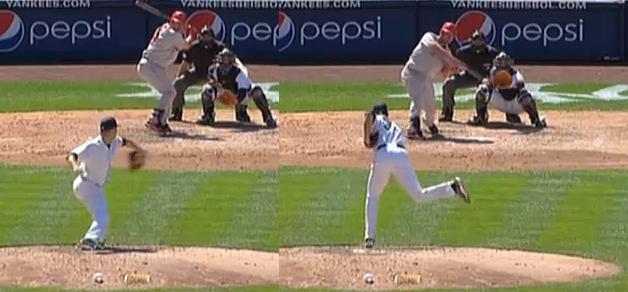 You can see where Jorge Posada set up, and where the pitch went. So yeah, he definitely missed his spot. It happens, But what if the spot and the pitch call were different?
In his first two at-bats, Vazquez threw Morales six fastballs, six changeups, and one slider. He went FB-CH-CH-FB-FB in his first at-bat, getting him to ground out on a pitch off the plate. Morales took a changeup for a strike and a fastball for a ball in the 3rd, but Bobby Abreu ended the inning mid-AB when he was caught trying to steal third. Javy went FB-CH-CH-CH-FB before retiring Morales on a slider way off the plate (foul pop-up to third) when he came back to the plate the next inning.
So after giving him first pitch fastballs in each of his two previous official at-bats, Javy broke out the change and got Morales out in front for a swinging strike one in the 6th. The second pitch was a slider well off the plate, further out than the one he popped up in the 4th. Javy came right back with another change, and again Morales was out in front for a swinging strike. So that's two swings and misses on changeups in the first three pitches of the at-bat.
Pitch four: changeup in the dirt. Ball two.
Pitch five: changeup in the dirt. Ball three.
So now the count is full, and Morales has seen six straight offspeed pitches going back to his last at-bat. Vazquez and Posada went with a fourth straight changeup, which Javy left up in the zone and Morales did what good hitters are supposed to do with a belt high changeup.
I can't help but wonder if a fastball would have been a better call in that spot. The effectiveness of the fastball-changeup combination is dependent on the separation between the two pitches, meaning the difference in velocities. Obviously things like location and arm speed matter, but in general it's the separation. The last two changes Morales saw were clocked at 80mph, and Javy's fastball averaged 89 on the day, topping out at 91. So basically you had a ten mile an hour separation between the two at that point in the game, which is almost exactly what you want.
So, at that moment, after three straight changeups and six straight offspeed pitches down in the zone, a high fastball may have made the most sense. The art of pitching is all about disrupting the hitter's timing, and some high cheese after that much slow stuff changes both Morales' timing and his sight level. An 89 mph fastball after so many 80 mph pitches doesn't look like 89, it looks like 99. Morales isn't the most disciplined hitter, so if you get it high enough, he might swing through it Melky Cabrera-style. As you can see, he definitely had no problems offering at the high heat last season…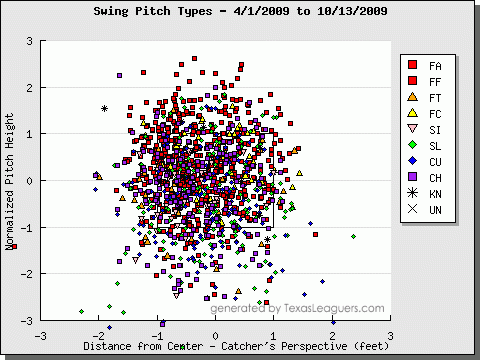 (h/t Texas Leaguers)
If Morales takes the pitch, then you've walked him and set up the double play for a good but inferior hitter in Juan Rivera. That ends Javy's day and he gets booed off the mound for walking a guy, but he leaves a very winnable 2-1 game.  If Morales tomahawks it into the rightfield stands, then you tip your cap to him.
Again, I'm no expert. But after getting a steady diet of offspeed pitches down in the zone and on the outer half, a fastball up at eye level may have been the way to go when trying to finish off Morales in the 6th. It's easy to look in hindsight and say the pitch selection was questionable, but if Javy buries the change and Morales swings over it, then this post doesn't exist. Such is the nature of day-after analysis.