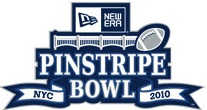 The Yankees announced earlier this week that the New Era Pinstripe Bowl, an NCAA match-up set for December that will feature the third-best Big East team and the sixth-best Big 12 team, has been granted an unprecedented four-year license. The NCAA's Football Issues Committee's decision to extend the grant means the Pinstripe Bowl will be an annual tradition through at least 2013.
?We could not be more excited about bringing this premier college football bowl game to Yankee Stadium and the Bronx,? said Yankees President Randy Levine. ?Yankee Stadium was built to be a premier destination not only for baseball but for other exceptional and memorable events. The pageantry and tradition of college football belongs in Yankee Stadium and New York City.?
This year's Pinstripe Bowl will be played on December 30, but that could change in the future. Under the terms of the license, the game can take place "no earlier than Christmas Day and no later than New Year?s Day." While fans of college football will be pleased by this development, those wishing to see the NHL's outdoor Winter Classic come to Yankee Stadium will have to wait. By granting the NCAA this late-December window, the Yanks have seemingly precluded the NHL from being able to set up and host their traditional New Year's Day game.