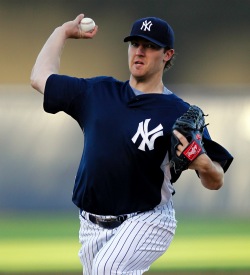 Hard to believe it has been this long, but one week ago the Yankees announced that Phil Hughes, not Joba Chamberlain, would enter the season as the team's No. 5 starter. I'll fast forward past the drawn out reactions of both sides of the Joba debate and cut to one of the more pressing questions about the decision. What will the Yankees do if Hughes struggles? As Dave Eiland and Billy Eppler opined over the weekend, the team would not call on Joba Chamberlain, whom they plan to keep in the bullpen all season. How long does Hughes have to prove himself before they turn to Sergio Mitre or Al Aceves?
Hughes has struggled as a starter in the majors, so the question has merit. After a fairly strong debut in 2007 — a 4.46 ERA, 4.23 FIP, 1.28 WHIP — he imploded after breaking camp in the rotation the following season. Before a stress fracture in his rib costed him a few months, he posted a 9.00 ERA, though only a 4.97 FIP. Even worse, he pitched just 22 innings through six starts, so just 3.2 per start. That taxed the bullpen considerably. The Yankees went 1-5 in his starts. He made a strong debut in 2009, six innings of shutout ball against the Tigers, but stumbled a bit after that. The Yankees moved him to the bullpen when he had a 5.45 ERA and 4.96 FIP.
What's different this year, then? The Yankees saw Hughes mature in the bullpen, unleashing his fastball on opponents who had a tough time catching up. While he clearly won't throw that fast in the rotation, it certainly gives us faith that he can sit 92, 93, as his scouting report suggested, rather than the 90, 91 we saw during 2008 and early 2009. That extra tick on his fastball will also help his changeup, still a work in progress. As pitching coach Dave Eiland said, "Phil is more prepared than ever to start in this league."
That quote comes from Joel Sherman's latest column. He leads off by saying the Yankees won't guarantee Chamberlain the primary setup role, which is expected. They've made it clear that they'll hand Joba nothing, and that doesn't end with a rotation spot. The point on Hughes is a bit more interesting, though. Apparently the Yankees are prepared to live through growing pains if he experiences them.
The Yankees will give Hughes some leash to grow because they see such future promise. His ability to pinpoint his fastball separated him as a starting candidate from Chamberlain and his further development of a changeup provided him a four-pitch arsenal (along with cutter and curve) that convinces the Yankees he is heading toward the top of a rotation. Even yesterday in allowing three runs in 4 2/3 innings to the Twins, Hughes encouraged the Yankees by hitting 94 mph three times, continuing to deploy a more than passable change and not panicking when his curve was absent early.
This is clearly the right move. If the Yankees really did favor Hughes for the rotation heading into camp, there's no reason to end his tenure after a few poor starts. He might have to pitch through problems. Thankfully, as Sherman notes, the Yanks aren't too concerned about getting high-level production from the fifth starter spot. They have four solid pitchers ahead of Hughes who can hold down the fort. Plus, even if he's not at the top of his game Hughes is likely as good as Mitre. So there might not be much benefit in pulling Hughes, anyway.