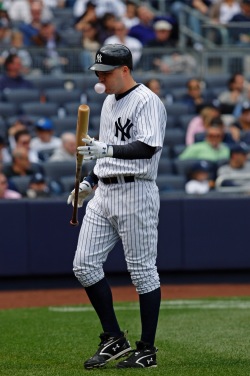 Through the season's first 18 games the Yankees' offense, as a unit, has performed around expectations. The team has scored 5.33 runs per game, second in the AL to the Rays. Yet when looking at the AL rankings, something stands out. The Yankees have a 124 OPS+, which leads the league by a decent margin. Why, then, do they not lead the league in runs scored? The answer lies atop the lineup.
Derek Jeter has done his job this season. Through 80 PA he's hitting .316/.350/.474. It's not up to his career standards, particularly in the OBP department, that will likely change as we get further into the season. His OBP sat at .363 through 80 PA last season, and was as low as .333 in 138 PA. It's the man who follows him, Nick Johnson, who has been struggling. Through 72 PA he's hitting .135, though his frequent walks boost his OBP to .375. While no one is happy with Johnson's BA, it's not a huge concern. That will surely rise as the season progresses. Meanwhile, his main task is to get on base for Mark Teixeira and Alex Rodriguez, and so far he has done an admirable job.
Why, then, has Johnson scored only seven runs if he has been on base 27 times? For that we need a bit more context, which comes from Mark Teixeira's poor start. Like Johnson, Teixeira is currently taking a cruise down the interstate. His .119 through 82 PA is nothing short of a disaster. Again, this is something we probably have to get used to. Through 134 PA last year he was hitting .191. We know, however, that the payoff will prove worthy. From May 13 through the end of the season Teixeira hit .315/.396/.597 and was an integral part of the Yankees' mid-season burst.
In addition to their poor batting averages, Teixeira and Johnson have also hit for little power. Teixeira's ISO sits at .134, Johnson's at .096. Of the other seven regulars, only Brett Gardner ranks below them. This obviously decreases their run-producing potential. Both Gardner and Jeter have gotten on base at an above-average clip, but with the two hitters behind them not producing base hits, and also not hitting for power, they're not coming around to score as often. Likewise, even though Johnson is getting on base via the walk, Teixeira is making enough outs that he's leaving Johnson stranded. Unsurprisingly, Johnson ranks second to last on the Yanks with a 23 percent run scored rate. Only Nick Swisher, the No. 8 hitter, ranks lower. Teixeira, on the other hand, has A-Rod hitting behind him, and despite getting on base far less frequently than Johnson, has scored 38 percent of the time.
Once the top of the order starts hitting, we could see the Yankees offense take off just like it did last season. Other factors will obviously change along the way: Robinson Cano and Brett Gardner will surely settle down, but their decreased production won't nearly off-set the gains we should soon see from Teixeira and Johnson. No one wants to hear "just be patient" when players on their favorite team have struggled, but that's the only thing to do right now. This is a clear case of a slow start. The payoff will be worth the wait.