Just like the second half of last season, we sit and watch every game this year expecting the Yankees to win. They've delivered on seven of ten occasions coming into Saturday's game against the Rangers, and they took the field with a chance to win their first four series of the season for the first time since 1926. Using a little bit of the classic wear 'em down approach, the Yankees had this one in the bag after three innings.
Biggest Play: Nick Johnson's bases loaded walk
For the second time this young season, the biggest offensive play of the game was Nick Johnson working a bases loaded walk. Rangers' starter Scott Feldman came into the game having walked just one batter total in his first two starts, but Johnson drew one in the 1st and came back for more the next inning.
Jorge Posada, Brett Gardner, and Derek Jeter were on base after three singles, and Feldman had already thrown 25 pitches in the inning.Johnson, as he tends to do, took the first pitch even though it was probably the best pitch he saw all game; a fastball belt high and down the middle. A curveball low and two sinkers off the plate later, the Yankees' designated hitter was staring at a 3-1 count. Johnson let loose in the classic hitter's count, fouling off a sinker. Two more foul balls later, Feldman's pitch count in the inning was up to 32 and he was visibly gassed. It's exactly what the lineup is designed to do, to wear down the opposing team's pitching staff. The eighth pitch of the at-bat was a cutter high, putting Johnson on first and pushing the first run of the game across the plate.
The Yankees would go on to score another run in the inning for a quick 2-0 lead, and Feldman's pitch count through the first two frames was over 50.
Biggest Out: Nick Swisher's fly out
An inning after Johnson gave the Yankees the lead, the other New York Nick stepped to the plate with a chance to really blow things open. Posada and Curtis Granderson were stationed at second and third with one out, chasing Feldman from the game after he needed 73 pitches to record seven outs. Reliever Doug Mathis came in and was able to retire Nick Swisher on three pitches, getting him to fly out to shallow left, keeping Posada on third.
Even though the Yanks were able to score four runs in the inning after Swish recorded the second out, it could have been a whole lot more if he reached base.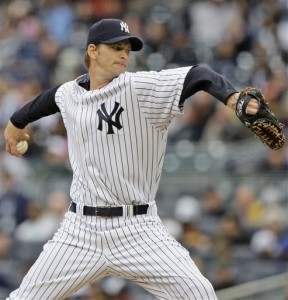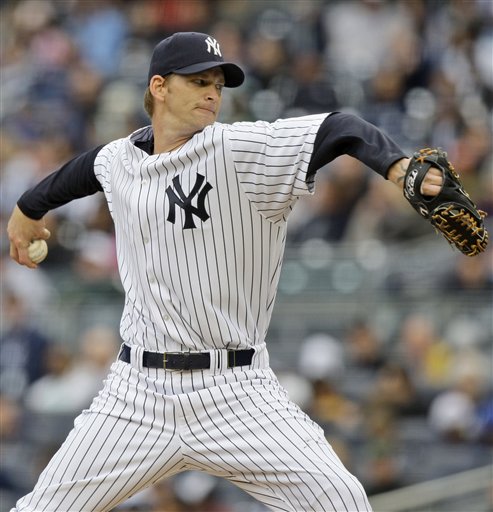 Biggest Pitch: Michael Young's fly out
Just as soon as the Yanks took a 2-0 lead, Texas threatened to get some back the very never inning. Taylor Teagarden was standing on third with two outs, and in stood Michael Young, who believe it or not had more hits than Derek Jeter from 2004 through 2009. Instead of waiting out the perpetually wild A.J. Burnett, Young offered at the first pitch, a 93 mph heater in on his hands, flying out harmlessly to Swisher in right. The threat was over, and the two run lead remained just that.
Burnett rolls along
Perhaps more than any other pitcher on the Yankees staff, Burnett has the potential to go out on any given day and throw a one-hit shutout or give up nine runs in two innings. You could either be upset that he's inconsistent, or enjoy the surprise every time he pitches.
Today, Burnett kept the Rangers' hitters off balance all day with his usual mix of fastballs and curves. He got 14 swings and misses in his seven innings of work, all of them coming on a fastball. Five of the six hits he allowed were singles, and his biggest jam of the day – bases loaded, one out in the 5th – didn't come until after he was staked to a seven run lead.
Seven shutout innings is more than you can ask from any starter, and Burnett was kind enough to deliver on Saturday. Over his last two outings, the Yanks' number two starter has allowed just a pair of runs in 14 innings.
Happy Moments
Michael Kay had starting bringing attention to it with each at-bat, so it was good to see Alex Rodriguez hit his first homerun of the year. It was a solo shot just to the right of the Yankees' bullpen, and it pushed him ahead of Mark McGwire for sole possession of eighth on the all-time homerun list. He's now 16 away from 600.
When's the last time the Yankees had a team that could beat out three infield singles in one inning? Granderson, Gardner, and Jeter turned the trick in the 5th, and even though they didn't score, it sure was fun watching a team that can run. Gardner had three hits on the day, none of which left the infield. He almost beat out a fourth too.
Ramiro Pena finally got an at-bat. Good for him.
Annoying Moments
Al Aceves was definitely not sharp, but he gets a pass because the Yanks were winning big and it was only his second appearance in the last 11 days. The three run homer he allowed to league leader Nelson Cruz ruined the shutout, but really did nothing in the grand scheme of things. The Yankees went from having a 99.2% chance of winning to 97.4%. Big whoop.
I don't know what's up with Joba Chamberlain pitching exclusively from the stretch, but I'm not sure I see the point. He's been a starter and pitching from the windup his entire life, why change it up now? I see no reason for him to not work from the windup with no one on. No point in sacrificing stuff.
WPA Graph
Full player breakdowns are available at FanGraphs' box score.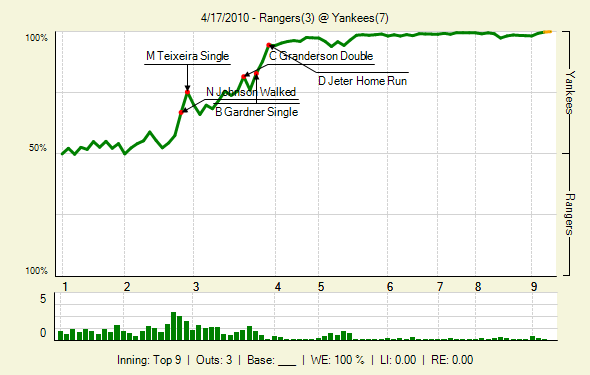 Next Up
These two teams finish up the series at 1:05pm ET tomorrow afternoon, Andy Pettitte vs. Rich Harden.