Now that we're less than two weeks away from the draft (the Yanks will be represented by Roy White and Gene Michael), we've started to see some scattered reports about players the Yankees are scouting heavily. This far into the game, that indicates strong interest on the team's part. Sometimes these reports are just a small comment at the bottom of a notebook or a stray tweet somewhere, but the info's out there, and I try to get as much of it up here as possible.
Here's a little more information on a few players the Yanks have been linked to recently, plus two more that I included because they have a very real chance of dropping into the Yanks' lap.
Tyrell Jenkins, RHP, Henderson HS (Texas) (video)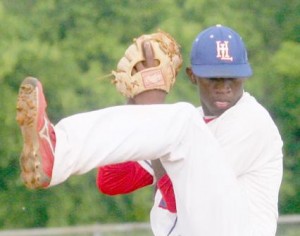 The Yankees have been in on Jenkins for quite some time according to Keith Law, and he certainly fits the Damon Oppenheimer mold as a supreme athlete with tremendous upside. With a live arm and a fluid delivery, he pumps fastballs in the 91-93 mph range and has touched 95. There's lots of room to fill out in his 6-foot-4, 180 lb. frame, so he should add velocity. Jenkins has also flashed the ability to spin two kinds of breaking balls as well as maintain arm speed on his changeup, but he's inexperienced on the mound and it's all a work in progress.
A four sport star at Henderson (baseball, football, basketball, track), Jenkins is also Baylor's top quarterback recruit in addition to being a legitimate first round talent. That commitment is going to land him an above-slot bonus, though he's considered signable. Jenkins is both a very raw and very risky player, but the upside is considerable. There's no such thing a a high ceiling, high probability player at the back of the first round, those guys go in the top five. He'd be a fantastic selection at #32 overall; the Yankees don't have anyone like him in the system at all.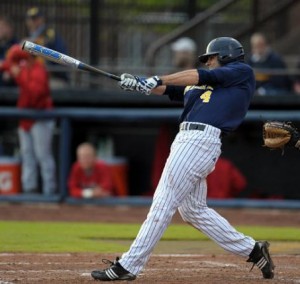 Ryan LaMarre, CF, Michigan (video)
Another superathlete with tools to spare, the Yanks have shown some interest in LaMarre in recent weeks according to KLaw, however it's possible that they're looking at him for their second round pick. The 6-foot-2, 205 pounder has top of the line speed and is a legit long-term asset in centerfield with very good defense, and he's shown enough bat speed to project decent pop down the road. LaMarre has displayed a patient approach in the past, but it's completely deteriorated this season – just three walks in 134 PA.
For a college player, LaMarre has some questions to answer with the bat, particularly his poor track record with wood. He also hasn't faced the best competition playing in the Big Ten, so he's a risky player. To his credit, LaMarre has  outstanding work ethic and plays with an all-out style, so effort won't be an issue. There's just too many question marks to draft him in the first round, in my completely amateur opinion.
Zach Lee, RHP, McKinney HS (Texas) (video)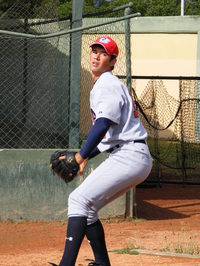 There haven't been any reports of the Yankees scouting and/or having interest in Lee, but he's considering one of the draft class' toughest signs. It's only a matter of time before the two parties find themselves connected at some point, regardless of the team's actual level of interest. Lee is an elite quarterback prospect with NFL potential that's committed to a major program in LSU, so someone's going to have to back up the Brinks' truck to sign him.
On the mound, the 6-foot-4, 195 pounder sits in the low-90's right now, but certainly has room to add more. His power slider is a true out pitch, and his changeup is good for a high schooler, but still below average overall. As you can imagine, Lee is an elite athlete, and it allows him to repeat a simple delivery. His stuff plays up because he has great pitching acumen and polish, very rare for a teenager who splits his time between two sports.
Rumors swirl about a bonus demand in excess of $3M, but those are unconfirmed. In terms of talent, Lee would be a great selection at #32, but it's entirely possible that he falls all the way into the double digit rounds. Whoever drafts him will have to have done their homework on what it's going to take to sign him. The Yanks can ill afford another Gerrit Cole incident.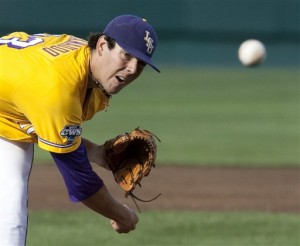 Anthony Ranaudo, RHP, LSU (video)
The Yanks have been on Ranaudo for much of the spring according to Frankie Piliere, and it only makes sense since he's a top talent likely to fall. The 6-foot-7, 230 lb. righthander started the year as the number two talent behind Bryce Harper, but a sore elbow cost him a month of the season and he simply hasn't been the same since. It's the second elbow problem of his collegiate career, so there's a bit of a history here.
At his best, Ranaudo offers a 92-93 mph fastball with a very good changeup-curveball combo and very good command. Since the injury he's sat around 90 and his offspeed pitches have flattened out as he seemingly lost his delivery. Perhaps he's just scared of turning it loose following the injury. There's not enough time for him to rebuild his stock, and when you factor in that he's a Scott Boras client, well you have a recipe for falling. Even before the injury, Ranaudo's ultimate ceiling wasn't a frontline starter, but a high probability rock solid workhorse because of his lack of a true out pitch. At least Andrew Brackman had shown ace stuff prior to being drafted. There's better ways to use a first round pick, but once you get past that, he's makes a bit more sense.
Asher Wojciechowski, RHP, The Citadel (video)
The Yankees are sending the head honchos to scout the 6-foot-4, 230 lb. Wojciechowski at the Southern Conference Tournament today, so their interest is sincere. His fastball is electric at 93-94 mph, topping out at 96 consistently. His slurvy breaking ball is hard on righties, but he still needs to further develop his changeup to battle lefties. Wojciechowski's build screams workhorse, and at worst his fastball will allow him to fall back on being a power late-game reliever.
College righthanders who won't command huge over-slot bonuses come off the board early, so if Wojciechowski falls to the Yanks at #32 overall, it would be a pretty considerable coup. Just for comparison's sake, Chad Jenkins is a very similar prospect (a little less fastball), and he went 20th overall to the Blue Jays last year. He'd really have to lay an egg in his next two starts to get to the Yanks.
In case you're wondering, The Citadel has no post-graduation military obligation, so Wojciechowski is in the clear there.