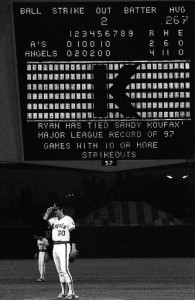 One of the greatest things about baseball is it's history, and the record of that history. Especially now in the internet age, where we can go back and look up almost anything our heart desires. Like this box score, for example. There's nothing overly exciting about that game, other than the fact that it's 90-years-old. Just having that kind of information at our fingertips is amazing, no other sport can make that claim.
Nowadays we use all of this historical info for more than just entertainment. Just as an example, we reference those fancy WPA graphs each day, and those are based on nothing but historical record. We're looking at what happened in the past to try and get an idea of what can happen in the future. It's not perfect, but it's certainly useful information.
Let's apply the same concepts to the draft and the Yankees' top ten selections this season. Using B-Ref's draft database and it's new WAR data, let's go back and see how the players taken at these spots have historically performed to get an idea of what kind of players the Yankees can expect to land. Granted, the draft has evolved thanks to introduction of agents and the relatively new concept of signability, so this exercise is in no way a prediction of what will happen.
The 2010 Draft Order can be found here, as always. The Yanks didn't gain or lose any picks as free agent compensation, so they have a pick per round this year. Nice and easy. And off we go…
First Round, 32nd overall
The best player ever taken with this pick is former Met first/third baseman Dave Magadan, who produced 22.2 WAR over a 16-year career that featured a .288-.390-.377 batting line in close to 5,000 plate appearances spread across the late-80's and 1990's. After that comes utility guy Lee Lacy, who played every position under the sun and hit .286-.336-.410 with four teams, leading to 18.2 career WAR.
Overall, the 32nd overall pick has produced 22 big leaguers (out of 45 total picks), though just 13 of those 22 managed to post a positive WAR in their careers, and just 11 produced more than 2.0 WAR. Those 11 players averaged 9.1 WAR in their careers, so they were definitely productive players. However, you're talking about one solid regular for fewer than every four picks made.
Second Round, 82nd overall
We're not going count Phil Nevin here, because even though the Dodgers made him the 82nd overall pick in 1989, he didn't sign and went on the star at Fullerton before being taken with the first overall pick in 1992. The best player who was drafted at this pick and actually signed is former Yankee David Weathers, who racked up 9.9 career WAR with nine teams across 19 seasons. Just 15 of 45 players drafted with this pick have reached the big leagues, and just five of them put up more than 2.0 career WAR. That's close to an 89% bust rate, historically.
Third Round, 112th overall
This pick has produced a trio of long-time big league starters in Scott Erickson, Paul Byrd, and Rick Waits, who posted career WARs of 21.9, 16.1, and 13.3, respectively. That's great value from a triple-digit pick, though just one other player drafted here has been above our arbitrary 2.0 WAR threshold. It's a 91% bust rate, though three of the hits have been big time hits. In case you're wondering, that fourth player is former Met nutjob Turk Wendell.
Fourth Round, 145th overall
The 145th overall pick has been absolute wasteland. The best player taken with this pick is the late Josh Hancock, who posted 0.6 career WAR before being killed in a drunk driving accident. Of the ten players to reach the bigs after being taken with this pick, just two finished their careers with positive WARs. For all intents and purposes, the bust rate of this pick is 100%, historically. If the Yankees manage to turn this pick into a productive big leaguer, they'll be a first.
Fifth Round, 175th overall
Much like the Nevin situation, the best player ever drafted with this pick was Rick Burleson, who didn't sign with the Twins in 1969 and ended up going fifth overall the next year. However, this pick still produced a quality big leaguer in Storm Davis, who was the definition of a league average pitcher during his 13-year career (99 ERA+). It drops off considerably after his 14.5 career WAR, with the next highest total belonging to Blue Jays' 2007 pick Marc Rzepczynski (1.3 WAR in 61.1 career innings). Davis is the only player above 2.0 WAR from this class, but Rzepczynski should get there eventually. The success rate here is miniscule.
Sixth Round, 205th overall
This pick has been more fruitful than the two before it, with the best all-time being Jason Schmidt by far. He spent a few years as the best pitcher in the National League, racking up 24.9 career WAR. It drops off considerably after him, but Tom House (4.5 WAR) and Al Nipper (4.4) had decent careers. Phillies' righthander Kyle Kendrick came into the season with 1.0 WAR and counting. Overall, the bust rate is the same 89% as the 82nd overall pick.
Seventh Round, 235th overall
Just one player who actually signed after being taken with this pick has gone on to post a positive WAR total, and that's former Yankee Pat Kelly (3.7). Even counting Ron Schueler, who didn't sign and was instead taken in the third round the following year, just five players taken here have even managed to reach the bigs. If we consider Kelly to be the only one to go on to a productive big league career, we're still basically looking at a 100% bust rate.
Eighth Round, 265th overall
Believe it or not, this pick includes three players with double digit career WAR, but of course none of them signed and all three went on to be drafted higher in subsequent years. Two of those three players are Darrell Evans and some guy named Mark Teixeira, who have made multiple appearances in the All Star Game. The best player ever drafted and signed with this pick is journeyman catcher Tom Lampkin (6.7 WAR), and the bust rate is just about 93%. Really not all that bad considering how deep we're going.
Ninth Round, 295th overall
Well, here's where it gets interesting because we run into our first bonafide superstar. Schmidt, Erickson, Magadan … all good players in their own right, but none of them hold a candle to the best player ever taken here. His name? Lynn Ryan. You might know him better as Nolan. The Mets took the Ryan Express 295th overall in 1965, and all he did was go on to win 324 games (and lose 292) and strike out 839 more batters than anyone else  in history (and walk 962 more than anyone else as well). He amassed 80.5 career WAR, placing him among the top 20 pitchers in history.
He should be considered the exception and not the rule, and the next best player ever taken 295th overall was a pretty damn good player as well: current Indian Mark Grudzielanek. His 24.2 WAR and counting is a fine mark, but former Yank David Dellucci is the only other player taken here to eclipse the 2.0 WAR threshold. The bust rate is a little more than 93%, more if you want to disregard Ryan as an extreme circumstance.
Tenth Round, 325th overall
There's been one good player taken in this spot, and he was a pretty good one: Steve Finley. He was a above average player for a long time, amassing 40.5 career WAR. Only six players have ever reached the big leagues after being taken 325th overall, but only Finley cleared 1.0 WAR. For all intents and purposes, it's a 100% bust rate.
The Yankees have the ability to use these draft picks to acquire players with more talent than their draft position warrants given their ability to spend and overall aggressiveness in the late rounds. If nothing else, this is quite an eye-opener. Once you get down to the 82nd overall pick, you've basically got no better than a one-in-ten chance to land a decent big leaguer.