Coming home to play in front of their home fans for just the 13th time this season, the Yankees looked to get the bitter taste of the Detroit series out of their mouths by beating up on a familiar foe. The Twins are just 3-23 against the Yanks in the Bronx during the Ron Gardenhire Era, and one very clutch grand slam later, they were 3-24.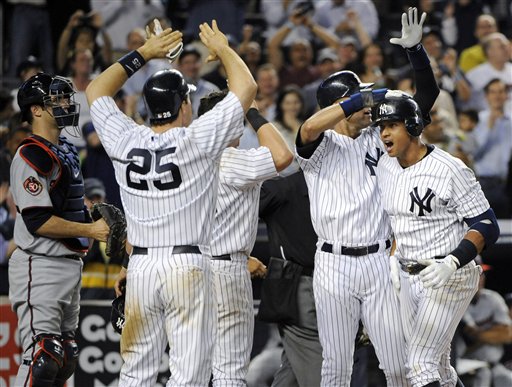 Biggest Hit: A-Rod Makes Them Pay
You know, there was once a time when Alex Rodriguez had a problem coming through in big spots. He'd tense up and take that big hack and invariably get just on top or just underneath the ball and provide a less than desired outcome. Then the first five months of 2009 happened, and Alex hit rock bottom. I can't imagine what kind of effect that had on him personally, but all I know is that he's been a big hit machine since then. Regular season, playoffs, whatever, he's made things happen when the Yankees needed them to happen.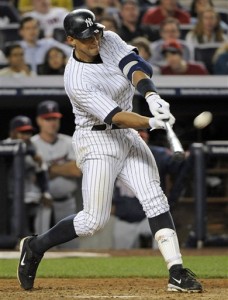 Gardenhire pulled something out of the 2008 play book on Friday by intentionally walking Mark Teixeira in the 7th inning to load the bases with one out for A-Rod. Tex had a single and a double already to his credit on the night, so he was put on and Matt Guerrier was brought in to try and induce the inning ending double play. Alex fouled off his first pitch, a fastball on the inner half, but didn't miss the second pitch in the same spot. It was quite literally a big fly, hanging up in the air as it carried out to left. Even if it didn't reach the seats, the game was tied because the ball was hit far enough back to bring Frankie Cervelli in from third. Cervelli wouldn't have to do anything more than trot, because the ball landed a few rows back for Alex's 19th career grand slam, third most all time. It also gave him sole possession of 7th place on the all-time homer list with 587.
The best part of that whole at-bat was the matchup. Gardenhire went to his trusted righty setup man in that spot and completely ignored the numbers; A-Rod had been 4-for-6 with three (!!!) homers off Guerrier in his career, so you'd think that was the last guy Minnesota would want to have on the mound in that spot. His first pitch was 90 mph and the second 91, so at least he tried to change speeds on Alex.
Biggest Mistake: Pitching To Morneau
The outcome of the game will certainly mask the mistakes, but pitching to Justin Morneau and his AL leading .485 wOBA with the go-ahead run on second and two outs in the 7th inning was quite the blunder. I understand Damaso Marte is the guy that's getting paid the big bucks to get out big time lefties in spots just like this, but there comes a point when you have to take a look at the reality of the situation and make a judgment based on that. Michael Cuddyer is making outs more than 68% of the time this season, and your righty relief ace is warmed up in the bullpen. You put Morneau on in that spot and call on Joba Chamberlain to get the vastly inferior hitter in Cuddyer.
Alas, Marte hung a slider that Morneau whacked into the gap for a double, but the Twins ahead by one. When you play the Twins, you don't let Joe Mauer or Morneau beat you. You don't even give them the chance.
Biggest Out: Span Hits One Back To The Pitcher
Things got ugly early in the Bronx on Friday. A.J. Burnett fell victim to his own wildness and home plate ump Alfonso Marquez's incredibly shrinking strike zone in the 2nd, loading the bases on a single, a walk, and an error with no outs recorded. Burnett inexplicably walked Nick Punto (Nick Punto!) on four pitches to force in a run, and all of a sudden we were wondering how many innings Ivan Nova could go after throwing two yesterday.
Thankfully, Denard Span bailed A.J. out. After taking three straight pitches for a favorable 2-1 count, Span jumped all over 94 mph heater down in the zone, hitting right back up the box. Burnett fielded it semi-cleanly, and fired home to start the always fun 1-2-3 double play. If that ball gets by the Yanks' starter, the Twins are up 3-0 and there are still no outs in the frame. It was very early in the game, but given the Yanks' recent offensive woes, a three run deficit would have felt like thirty.
When Bad Things Go Good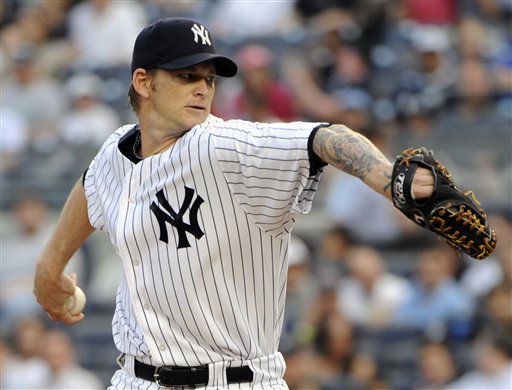 The night didn't start out well for Burnett. His 1st inning involved a walk, a single, nine strikes, and seven balls but luckily zero runs. The next frame wasn't as pretty, as you read above. By the time the inning was over, A.J.'s pitch count was already at 39, just 17 of which were strikes. After that inning, Bad A.J. climbed into the phone booth and out came Good A.J.
Burnett retired 14 of the next 20 batters he faced, with the only significant blemish coming in the 5th inning when last year's AL MVP took a 93 mph piece of cheese on the outer black and hit it off a railing next to the visitor's bullpen for a solo homer. It's impossible to complain about that, it was a high quality pitch that a super-high quality player handled as if he was taking batting practice. It really was an impressive piece of hitting by Mauer.
Despite that high pitch count after two, Burnett pitched into the 7th inning before giving way to Marte, allowing just three runs (two earned) on exactly 100 pitches (just 51 strikes). He was missing his spots early, but he settled himself down and took the ball deep into the game. Burnett's generally considered to be an unreliable guy, but this was the 35th time in 46 starts as a Yankee (playoffs included) that he completed at least six innings of work (76.1%). That's getting the job done, people.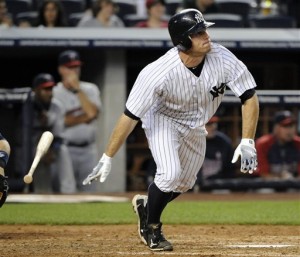 Happinesses
Brett Gardner going deep. Again. Wasn't even a cheapie either. Even better: he broke into his homerun trot halfway down the first base line. Dude also added a single to bring his season line to .333-.411-.421. Raise your hand if you saw this coming. (Put your hand down you liar)
Robbie Cano getting things back on track. He picked up a pair of hits after a rough start to the month, and he's still OPS'ing over 1.000 (1.017 to be exact).
Joba Chamberlain continues to look fantastic. He's faced 23 batters this month, and has struck out 11 of them. Seven of the last ten men he's faced have gone down on strike three. That's domination, yo.
Cervelli continues to dunk cheap little bloop hits all over the field, but hey, I'll take 'em.
Also, I'd be remiss if I didn't mention Punto sliding into first on a foul ball to the third base side. What the frig was that? Is it possible to overdose on grit? You can't not laugh at that.
Sadnesses
Not too much, just Nick Swisher aggravating his biceps strain. Hopefully he won't be out too long. Oh, and Derek Jeter continues to look lost at the plate. Yeah he doubled, but he also saw just 14 pitches in his five plate appearances. He's down to 3.52 pitches per plate appearance this season (3.84 last year), his lowest mark since ESPN started recording the data in 2002. He's swinging at lots of junk out of the zone and has noticeably expanded his zone, which is frustrating as hell.
WPA Graph & Box Score
Now that's a graph. MLB.com has your box score, FanGraphs the individual WPA breakdowns.
Up Next
Same two teams in a Saturday matinee, 1:05pm ET. Andy Pettitte will be making his first start in ten days, and will be opposed by a rejuvenated (and particularly nasty) Francisco Liriano. Should be fun.