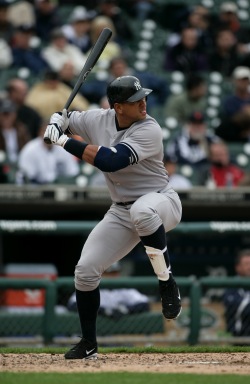 It appears that a number of Yankees hitters have changed their approaches this season. A week ago I looked at the changes with Nick Swisher and Brett Gardner. They seem to be on opposite tracks. Gardner has become even more selective, while Swisher has shown a bit more aggression. Both have seen early returns. Alex Rodriguez has also changed his approach a bit, though the results haven't quite been there for him yet. If he keeps this up, though, they very well might.
A quick look at A-Rod's stats makes a few things clear. First, he's striking out less — a lot less. From his cup of coffee in 1994 through 2009 his low water mark for strikeout percentage was 16.9 percent, achieved in 1997. That also happens to be the worst year of his career, 1995 notwithstanding. This year he has struck out in 14.9 percent of his at-bats, so something has changed, at least in the first 33 games.
A look at his discipline statistics makes the difference clear. His swing rate sits at an all-time low of 40.9 percent, while his contact rate is at an all-time high, by far, of 86.4 percent. His swinging strike rate is also way down, 5.7 percent. His previous low came last season, 9.1 percent. A couple of other all-time lows, though not by as drastic a percentage: pitches seen in the zone, 43.9 percent, and first-pitch strikes. 52.5 percent.
The decrease in swing percentage comes mostly on balls inside the strike zone. A-Rod has swung at just 63.7 percent of those pitches, whereas his previous career low came in 2007, 66.3 percent. On the flip side, he's making plenty of contact with the pitches he does swing at inside the zone, 96.7 percent, more than 10 percentage points higher than any year of his career. He's also making more contact with pitches outside the zone, an increase even over last year, which was the highest mark of his career.
Intuitively, I would think that these numbers forecast a high-power year for A-Rod. He's being selective with pitches inside the zone, so presumably he's only swinging at the ones he likes. On those pitches he's making plenty of contact, too, so I'd guess that he's hitting more line drives. Yet none of that is true. His line drive rate is nearly identical to last year. He's hitting more ground balls, and hitting fewer balls in the air. Worst of all, he's not hitting those balls in the air particularly well, as only three have left the park, or 8.1 percent of his fly balls. He hasn't been below the 20 percent mark in HR/FB since 2004. His power is way down, too. A .174 ISO represents by far the lowest mark of his career.
This issue can go two ways. First, it could signal that this approach simply doesn't work for A-Rod. He has been a certain type of hitter his entire career, and changing now doesn't make much sense. If he's going to have success, he'll have to get back to that longer swing that leads to more strikeouts, but also leads to harder hit baseballs. Second, it could mean that he's in an adjustment period. He's in his mid-30s now, a time when many ballplayers start to decline. A change in approach might help stave off the normal effects of aging, allowing him to continue playing until a much later age. Both of these cases have merit, and I'm not at all sure which case this is. It could be something completely different, too, I suppose.
Encouragingly, A-Rod's defense has improved according to both major defensive metrics. John Dewan's +/- system has A-Rod at 4 defensive runs saved, third among his peers, while UZR has him at 1.6, fourth among AL third basemen. He's still hitting well compared to other AL third basemen, ranking third in wOBA. Nos. 2 and 4, Alberto Callaspo and Jose Bautista, don't figure to be around for long, either. Also, while he's not hitting home runs at nearly the pace he has in years past, he is actually slapping his share of doubles. He has eight already, after hitting just 17 all of last year. Even if he doesn't get to the 30 homer mark this season, a 35-40 doubles season will certainly add to his value.
The most important thing about all this data is that it's tough to make much of it. We're dealing with 121 PA here, so it's not a huge sample. Yet these are the results. This is what he has done so far. It might be coincidental, but with numbers this far off from his career marks make me wonder whether the change is deliberate. He raves about his work with Kevin Long, so I can definitely understand if they changed his approach this year. If they have made some adjustments, it's too early to write them off. If they haven't made adjustments, I really wonder why his plate discipline numbers have changed so drastically.
It's been a tough year so far without A-Rod producing his normal power numbers out of the No. 4 spot. Remember, though, that at this point last year, heading into Game 34, that A-Rod had played in just five contests and was hitting .188. Once he heats up — and I have nothing but confidence that he will — we could be in for an experience similar to last year. I'd take his 2009 numbers any time.