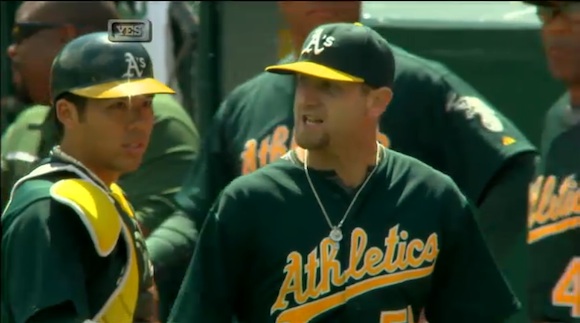 When A-Rod broke an unwritten rule few were aware even existed, all hell broke loose in Oakland. The date was Thursday, April 22, and Dallas Braden and the A's were playing the Yanks in the final game of a three-game set. On his way back to first from third base on a foul ball, A-Rod stepped on the pitcher's mound, and Dallas Braden didn't take too kindly to it.
At the time, Braden railed on A-Rod, and he sounded both full of himself and as though A-Rod had run over his dog. "I don't care if I'm Cy Young or if I'm the 25th man on the roster. "If I've got that ball in my hand and I'm out there on that mound, that's not your mound. If you want to run across the mound, go run laps in the bullpen. That's my mound," he said, later adding. "I don't go over there and run laps at third base. I don't go over there. I don't spit over there. I don't spit over there. I stay away. You guys ever see anybody run across the mound like that? He ran across the pitcher's mound, foot on my rubber. No. Not flyin."
A-Rod: "He just told me to get off his mound. I was a little surprised. I've never heard that, especially from a guy with a handful of wins in his career…It's not really a big deal. I didn't know he was talking to me. I thought it was pretty funny actually…I've never heard of that in my career."
End of story, right? Well, not if you're Dallas Braden. Speaking to Comcast's Bay Area affiliate, Braden had a laughable message for A-Rod. "There are things that are going to have to happen," Braden said. "Out of respect to my teammates, out of respect to the game. I think he's probably garnered a new respect for the unwritten rules and the people who hold them close to their game. But I think you're right, we don't do much talking in the 209." The 209 is a reference to Stockton, California, the birthplace of Braden. For an area that doesn't do much talking, Braden couldn't keep his mouth shut.
When the Yankees heard of Braden's latest comments, they tore into the A's lefty, and Bob Klapisch nailed down the goods from A-Rod's teammates. As A-Rod said he no longer wanted to discuss it or give Braden more headlines, Yanks' GM Brian Cashman added his two cents. "Braden is wrong and Alex is right," he said to Klapisch. "The more Dallas talks about it, the sillier he looks." Indeed. Dallas Braden does indeed come across as an immature young pitcher with no sense of respect for the game or his boundaries. Even if A-Rod broke an unwritten rule, Braden has topped him by yammering about this for two weeks.
The final word though belongs to CC Sabathia who summed up this entire incident and Dallas Braden's response in one of the better quotes we'll read all season. "He's a clown," Sabathia said. "Guy says he's from the 209, what the [bleep] is that? That's where I'm from and I don't know what he's talking about. Two-oh-nine. He needs to just calm down – put that in the paper. That's just tired."
Update (6:27 p.m.): In news too coincidental to be anything but true, Dallas Braden just wrapped up a perfect game against the Tampa Bay Rays. Athletics Nation opted to take the high road in their gloating toward A-Rod, and the Yanks can move into sole possession of first place in the AL East with a win tonight against Boston.