Even though the Yankees won on Friday, it was a frustrating win. Josh Beckett pitched with a reckless abandon that directly led to Robbie Cano's injury, while Nick Johnson also went down for the count. They rolled into Fenway on Saturday afternoon looking not just for a little revenge, but for another win, which would give them six in a row and their second series win over the Red Sox in an as many tries. Four hours of baseball plus a rain delay later, they got that win. They got that win and then some.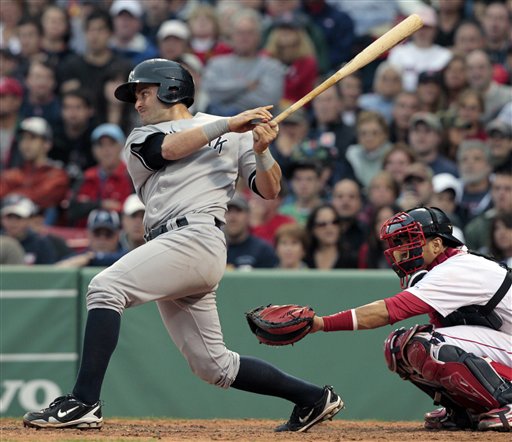 Biggest Hit: You Got Cerv'd
The first four innings of this game went back and forth because no one really decided to take control. The Yanks were certainly getting men on base against Clay Buchholz – 14 baserunners in his five innings, in fact – but their lead stood at just one, at least until Frankie Cervelli stepped to the plate with the bases loaded and two outs in the 5th.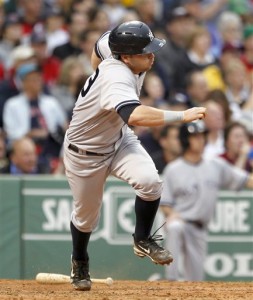 The Red Sox righthander threw a first pitch changeup to the young catcher, just like he did the inning before. And just like the inning before, Cervelli took the pitch low for a ball. In the 4th, Buchholz followed up with a flat 90 mph slider that stayed up, which Cervelli dunked into center for a single. He wouldn't make the same mistake this inning, but his 94 mph heater was over the plate and Cervelli once again singled to center. Two runs crossed the plate before Randy Winn was tagged out in a run down between second and third, and the Yankees had a three run lead they would never relinquish.
Biggest Out: Beltre gets doubled up
Right at the start of the game, Mark Teixeira killed a two on, no out rally in the first, but all is forgiven since he more than made up for it later in the game (more on that in a bit). An inning later, Adrian Beltre did almost exactly the same thing. Kevin Youkilis and Mike Lowell reached with singles before J.D. Drew went down swinging, so Beltre had a chance to give Boston an early lead, something they probably could have used after Friday night's messy loss.
CC Sabathia started him out with a  sinker away for a ball, but his next pitch – a changeup – got the corner for a strike, He tried to get the free swinging Beltre by doubling up on the change, but he wouldn't bite. The fourth pitch of the at-bat actually wasn't all that good, a sinker left out over the plate and about knee high. Thankfully, Boston's third baseman chopped it into the ground, leading to a garden variety and inning ending 6-4-3 double play.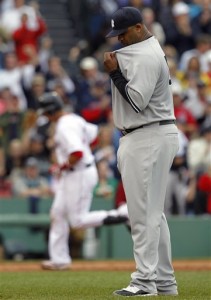 Revenge
We didn't know when it was going to happen or who it was going to happen to, but everyone had a pretty good idea that a Yankee pitcher was going to plunk a Red Sox batter as retaliation for Beckett's recklessness on Friday. Turns out that Sabathia took matters into his own hands, drilling Dustin Pedroia in the behind with a first pitch fastball that registered at 98 mph on PitchFX. He's probably not going to be able to sit on that side for a week, but Boston's second baseman knew what was up and just put his head down and ran to first. It was about as orderly as a revenge beaning could be. Well, except for what followed.
Sabathia had already allowed a homer to minor league legend Darnell McDonald earlier in the inning, and his command was less than stellar on the day already. Victor Martinez, his former teammate in Cleveland, dug in, and after taking a first pitch fastball for a strike, he sat back and watched CC throw three straight balls. Taking all the way on 3-1, V-Mart let a hittable changeup go by for a strike, then fouled off a sinker with the count full. The next pitch was probably Sabathia's worst of the game, a 94 mph fastball belt high and over the plate, which Martinez turned around and launched clear over the Green Monster. The Red Sox had taken the lead, and Joe Buck was yelling that the Red Sox have been "fired up" by the hit by pitch.
I don't have a problem with sticking up for your teammates, but I did have a bit of a problem with the timing. It was a one run game and the middle of the order was coming up. You've just gotta be smarter than that, and wait until later on when the game isn't so up for grabs. And you know what? If the opportunity doesn't come to retaliate later in the game, then so be it. That makes it the next pitcher's job whenever he gets a chance. Sabathia threw 17 pitches in the inning after hitting Pedroia, which essentially meant the bullpen was going to have to work an extra inning later in the game. Granted, it wasn't factor in this one because of the weather, but that doesn't make it okay.
Believe it not, V-Mart's bomb was the biggest WPA swing of the game, improving Boston's chances of winning by 20.6%.
The Frankie & Mark Show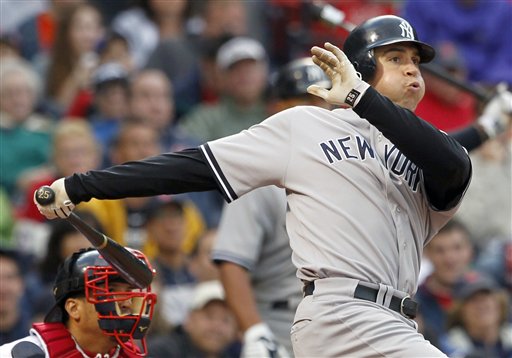 With four regulars either on the disabled list or limited due to injury, the Yankees' lineup looked a little less formidable than usual. Thankfully, Teixeira and Cervelli made that a moot point.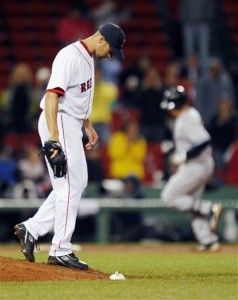 The Yanks' first baseman went 4-for-6 on the day, with three of those four leaving the yard. His first homer was a solo shot off Buchholz in the 5th, breaking a 3-3 and giving the Yankees a lead they would never give back. The second came off Ramon Ramirez, the first batter he faced, and was another solo jack that wrapped around the Pesky Pole to push the Yanks even further out in front. The third homer probably shouldn't count since it came off a 79 mph fastball from outfielder turned pitcher Jon Van Every in the 9th inning of a nine run game. Either way, it was the first three run homer by a Yankee since Alex Rodriguez worked over Bartolo Colon back in 2005, and only the second three homer game by a Yankee in Fenway Park. The first one belongs to some guy named Lou Gehrig.
Not to be outdone, Cervelli had the finest game of his young career, going 3-for-4 with five runs driven in, all on singles punched right back up the middle. Hitting coach Kevin Long was probably thrilled to see that. Ever since Jorge Posada went down with his calf injury, the Yanks' backup backstop has gone 9-for-14 with two walks and just one strikeout, and he's hitting a cool .429-.500-.500 on the season.
They're Calling For The Tarp When?!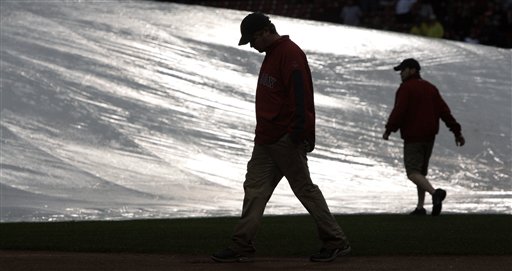 The weather report this weekend has been anything but good, with rain threatening the first two games of the series. The two sides were able to play uninterrupted on Friday, but Saturday was different story. Dark clouds rolled in sometime in the 4th inning, and soon enough the groundskeepers had to turn the lights in. With the Yankees clinging to a three run lead and monsoon conditions imminent, Sabathia went to the mound in the bottom of the 5th needing three outs to make the game official and qualify for a win before the skies opened up.
CC needed seven pitches to retire McDonald, then walked Marco Scutaro on eight pitches before Pedroia popped out on three pitches. Needing one more out, it looked like he would be able to make this one official before the rain became a factor. Instead, V-Mart fouled off a 2-2 pitch to extend the at-bat, and before Sabathia was able to deliver another pitch, someone turned the rain switch on as if they were filming the sequel to The Truman Show. It just started pouring. CC never got a chance to retire Martinez because the umps signaled for the tarp almost immediately. With two outs and two strikes in the bottom of the 5th. One out from an official game. It was the ultimate WTF moment, and even though it didn't have much of an impact in the grand scheme of things, we would have felt a little more comfortable during the rain delay knowing this game was official.
Another One Bites The Dust
It's almost comical at this point. The Yankees have had seven prominent players go down with injuries in the last seven days, and on Saturday they made it 8-for-8. Pitching in relief of Sabathia following the rain, Al Aceves retired V-Mart to end the 5th before going back out to work the 6th. While facing Jeremy Hermida with two outs and two on, The Mexican Gangster came up lame after throwing a first pitch curveball for a strike, and immediately began limping in front of the mound.
Based on his awkward landing and his reaction afterward, everyone figured Aceves had injured his leg somehow. Whether it was a hamstring or a knee or an ankle, who knew. He left the game immediately, and after the game we learned that he was dealing with a stiff lower back, the same issue he had in Spring Training. It'll keep him out of action for a few days, but thankfully he won't need to the visit the disabled list.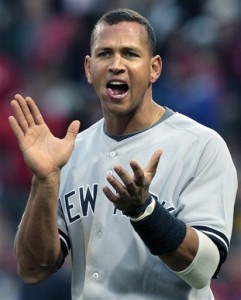 Various Moments Of Joy
I covered most of them above, but I just want to expand on Tex for a little bit. The Yankees have played just seven games in May, but their first baseman already has more hits (12), homers (3), RBI (11), and total bases (23) than he did in the entire month of April (11, 2, 9, 21, respectively). Today's effort increased his batting average by 26 points, his on-base percentage by 15 points, and his slugging percentage by … wait for this … 101 points! Teixeira finally crawled over the Mendoza line, and hitting .207-.343-.396 on the season.
The Yankees drew ten walks today, and struck out just four times. They put 27 men on base total, scored 14 runs, and still left nine men on base. And they didn't even have Nick Johnson, Jorge Posada, and Curtis Granderson in the lineup. That's amazing.
How about that moment of silence for Ernie Harwell and Robin Roberts in the 3rd? Nevermind escaping the nonsense of Buck and Tim McCarver, it was nice to hear nothing but the sounds of the game as if you were at the park. Truly epic.
And last, but certainly not least, congrats to Kevin Russo for making his Major League debut. First Yankee to make his big league debut in 2010.
Things That Made Me Want To Throw My Remote
Not much to complain about that I already haven't above, but good grief, how about Joe Girardi matching up with Damaso Marte against a lefty in the 8th inning of a nine run game? Come on now, that's ridiculous.
Randy Winn getting thrown out at the plate in the 4th. The Yanks had two men on with no outs after V-Mart gave the Sox the lead, and that out at home was a big blow at the time. They only went on to score one run in the inning, and even though it didn't matter in the end, making the first out at home is a major no-no.
WPA Graph
"Oh look, they're trying to put up a fight." "Let's stop that." "Oh wait look again, now they're trying to make a comeback." "Crush them."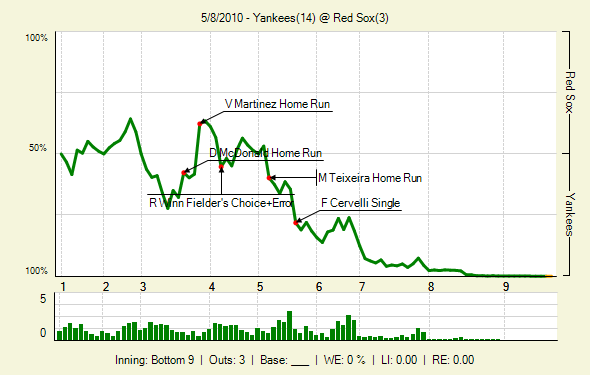 Individual player breakdowns are available at FanGraphs' box score.
Next Up
With the series already in the bag, the Yankees will try for the sweep tomorrow night on ESPN. A.J. Burnett gets the ball against Jon Lester, first pitch set for 8:05pm ET.