One of the biggest reasons why the Yankees turned their season around in 2009 was the complete overhaul of the bullpen that took place in late-May/early-June. Gone were the ineffective Jose Veras, Jon Albaladejo and Edwar Ramirez, and in came some new blood in the form of Al Aceves, Phil Hughes, and David Robertson. Robertson famously went on to post a 3.20 xFIP with an American League leading 12.98 K/9, but this year has been a much different story for the righthander.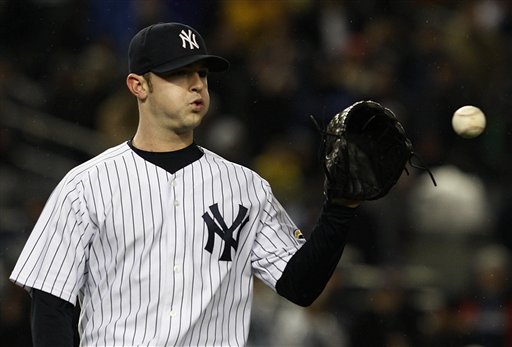 Through the team's first 27 games, his xFIP (3.91), K/9 (11.37) and BB/9 (2.84) are all more than respectable, but the end result generally hasn't reflected it. Robertson has allowed at least one run to score in six of his nine appearances (including inherited runners), and the three homers he's allowed are just one behind last year's total. Ever since I penned this gem, K-Rob has allowed six runs and seven baserunners while recording just five outs spread across three appearances. Making me look like a fool is the one thing Robertson has done right this year.
There's definitely some bad luck behind with Robertson's early-season struggles — see Fack Youk for more on that — but a bigger problem is that he's missing his spots. We're not just talking about throwing balls instead of throwing strikes (52.4% of his pitches were in the zone last year, 52.1% this year), we're talking about locating pitches within the strike zone. Let's look at the two homers he surrendered Wednesday afternoon, starting with the first by Matt Wieters…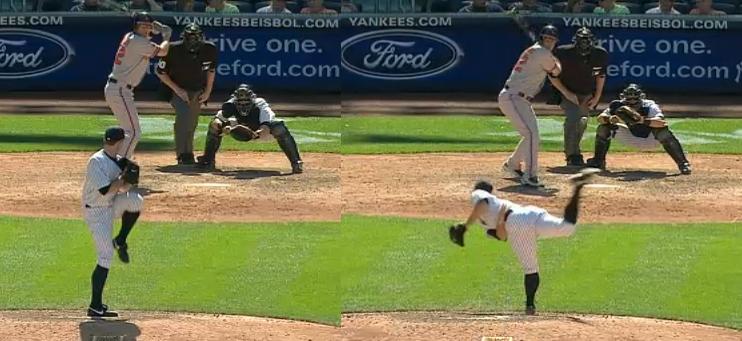 (click for larger)
As you can see, Frankie Cervelli set up down and away, but instead the pitch ended up thigh high and on the inner half, i.e. the wheelhouse.  Wieters did exactly what he was supposed to do with that pitch, depositing it into the second deck. The next batter was Nolan Reimold, and we run into the exact same problem…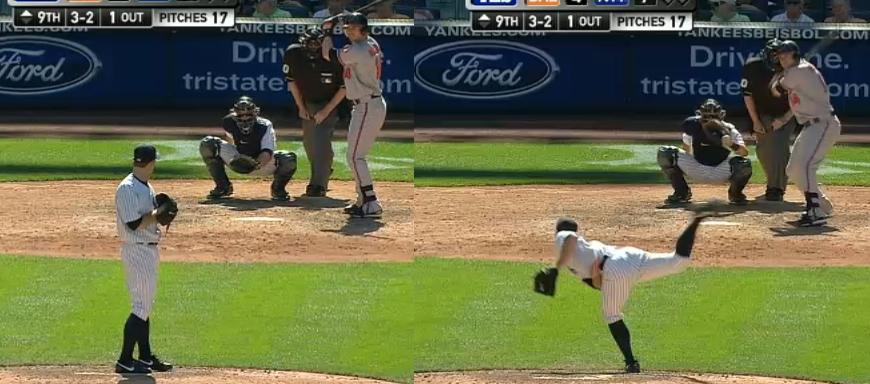 (click for larger)
Cervelli sets up down and away, Robertson delivers it thigh high and on the inner half, and Reimold sends it into the people. Both homers came on 3-2 counts after Robertson overthrew a 2-2 fastball that Cervelli practically had to stand up to catch. Both times, to both batters. If he's overthrowing, he's overthinking, instead of just executing. By no means is Robertson beyond repair, he's just scuffling a little bit and will eventually work his way out of it. His peripherals are obviously excellent, so with a little regression his overall performance will look better*. Ideally, the process of working his way out of it would take place in Triple-A Scranton, away from meaningful games.
* Although a 14.21 ERA is difficult for a reliever to shake. He'll have to throw 16.1 consecutive scoreless innings from here on out to get it under 4.00. If he throws another 40 IP in 2010 at the same 3.30 ERA clip as last year, he'll finish the season with a 4.86 ERA.
The problem with sending Robertson down right now is that the Yankees are experiencing a bit of a roster crunch. You may have heard about their recent rash of injuries, which is going to leave the bullpen a man short while Sergio Mitre fills in for Andy Pettitte. Mark Melancon can't be recalled for another seven days (unless Pettitte goes on the disabled list), and the only other realistic pitching options on the 40-man roster are Albaladejo (3.83 FIP in 14.1 IP in Triple-A, but it's Jonathan frickin' Albaladejo) and Romulo Sanchez (4.68 FIP in 25 IP as a starter). Hardly awe-inspiring. They might not be able to demote him until Chan Ho Park returns from the DL, if ever. For better or worse, Robertson might be the team's best option right now.
Joe Girardi could always demote him to lower leverage spots, but that's exactly what Wednesday's outing was. He entered the game with the leverage index sitting at 0.29, better known as miniscule. Even last year his average LI when entering the game was 0.72, which is below average. Girardi has thrown him into some bigger spots this year (average LI when he enters a game is 1.29), but so far he hasn't gotten the job done.
Robertson could probably use some time in Scranton to get his act together, but oddly enough, Andy Pettitte's injury might keep him in the big leagues. As long as Girardi realizes that Aceves and Joba Chamberlain should get the ball in high leverage, non-LOOGY situations, he should be in the clear. Hopefully Robertson figures out his command sooner rather than later, so he can go back to racking up strikeouts and owning the middle innings.