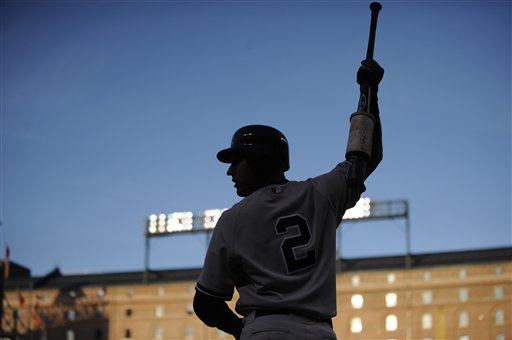 For the second time in the week, the Yankees will kick off a three game set with the Orioles tonight, which again features that all too common CC Sabathia vs. Jeremy Guthrie matchup. The Yanks knocked Guthrie around while Sabathia threw seven strong last week, so we'll surely be looking for more of the same.
Prior to the game, Derek Jeter and Mark Teixeira will be presented with their 2009 Gold Glove Awards, which would be cool if Gold Gloves meant anything. I guess it means they're popular. That counts for something, right? Anyway, here's the lineup…
Jeter, SS
Johnson, DH
Teixeira, 1B
A-Rod, 3B – guess the knee's okay
Cano, 2B
Posada, C
Swisher, RF
Gardner, CF
Winn, LF
And on the mound, Carsten Charles Sabathia.
It's been drizzling and overcast all day, but it looks like they shouldn't have any trouble getting the game in. YES will have the first pitch at 7:05pm ET. Enjoy.