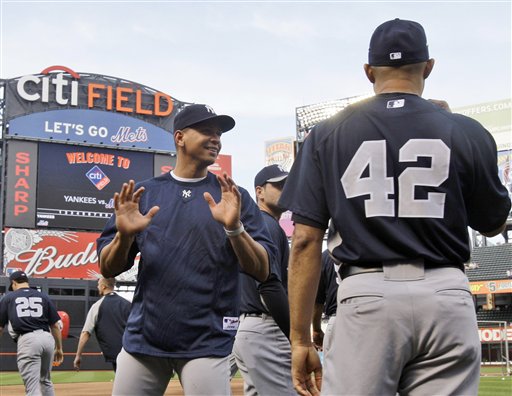 History is being made tonight, folks. For the first time in the history of the universe, River Ave. Blues is covering a game as a credentialed member of the media. We had to travel to lovely Flushing, NY to make it happen, but that's a small price to pay. In case you missed it, here's my pregame notes with a big Curtis Granderson update.
As for tonight's game, well the Yankees can really use a win, regardless of who it comes against. This weekend will get an undue amount of hype as a big series, but the Mets are in last place in their division and have lost nine of their last 12 games. At least someone's been worst than the Yankees recently. Javy Vazquez is making his first start since shutting down Detroit more than a week ago, but Mets' starter Hisanori Takahashi is making his first start in the United States. It seems like no matter how bad things go for the Yanks, it's just a little worse for the Mets.
Here's tonight's lineup…
Jeter, SS
Gardner, CF
Teixeira, 1B
A-Rod, 3B
Cano, 2B
Swisher, RF
Cervelli, C
Russo, LF
And on the mound, Javy Vazquez.
First pitch of the 2010 edition of The Subway Series is scheduled to be thrown at 7:05pm ET, and you'll be able to watch on either YES or SNY. I totally cut in front of Gary Cohen on the line to get a drink in the media lounge earlier. Anyway, enjoy the game.