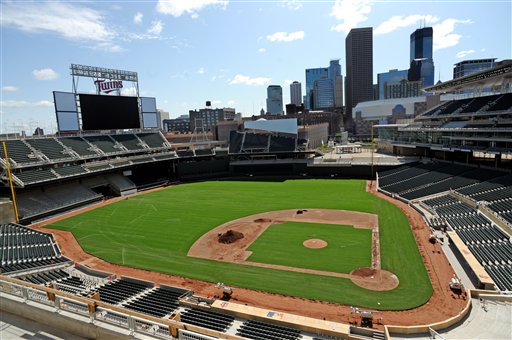 At long last, the eyesore known as the Metrodome is long gone (for baseball purposes, anyway), replaced with brand spankin' new Target Field. It's still extremely early, but so far the park is playing almost exactly neutral with regards to total offense (1.011 park factor), but it's greatly suppressed homers so far (0.623 HR factor). Of course, there have only been 21 games played there, so who knows.
On the mound for the Yanks will be acupuncture aficionado A.J. Burnett, who's put 37 men on base and allowed 18 runs in his last three starts (17.2 IP) after being so strong in his first half-dozen outings. He'll be opposed by Scott Baker, who the Yanks smacked around pretty good eleven days ago. The last time the Bombers won back-to-back games was against these same Twins a little more than a week ago. They've got to win one before they can worry about winning two, so let's start that streak tonight.
Here's the lineup…
Derek Jeter, SS
Brett Gardner, CF – sigh
Mark Teixeira, DH
Alex Rodriguez, 3B
Robbie Cano, 2B
Nick Swisher, RF
Juan Miranda, 1B
Frankie Cervelli, C
Kevin Russo, LF
And on the mound, Allen Burnett.
Because of those silly Midwestern states, first pitch tonight is scheduled for 8:10pm ET. It's a My9 broadcast tonight, not YES. Enjoy.
Update: And we're in a rain delay. No word when, or if they're going to resume.
Update II: Game's been suspended. They're going to resume this sucker tomorrow at 5:05pm ET, then play the regularly scheduled game at 8:05pm ET.