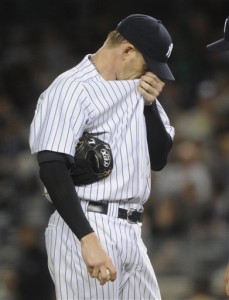 Just 4-8 in their last dozen games, the Yankees have hit their first real skid of the 2010 season. We all knew it was going to happen at some point, but that doesn't make it any less disappointing. Considering the opponents (Red Sox and Rays, among others) and the fact that the majority of those games were played at home, and yeah, it's frustrating. All of the recent injuries provide a built-in excuse, because what team wouldn't be weakened by losing their starting catcher, two starting outfielders, and starting designated hitter?
Of course, the injuries aren't everything. Every team has injuries, it's part of the game. The Rays don't have J.P. Howell or Kelly Shoppach, Boston's missing Jacoby Ellsbury and Mike Cameron, it happens. In fact, even without Jorge Posada, Nick Swisher, Curtis Granderson, and Nick Johnson in the lineup, the Yankees still managed to score 47 runs during the seven game homestand. And that's with Mark Teixeira enduring an 0-for-14 stretch. When you score nearly seven runs per game, you should win.
Instead, the pitching staff wasn't able to hold up it's end of the bargain, allowing 45 runs during that stretch. Most of that blame goes to the bullpen, which has allowed 20 runs in the last five games (16.1 IP). That's not quite Arizona Diamondbacks bad, but it's bad. Even more damning is that most of those runs were charged to Joba Chamberlain and Mariano Rivera, who are supposed to be rocks at the end of games. Maybe it's not damning, maybe that's too harsh, because it's certainly reasonable to expect those two to perform better over a 162 game season. Remember, if they did their jobs on Sunday and Tuesday, it's a 5-2 homestand instead of a 3-4 homestand.
(Devil's Advocate: If Jonathan Papelbon does his job on Monday, it's a 2-5 homestand)
The starters, so dominant early in the season, were just mediocre the last time through the rotation. Sergio Mitre (5 IP, 1 R) and CC Sabathia (7 IP, 1 R) did their jobs, but Phil Hughes (5 IP, 5 R), A.J. Burnett (6.2 IP, 6 R), and Andy Pettitte (5 IP, 7 R) were simply not good enough to win. The defense didn't help much either, as Teixeira, Alex Rodriguez and Marcus Thames all contributed significant misplays during the recent schnied. The Yanks still have a sub-4.00 team ERA (3.93, to be exact) and have allowed the fourth fewest runs in the league this season, but you wouldn't have been able to tell that by watching them over the last week or so.
Whenever the Yankees play (and more importantly, lose to) the Rays, we're always subjected to that usual schtick about them being younger and more athletic and holding track meets on the bases and what not, and of course it's true. The Rays are a special team, they make everyone look old. It's not something unique to the Yanks. If the pitching had done it's job, limiting Tampa to even just five runs a game, the series plays out much differently.
Injuries are certainly taking a toll on the Yanks' roster, but not let's not fall into the trap of using that as a scapegoat. The players that are healthy, specifically the pitching staff, haven't been up to par of late. It's not a fatal flaw or anything, it's just a rut. It happens to every team, and it'll happen to the Yankees again at some point this summer. They're too talented to pitch as poorly as they did during this homestand for a prolonged stretch of time. The good news is that 16 of their next 22 games come against last place teams, so the ship could be righted in very short order.
Just don't use the injuries as an excuse for their recent poor play, it's lazy and a total cop-out.