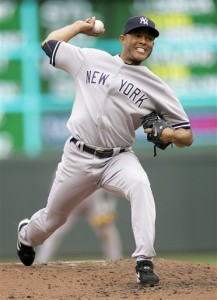 Over the last week or so, we've seen something strangely uncharacteristic from Mariano Rivera: he's been rather ordinary. Following his twelve day stint on the shelf with a side issue, Mo has allowed five runs in seven games, which is usually a bad month for him. It's a small sample (just 6.1 IP), but opponents had clobbered him for a .316 ISO this month prior to his two save effort yesterday. Rivera always has those one or two stretches a year when he appears human, but he never seemed to get hit around as hard as he did last week.
So as absurd as it seems, some fans were holding their breath when The Sandman came through the bullpen door to protect a pair of one run leads yesterday evening. He got the job done both times, though in the first game he saw a ball hit to the warning track, walked a guy, and gave up another hard hit ball that luckily was turned into a game ending double play. The second game went much better, with three routine ground outs making up his first 1-2-3 inning in five outings.
But something caught my eye yesterday, particularly during the first game of the one-and-a-half header: Mo was throwing a two seamer. Right from the start two, his first two pitches to J.J. Hardy didn't dart away from the righty batter as they usually do, they ran back inside. It's not often that Rivera throws something other than a cutter, especially not two pitches in a row. Those were the only two two-seamers he threw in that game (both were clocked at 91 mph), but he again broke out the pitch in a night cap, throwing two back-to-back to Delmon Young to record the final out (clocked at 93 and 92). You can see one of the two-seamers to Young here.
Both Hardy and Young and righthanded batters, so maybe Mo is having difficulty getting his cutter on the arm-side of the plate and went with someone else to get inside. Michael Cuddyer, another righty, saw nothing but cutters in his six pitch at-bat during the second game, but perhaps the scouting report says to pitch him away. Going back to Friday night against the Mets, Mo threw three two-seamers (one to each of the three righty batters he faced) out of 14 pitches, and during last Tuesday's game against Boston he threw just a pair of two-seamers (one to Mike Lowell, one to Kevin Youkilis) out of 29 pitches. It's not much, but seeing him double up on the pitch against Hardy and Young yesterday was definitely out of character.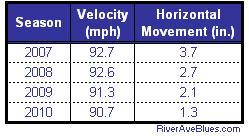 It's no secret that Mo's lost some velocity through the years, especially after his shoulder surgery during the 2008-2009 offseason. That's to be expected, he's 40-years-old. What has been unexpected is the loss of horizontal movement on his cutter. The PitchFX data from FanGraphs is on the left, and you can see that as the velocity's gone down, the break on the cutter has shortened up. None of us really cared because Mo was still an unstoppable force in the 9th inning, racking up sub-1.00 WHIPs and more than a strikeout per inning like business as usual. It's a very real change though.
Perhaps the increased use of the two-seamer against righties is a way of changing up the scouting report to get by with a slightly less devastating cutter. Perhaps it's just a small sample size aberration. Perhaps he's been using it all along and I just haven't noticed. It's just odd to see Mariano throw a pitch, and not have it cut across the plate away from righties. When it comes back in on same-sided batters, it's easy to notice. Of course, the biggest problem he's been having of late is command, which is incredibly unusual for him. Mo can usually dot the i's and cross the t's with his cutter from 60-feet 6-inches, but he's been leaving a lot of pitches in the happy zone recently. My guess (hope) is that it's a function of the long layout from the side issue, and that he's still rounding back into form.
I don't see any kind of problem with him incorporating a new pitch into his repertoire; hell, it'll probably make him even more brutally effective than before. Nine two seamers out of 70 total pitches (12.9%) across four outings is really nothing, but I'm definitely going to be paying attention to see if and when Mo turns back to the two-seamer from here on out.