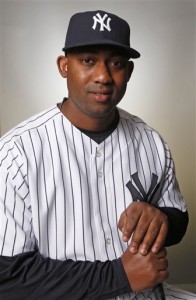 With Nick Johnson stuck on the disabled list for the foreseeable future, the Yankees' lineup is lacking two things: a regular designated hitter, and a productive lefthanded bat. Curtis Granderson's absence makes the latter even more obvious. We can dream about Jorge Posada DH'ing most of the time with Frankie Cervelli assuming starting catcher responsibilities, but the team appears to have no interest in doing that. Adding a third catcher (likely Chad Moeller) to a team with a (usually) four man bench is less than ideal as well.
In an effort to correct that missing lefty bat, the Yankees summoned Juan Miranda from Triple-A Scranton today. There's still no word on who's going down to make room, but hopefully it's one of the 13 pitchers. Preferably Boone Logan, but I digress.
Once upon a time Miranda was expected to be the Yanks' first baseman of the future, but Mark Teixeira hitting the open market changed those plans. Instead, he's been stuck in the minors for most of the last three years, save for September call-ups in each of the last two seasons. He's actually hit pretty well in his limited big league at-bats, a .430 wOBA with one wallop of a homer and a walk-off single in 23 plate appearances. Overall, Miranda's got a .371 wOBA in over 1,000 plate appearances at the Triple-A level, and has proven all he could at the level.
Miranda's arrival does several things for the Yanks' roster. For one, it helps settle the DH and leftfield situations, plus the overall lineup picture, all of which have kind of been in a bit of flux over the last week because of injuries both minor and major. Now, Joe Girardi can employ a straight platoon of Miranda and Marcus Thames at DH and in the 7th spot of the lineup. Randy Winn can't hit, but he catches everything he should and then some, so now he'll get regular playing time in the outfield. It's not the prettiest picture, but at least now everyone has a defined role and we all have some peace of mind.
An added benefit is that the Yanks will now get an opportunity to evaluate Miranda for an extended amount of time at the big league level. It's not just an audition for a possible DH job with the Yankees next season, it's an audition for the other 29 clubs. If Miranda performs well and the Yanks deem him expendable – remember, he'll be out of options next season, so he has to stick on the big league roster or go through waivers – they can use him in a trade to shore up another area of the team. A fringe benefit is that it also keeps Thames from being exposed against righthanders (dude's got just four singles since Granderson got hurt).
I said during the offseason that I didn't think Miranda could be a productive full-time designated hitter for the Yankees this year because of his troubles against lefthanders, but in a platoon situation he's an acceptable option. CHONE projects a .341 wOBA with 17 jacks, and I'm willing to bet he could top that wOBA with limited exposure to southpaws. Even if not, it's still more than we could ask for at this point. The Yankees just need Miranda to come in and help restore a semblance of normalcy to the lineup and roster. The constant juggling is no way to run a contender.