When it was announced that Jorge Posada will miss the next month or so with a hairline fracture in his foot, it was just the latest in what has become an almost comical string of injuries. Marcus Thames spraining his ankle by stepping on his own bat during last night's game was just the icing on the cake. It was the Yankees' version of Luis Castillo falling down the dugout steps. That's what they've been reduced too.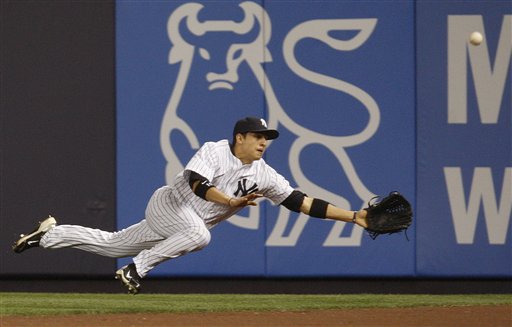 Ramiro Pena shouldn't be playing the outfield. (Photo Credit: Kathy Willens, AP)
For the most part, the reserve players have done a fine job of picking up the slack as the regulars nursed whatever it is they've been nursing. Marcus Thames and Randy Winn have combined for a slightly above league average .334 wOBA in 97 plate appearances since Curtis Granderson hit the disabled list, which is all you could ask for from your fourth and fifth outfielders. Frankie Cervelli has started 11 of the team's last 14 games, riding a .485 BABIP to a .424 wOBA during that stretch. That's not going to last forever, but even if he matches his ZiPS rest of the year projection (.334 wOBA), the Yanks will be in fine shape behind the plate.
However, every team has a limit to their depth, some more than others. If Nick Swisher's biceps needs a few more days on the shelf, the Yanks are going to be pressed into starting Ramiro Pena or Greg Golson or Kevin Russo or Chad Huffman in the outfield with Winn and Brett Gardner. In the spreadsheet world where only numbers matter, that's your sixth (at best), fifth, and third outfielders. Posada's injury not only brings the return of Chad Moeller, but it pushes Cervelli into an even more prominent role. The more he plays, the sooner his production regresses back to the mean.
The pitching staff is another story all together. Andy Pettitte's injury forced Sergio Mitre into the rotation, creating a a revolving door in the bullpen. Injuries to Chan Ho Park and Al Aceves only compounded that. For the last two weeks or so, the last guy on the staff has been whoever was freshest in Triple-A Scranton. That's not the way it should be. Joe Girardi should able to use the relievers he wants to use in certain spots, not the guys he has to use because of injuries and such.
There's going to be several roster moves made today, and right now the best thing the Yankees can do is restore a semblance of normalcy. No more of this 13 pitchers with only one of three bench players actually available nonsense. As much as we want Boone Logan to go away, he's probably going to stick around while Mark Melancon and the 37 pitches he threw last night head back to Scranton to bring the pitching staff down to a dozen. He's going to be replaced by one of the four minor leaguers above, though who exactly is anyone's guess. Posada hitting the DL (and Nick Johnson being transferred to the 60-day DL) create the roster room needed for Moeller.
We can dream about the Yankees signing super-versatile established big leaguers to stash away on the bench or in Triple-A should injuries take place, but that doesn't happen in reality. This isn't a video game; players aren't going to accept reduced roles just because you want them to. What the Yankees had coming into the season was a good set of bench players backed up by a plethora of minor league options both on the mound and in the batter's box, but the sheer volume of injuries have thrown these players into more prominent roles. One or two or even three injuries is one thing, but losing two starting outfielders plus your fourth outfielder plus your catcher plus your designated hitter is another story all together. The Red Sox lost two outfielders and had to trade for Jonathan Van Every to fill the hole. At least the Yanks didn't have to stoop that low.
If you were going to define Brian Cashman's reign as GM in one word, it would be "patience." He waited more than two months to pull the trigger on the Bobby Abreu trade following the injuries to Hideki Matsui and Gary Sheffield in 2006, and if he didn't do that, Melky Cabrera never gets a chance to prove himself as an every day player. Cashman's not going to run out to sign Jermaine Dye (who's going to need a few weeks to get into game shape anyway), nor is he going to start pulling off trades. The players that will come off the DL in a few weeks are far better than any of the options out there.
The in-house replacements like Golson and Russo are going to have to pick up the slack in the time being, but now we're talking about these guys playing a far more prominent role than could ever have been expected. The Yanks came into the season with solid depth, yet amazingly the limits of that depth is being stretched less than two months into the season.