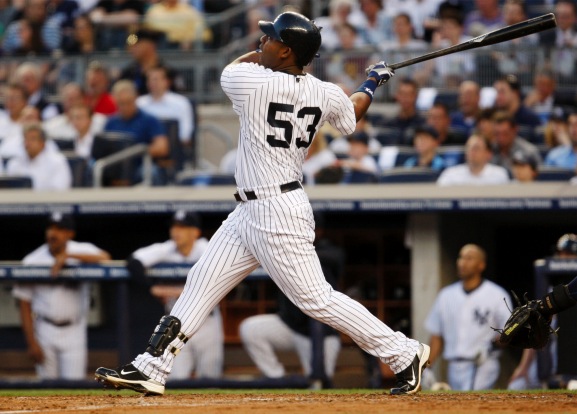 The O'Neill Rule has failed. The Yankees bats were not, in fact, enlivened by the 9th inning rally on Wednesday. In fact, a number of the team's hitters, including A-Rod, looked considerably worse at the plate than they did in Wednesday's loss. They took advantage of Rays' mistakes, but never conjured a rally of their own. The Rays, on the other hand, continued to pound Yankees' pitching. The injury riddled lineup just couldn't hang.
Defining moment: Yanks fail to capitalize in the third
The Yanks came into the game needing a win, so to see the Rays put across three in the first was pretty deflating. They came back for a couple in the second, and then appeared poised to assert themselves in the third. Randy Winn opened with a single, and you just can't waste opportunities like that. And so the Yankees went to work.
Derek Jeter laid down a beauty of a bunt that easily advanced Winn to second. That, however, wasn't the ultimate aim. With Evan Longoria playing back, Jeter's intention, I'm sure, was to put himself on base, too. Once the ball got past James Shields that was assured. Brett Gardner followed with a bunt of his own, this one a bit more predictable. Shields fielded this one, but likely wouldn't have gotten Gardner even if he made a good throw. He didn't, though, and the ball rolled into foul territory in right, allowing Winn to score. All the sudden, a deflated feeling turned into joy. The Yankees had tied the game.
Not only did the Yanks get a new life, they also got an opportunity to break open the game. Runners stood on second and third with none out, and the Yankees had their 3-4-5 hitters coming to the plate. In the most painful fashion, Shields dispatched of them. Mark Teixeira tapped a weak one right back to the pitcher. Alex Rodriguez struck out on a pitch that Dioner Navarro had to block. Robinson Cano waved at strike three well outside the zone.
While they had tied the game, the failure to score even one run in that situation again brought the deflated feeling.
Andy Pettitte: Not sharp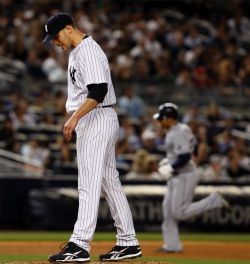 It was clear, right from the first batter, that Andy Pettitte was going to battle through this one. Four batters later he had a runner on first with none out and a 3-0 deficit. He threw 28 pitches in the inning, 13 of which were out of the zone. I'm pretty sure Cervelli had to move his glove on every pitch, though I might just be imagining that.
Overall Pettitte thew 103 pitches, 101 of which came before the sixth. In that inning he threw just two pitches, both cutters to Carlos Pena, who slammed the second one into the Yankees' bullpen to give the Rays a 7-4 lead. Again, deflating. Two runs is one thing. Once they tack on that third run, though, well, I'm not sure if it's just psychological, but it seems like a much tougher hole to dig out of.
It looked like Pettitte had settled down a bit after the first, but he slipped again in the fifth. Gabe Kapler singled with one out, and for some reason Pettitte payed a bit too much attention to him at first, throwing over four times during Jason Bartlett's at-bat. That one ended with a seven-pitch walk, which set up Carl Crawford to knock home Kapler with a single and give the Rays the lead. A Ben Zobrist sac fly put them two ahead.
I thought that would be it for Pettitte, but apparently Girardi wanted Pettitte to face the lefty Pena. In his career Pena is a markedly worse hitter against lefties, though he's been equally bad regardless of handedness this year. Anyway, it was a decent move that backfired.
Sheilds's change perplexes Yanks hitters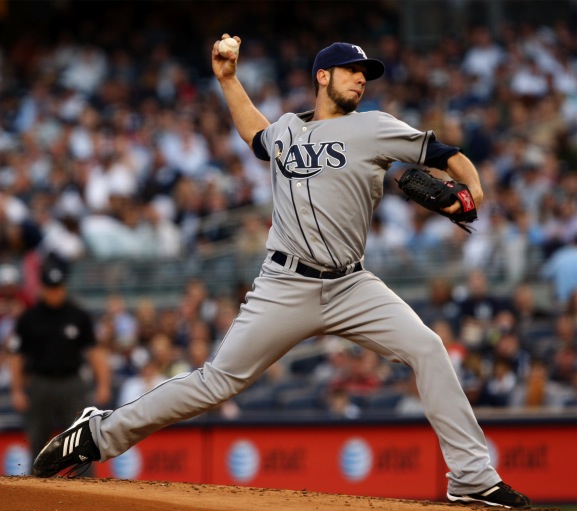 James Shields continued his high-strikeout ways by sitting down seven Yankees, six of them swinging. Five of those came on changeups. What's strange is that, so far as I can tell, Shields did not generate any swings and misses except for a strikeout pitch. He threw it 24 times, his most utilized secondary pitch, and made only one mistake. That was Juan Miranda's second-inning homer.
In the past few years Shields has proven himself to be a very good pitcher who doesn't appear dominant. He induced just six swinging strikes in his 7.1 innings, which matches his number of swinging strikeouts. That's amazingly efficient. The Yanks did get to him in some ways — he did allow eight hits — but one of them came because B.J. Upton couldn't find a fly ball. Four runs in 7.1 innings from Shields is not bad. But he still looked good.
Another rally falls short
For the second straight night the Yanks posted a rally in the ninth that fell short. Derek Jeter drove in two with a picturesque double into the gap, but that just wasn't enough. lt's encouraging that they were able to bring the tying run to the plate, but it just wasn't enough.
WPA Graph and box score
The peak at the beginning makes this one even more depressing.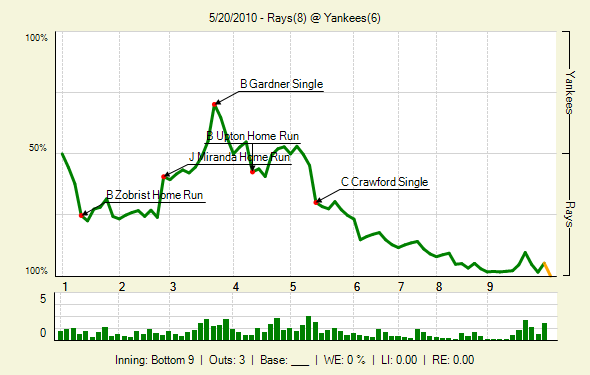 More at FanGraphs. Here's the box score.
Up Next
It's back on the road, but not really, for three games at Citi Field this weekend. Javy Vazquez vs. the lefty Hisanori Takahashi.