How does a team go 19-8 when their two best hitters have mostly struggled most of that time? By getting production from some unexpected places. Robinson Cano, Nick Swisher, and Brett Gardner have carried the Yankees' offense, compensating for the slow start by Mark Teixeira and the recent woes for Alex Rodriguez. All three appear in the AL wOBA leader board, with Cano ranking fourth, Gardner ninth, and Swisher 12th. They'll eventually cool off, but by that time Rodriguez and Teixeira could be back to their baseball bashing ways. Teixeira is already mostly there.
The high production from Gardner and Swisher won't stay at this level all season — .380 and .378 BABIPs are hard to maintain — but both have displayed approaches that could portend future success. Gardner has continued his selective ways, taking even more pitches than he did last season. Conversely, Swisher is swinging the bat far more often than ever before in his career. Both approaches, by their current results, have worked.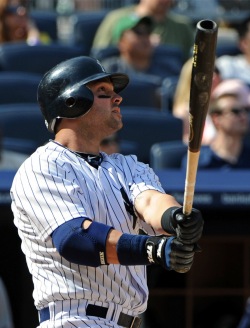 The most striking of Swisher's 2009 numbers is his strikeout percentage. At 18.9 percent, it represents his lowest rate since his 71-PA debut in 2004. He's actually chasing more pitches out of the zone, 28.1 percent against 17.4 percent last year, but is also swinging at more pitches in the zone, 69.3 percent against 56.7 percent. All those extra swings have led to him making more contact, 83.3 percent of his swings. This has led to more solid contact, which shows up in his batted ball numbers. Of the 74 balls Swisher has put in play, 18 have been line drives, 24.3 percent.
The trade-off for Swisher has been noticeable. In 2009 he saw 4.27 pitches per plate appearance, which ranked second in the American League. That led to the highest walk rate in his career, 16 percent. This year Swisher has seen 4.06 pitches per plate appearance. While that's still a solid number, it ranks just 25th in the AL. Strangely, the only hitter who saw more pitches last season, Kevin Youkilis, again ranks directly above Swisher (though has the same P/PA number). The approach has helped with men on base. While Swisher hit a respectable .246/.403/.453 with men on in 2009, he's hit .340/.415/.596 in those situations this year. The extra hits mean more RBI and more advanced runners, which has boosted the Yanks offense.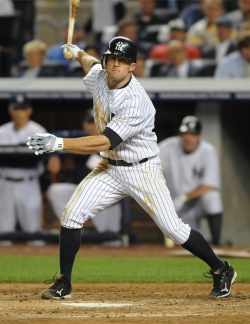 Gardner has made up for Swisher's reduced number of pitches seen. He has seen 4.5 pitches per plate appearances, second in the AL. This is an improvement of nearly half a pitch per plate appearance over last season. This has led to a higher walk rate, 11.7 percent, compared to 9.2 percent last season. Yet it doesn't appear Gardner is being more selective. He has swung at 19.2 percent of pitches outside the zone against 17.2 percent last season. The main difference comes on pitches inside the zone. He has swung at 40.3 percent of those, against 50.7 percent last season. In other words, he sees more pitches, but also takes more strikes.
What has allowed Gardner to stay productive this year is his success when swinging in the zone. Not only does he mostly avoid swinging at pitches out of the zone, but he also apparently lays off pitches in the zone that he knows he can't handle. To that end, he has made contact with 98.8 percent of pitches he has swung at inside the zone. In fact, his first miss of the season came yesterday. This has boosted his contact rate, which is excellent for a hitter of Gardner's style. He has also performed superbly with two strikes. He has seen such a count in 62 of his 94 PA, and has hit .339/.403/.393.
I have no idea if Gardner and Swisher can sustain anything resembling the success they've realized in the first month. What we can see, though, is that they're both taking a definite approach at the plate. Swisher is swinging earlier in counts and is making a ton more contact, leading to a higher batting average and more power. Gardner is taking everything he doesn't like, even if the ump calls it a strike. That has worked, though, because he's able to compensate by hitting well with two strikes. It has worked so far, and I don't think we'll see a shift in strategy any time soon.