Winners in seven of their last eight games, the Yankees rolled into Boston tonight feeling pretty good about themselves. Even though the Red Sox just laid a four game beat down on the Angels, even though Andy Pettitte's going to miss a start, even though Jorge Posada was still out of the lineup with a calf issue, and even though Javier Vazquez's problems had yet to be solved, the team showed up to the ballpark expecting to win, and win they did.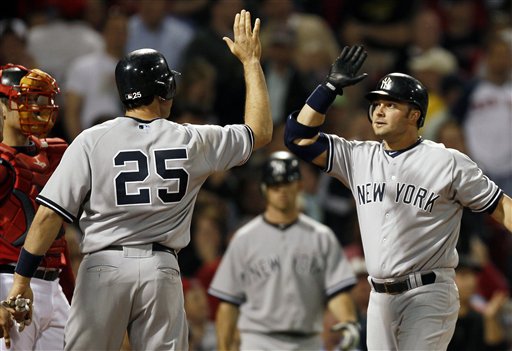 Biggest Hit: Nick Swisher breaks the tie
Through the first three innings of this game, Josh Beckett was absolutely devastating. He had already racked up six strikeouts, and the Yankees had hit one ball out of the infield. The 4th inning began with a first pitch ground out by Nick Johnson (more on that later), but Mark Teixeira and Alex Rodriguez followed up with a walk and a single, respectively. The Yanks had finally showed a little bit of life, and their best hitter in the early going was stepping to the plate.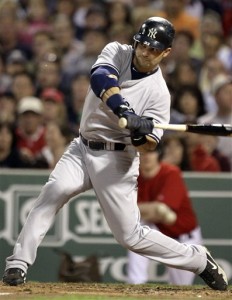 Robbie Cano, 5-for-24 (.208) on the homestand, saw four fastballs in the mid-90's, the last of which was foul tipped in Jason Varitek's glove for the strikeout. No one wanted to see the Yankees squander the opportunity to break the scoreless tie, and Nick Swisher was there to deliver. The Red Sox ace fired a first pitch cutter in the inner half, which tied Swish up and resulted in one of the ugliest swings you'll ever see. He took the next fastball on the outer half for a quick 0-2 count, but spit on the next two pitches to even things up.
The 2-2 pitch was Beckett's worst pitch of the night, a hanging curveball that stayed up in the zone long enough for Swisher to give it his finest swing. He sent the ball deep to centerfield, and it eventually came to a rest in the camera pit beyond the wall, giving the Yankees what seemed like a gargantuan three run lead. With one swing of the lumber, just one pitch from the end of the inning, Swish improved the Yankees' chances of winning this game by almost 30%.
Biggest Out: Dustin Pedroia flies out
After being staked to a three run lead, Phil Hughes spotted the Red Sox a run in the bottom of the 4th and appeared as if he was going to give them a little more in the 4th. After recording the first two outs of the inning without incident, Darnell McDonald and Marco Scutaro each pulled a ball for a single, putting runners on the corners for Boston's 2-3-4 hitters. In years past, this is where the old version of Hughes would let things get away from him and start giving up runs.
But this isn't that Phil Hughes anymore. He dug in and went after the 2008 AL MVP, getting him to fly out harmlessly to center on just two pitches. There was no nibbling, no throws to first, no shaking off, he just got the ball and threw it. The threat was over, and the rest is history.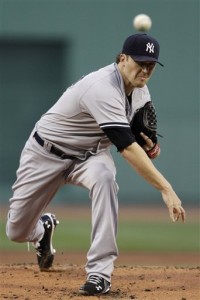 Hughes Your Daddy?
There's been one constant in our recaps this season: when Phil Hughes takes the mound, we generally end up writing a glowing report of his performance. We're not doing it because where's unabashed homers, the kid just keeps on pitching well. Tonight's effort featured seven innings of one run ball with seven strikeouts, seven hits, and just one walk. Just 31 of his 101 pitches were balls (69.3% strikes), and he went to a three ball count on just three of the 28 batters he faced.
The Yankees are one of the two or best teams in baseball this season, and despite all of their star power and future Hall of Famers, it's the 23-year-old kid taking the ball every fifth day that's the center of attention. Hughes' starts are must see TV, and they've absolutely been worth the wait we've endured since 2007.
Total Meltdown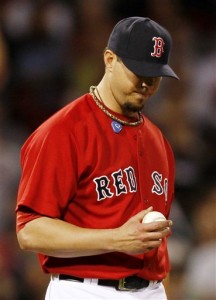 Early on, this game had the look of a good ol' fashioned pitcher's duel. Beckett struck out the side in the 1st inning, then tacked on two more in the 2nd. He skated into the 6th inning having made just one mistake – granted, it was a three run mistake – but he had given his team a chance to win. But not for long.
A-Rod led off the inning with a hard-hit double into left-center, then two pitches later Cano was standing on first after taking a cutter on the left knee. He stayed there for all of one pitch, getting lifted for pinch runner Ramiro Pena after the soreness became too much. Swisher struck out after having to duck out of the way of a 2-2 fastball that ran too far inside. Beckett was ordered to intentionally walk Brett Gardner (hah!) to load the bases and set up the force at every base. That's when the wheels came completely off the bus.
Cervelli stepped the plate after getting his tower buzzed in his previous at-bat, and he worked the count full thanks to a series of high fastballs and foul-offs. The seventh and final pitch of the duel came up and in, knocking Cervelli down and forcing in a run. Randy Winn jumped all over a first pitch changeup to drive in another run, then Beckett wasted no time in planting a first pitch fastball into Derek Jeter's ribs. The Yanks pushed some more runs across, but not before Teixeira had to duck out of the way of two inside fastballs.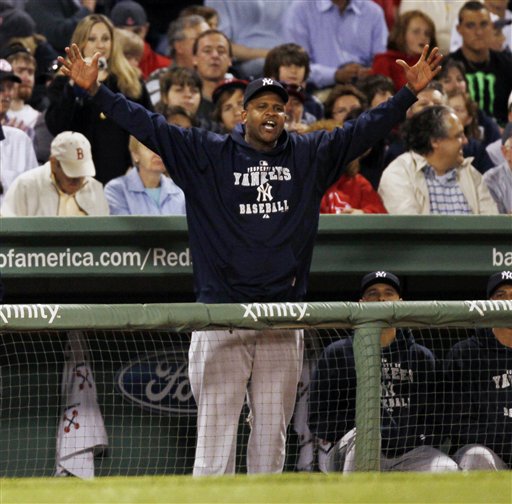 Given how utterly dominant Beckett had looked in the first several innings, locating two kinds of fastballs and a breaking ball with deadly precision, the sudden disappearance of his ability to get the ball over the plate was staggering. I don't think he meant to hit Cano or Jeter intentionally, nor do I think he threw inside on Cervelli on Teixeira with the intention of sending a message. I just think he had a completely unmitigated mental breakdown and was hung out to dry. It's not something you want to see from your supposed ace, but that's Boston's problem.
Injuries, injuries, and more injuries
It's been one hell of a week for the Yankees. They've seen five significant players go down with injuries, the most serious of which was Curtis Granderson's strained groin. We were all hoping the team would be able to escape this series without adding anyone to infirmary, but alas, it was not meant to be.
After grounding out in his second at bat, Nick Johnson was replaced by pinch hitter Marcus Thames, and it turns out that he's dealing with some wrist soreness. It's the same wrist he had surgery on in 2008, and Johnson is headed back to New York for tests. He's going to wind up on the disabled list for an unknown amount of time, and suddenly the Yanks are missing about 388 points worth of on-base percentage in front of the heart of their order.
But wait, it gets better. Not long after Johnson was forced out of the game, Cano took a Beckett fastball to the knee and had to exit the game himself. At this point he's just classified as day-to-day, just like Jorge Posada was when he took a Jeremy Guthrie pitch to his knee two weeks ago. Hopefully Cano won't be out very long, but the Yankees have the luxury of being a little extra careful with him to make sure he's 100% before returning. Johnson and Cano make it seven injuries in the last seven days, and a roster move is coming tomorrow to help shore things up.
Happy Moments
Phil Hughes. What more do you want? The guy's a stud. Also, the BABIP gods continue to smile upon Cervelli, and even Randy Winn picked up a few hits. Oh, and Gardner being intentionally walked. How awesome is that?
I'm also glad the Yanks didn't stoop down to Beckett's level. He was hitting guys and backing them off the plate left and right – intentionally or not – but Hughes and the rest of the pitchers took the high road and let the scoreboard be their retaliation. Beckett probably feels like a tough guy, but he's a tough guy on a team that's seven games out of first.
It was also just the third time the Boston righthander had allowed nine earned runs in a game, but the second time the Yanks have done it to him. You gotta love it.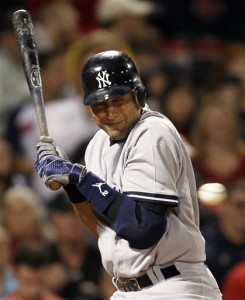 Annoying Moments
Walking Jason Varitek, and needing six pitches to do it. That's a major no-no, and pretty much the only blemish on Hughes' line.
Beckett's overall wildness was frustrating too. Yeah I know I just said I didn't think it was intentional, but that doesn't mean I can't be angry about it. For a guy making that much money and getting held in such high regard, you'd think he'd be able to step back and control his emotions. I'm not sure what it says about you when a 23-year-old displays more maturity and composure on the mound.
The injuries man … when it rains, it pours, eh?
WPA Graph
This one's a beaut. Individual player breakdowns are at FanGraphs box score.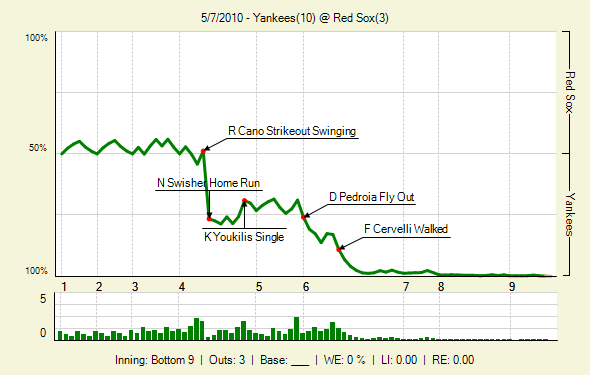 Up Next
Same two teams tomorrow on a FOX broadcast matinee, weather permitting. First pitch is scheduled for 3:10pm ET, and will feature CC Sabathia vs. Clay Buchholz.