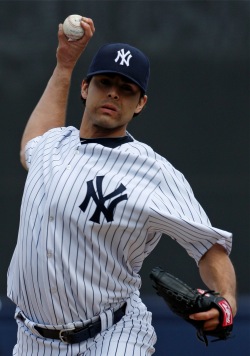 Before the Yankees called up Greg Golson this afternoon they boasted a 13-man pitching staff. Granted, it was in reaction to a free roster spot and a slightly short bullpen, but that doesn't make it any more necessary. The staff is now down to 12 men, but even that seems like a bit much when considering the Yanks' starters. While I understood the necessity of a 12-man bullpen through the mid-00s, I just don't get why they're doing it this year.
The staff has pitched 217 innings this year, 158 of which have been handled by the starters. That's good for fourth in the AL, though the Yankees have played fewer games than most of the teams surrounding them. They also had that rain shortened game, which deprived them of up to three starter innings. The staff ERA sits at 3.36, third best in the AL. These stats also include Javy Vazquez, which further illustrates just how dominant CC Sabathia, A.J. Burnett, Andy Pettitte, and Phil Hughes have been this year.
Unsurprisingly, Yankee relievers have pitched the fewest innings in the AL. Even further to the point, the Yanks have seen CC Sabathia negate the need for the bullpen in two games, so the bullpen innings per game drops even further. In the Yankees 25 games the bullpen has thrown 59 innings, just over 2.1 innings per game. This means that the late-inning relievers, Joba Chamberlain most prominently, eat up most of the remaining innings. He leads the team with 12 appearances.
One of Joe Girardi's strengths is his ability to spread the work among all the pitchers in his bullpen. Yet with the team's starters pitching out of their minds, he's had few chances to deploy many of his bullpen weapons. David Robertson, for instance, has alternately struggled and thrived this season, but he's never gotten a real chance to get into a groove. He has lasted just 5.2 innings in eight appearances. With more consistent work perhaps his results would start to reflect his excellent peripherals: 8 K and 2 BB.
This might seem like a good problem to have, and for the most part that is the case. I've long said that the best way to build an effective bullpen is to assemble a top-flight starting staff, and the Yankees have done just that. In fact, it makes me further wonder what this situation would look like if Vazquez had some semblance of a fastball. Would Sergio Mitre have ever gotten into a game? He'd have maybe an inning or two in a Yanks blowout, but not much more than that.
Might the Yankees be better off carrying just 11 pitchers? The 12th pitcher is, in essence, an insurance guy. He's there in case the starter flops. The Yankees starters, though, haven't been known for flops. Javy accounts for almost all of the rotation's poor performances, meaning Mitre is only necessary on those days. If Javy ends up pitching well, he might not even be needed then. True, one of the top four is likely to throw a stinker at some point, but Al Aceves can cover multiple innings if necessary.
For now, we likely won't see the Yankees stray from their 12-man staff. This is not only because it has become standard operating procedure to carry 12 pitchers, but also because the added spot on the bench doesn't seem necessary. Does having Greg Golson or Kevin Russo on the bench present a more valuable option for the Yanks than a 12th pitcher? At this point probably not. Later in the season, however, perhaps the Yankees can use that flexibility to pick up a bat off the bench and eschew the 12th pitcher. Hell, if the Braves continue to founder maybe they can even get back Eric Hinske.
Because the team doesn't have much need for a 12th pitcher, and because it has even less a need for a long man in non-Javy starts, maybe Girardi will start trying Mitre as a short reliever. He's not going to sustain his current hit rate, just 2.1 hits per nine, but with consistent work maybe he can prove a serviceable part of the bridge to Mo. If Girardi keeps Mitre and Aceves on different schedules he can then keep one free for long man duty if need be. That ability increases even more once Chan Ho Park returns.
The Yankees essentially have a free 25th roster spot. They don't need it for a 12th pitcher, and they don't really need another player to hit off the bench. It does allow them flexibility, something Cashman has preached for years. At this point, though, it seems more like a dormant spot that is waiting for a need to arise. We haven't quite seen one yet, and considering how well this first month has gone I think I'd be fine if one never did.