They honeymoon, it appears, has come to an end. The Yankees saw tremendous production from Francisco Cervelli and Brett Gardner at the start of the season, which extended well into May. In the past few weeks, though, we've seen a correction of sorts. Both have excellent numbers still, a .392 wOBA for Cervelli and a .356 mark for Gardner. In the past week or so, however, both have seen slumps that weren't exactly unforeseen. While I'm sure they'll pick it back up, I doubt it will be to their previously lofty levels. That could mean trouble for the Yanks' offense.
If the Yankees want to keep up their current pace, which would mean a 96-win season, they'll need their biggest names to step up. This is true of all teams, of course, but it holds a bit more significance for the 2010 Yankees. Their best players have been particularly streaky during the first 46 games of the year, and for many of them the lows have outweighed the highs. In particular, Mark Teixeira, Derek Jeter, and Alex Rodriguez have fallen far enough below their career norms that it has become an issue.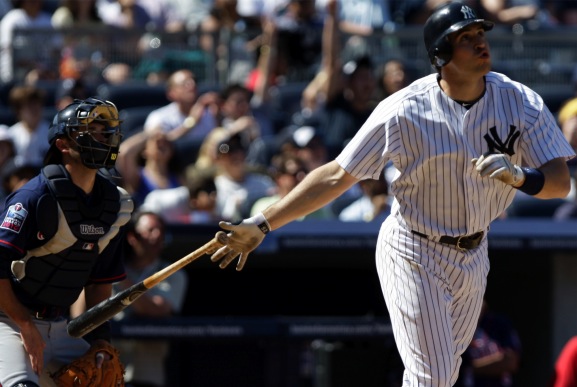 By this point last year, Teixeira was already on his road to recovery. Through 46 games he had accumulated 199 PA and was hitting .271/.382/.584. This year he has 202 PA and has hit .209/.327/.378. That represents not just a drop in batting average, but an even starker drop in power. Last year through 199 PA he had a .313 ISO, while this year he's at just .169. His discipline hasn't waned, as his walk percentage is right where it was last year at this point. His strikeout rate, too, is right in line with the first 46 games from last year. Overall, though, something just isn't right.
"I live off my hot streaks," Teixeira said after Saturday's game, in which he went 0 for 4 with three strikeouts. He bounced back with a 2 for 5, one strikeout performance on Sunday, though that last hit was the definition of a cheapie. Tex has a long way to go to a recovery. Even if he goes 4 for 4 with a homer, a double, and a walk in each of the three Twins games, he'll be at .261/.373/.484. Realistically, it will take him quite a few more games to get to even that level.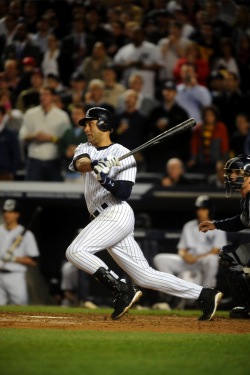 Derek Jeter has been the focus of much conversation this season. This is partly because of his impending contract negotiations, but also because of his recent slump. Even before that, many of us were alarmed at his first-pitch swinging and frequent groundballs to short. Through the team's first 24 games, though, it didn't seem to be much of a problem. Jeter was hitting .333/.367/.510 during that span. He then proceeded to slump terribly, hitting .169/.234/.211 in his next 77 PA. Were the captain's free swinging ways coming back to hurt him?
In a way, his first pitch swings and grounders to short are a concern. In another, Jeter, like all players, will slump during the course of a season. It's unfortunate that Jeter's came at a time when a number of starters have been missing, but that's just the way baseball works sometimes. He seems to be coming out of it, too, going 7 for 19 from Thursday through Sunday. He walked only once, a bit of a disappointment, but he also looked sharper at the plate. He swung at the first pitch from Santana in his first three plate appearances, but given how well he hit the ball it's difficult to blame him for that.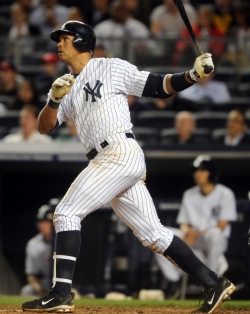 Thankfully for the Yanks, their No. 4 hitter is on the upswing. Alex Rodriguez currently sports a wOBA, .372, that ranks far below his career average of .411. That, however, was mostly due to an early season power drought, in which he posted an ISO of .162 through 126 PA (28 games). In his most recent 66 PA, though, he's been hitting not only for average, .317, but also for power, a .250 ISO. That's right around the level he finished last season.
What I think illustrates Alex's season is how his strikeout rate relates to his contact rate on pitches out of the zone. The latter is at career high levels while the former is at a career low. This might be an anomaly, or it might be a change in approach. Either way, it backs up the story I tell myself: Alex is just missing a ton of pitches. His 14 percent infield fly ball rate would serve as further evidence of this claim. Something's just slightly off, and once it clicks we might see an Alex outburst. It might have already clicked, but just hasn't shown in the numbers yet. In any case, I think we'll see quite a run by Alex, which is always an enjoyable span of games.
The Yanks simply could not rely on Gardner and Cervelli to carry them throughout the season. They got lucky that both of them got hot at a time when their better players were either hurt or slumping. Now that their luck is starting to even out, it's time for the superstars to step into their places. I have no doubt that Cervelli and Gardner will continue to hit capably, but they're not going to keep up their previously torrid pace. If the team's best players step up and hit the way they're capable, though, it will represent one of the greater strokes of luck in recent memory. Two good but not great players hitting like great players while the superstars slump. Then, just as the unheralded players simmer down, the superstars step up and start carrying the team.
I'm not sure if that's how the story will play out, but it's certainly feasible at this point. As it should, the Yanks' season will turn on the ability of its best players to hit to their capabilities. It needs to start tonight in Minnesota.