Coming off three straight losses to division rivals, the Yankees needed to get out of the Bronx just to get the awful taste out of their mouths and get a fresh start. Luckily they didn't have to go that far, just a few extra miles to play their little brother in Queens. Javy Vazquez was making his first start in nine days, but if anything, it looks like the extra rest agrees with the guy who, oddly, has been the team's best pitcher the last two times through the rotation.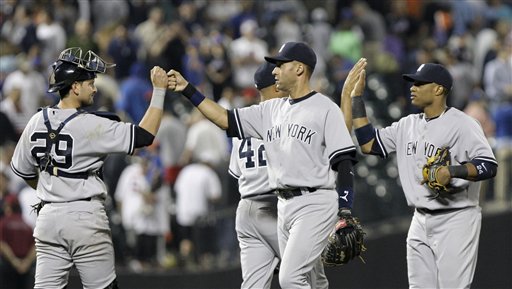 The Rookie Gets It Done
With players dropping left and right due to a variety of sometimes comical injuries, the Yankees have had to use their bench a little more this month than they would have liked. Today's hero was making his first big league start, at a position he's played a grand total of seven times before, no less. Such is life when dealing with the wrath of the injury gods.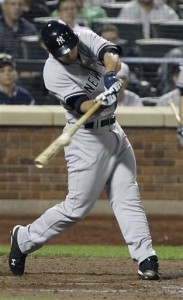 Kevin Russo, a 20th round pick in 2006, picked up his first big league hit in his first plate appearance of the night, a legit single to center. With that milestone out of the way, Russo went ahead and got his first career ten pitch at-bat out of the way his next time up, and moved on to the runs batted in his third at-bat. With the game still scoreless in the 7th inning, the Yanks had a rally brewing after a leadoff walk and a classic Mets' self-destruct error. Men were on second and third with no outs, so all the rookie had to do was slap a ball to the right side to get the job done. Even if he made an out, it was all good. The Yanks would take the lead.
An out wasn't acceptable to Russo, who jumped all over an 83 mph slider from hey-look-he's-still-in-the-league Elmer Dessens and sent the ball deep into the rightfield corner. Both runs scored with ease, and Russo trotted into second with his first career double, first career RBIs, and first career game-winning hit. Not a bad day, not a bad day at all.
You Jav To Be Kidding Me
Some things in life just aren't fair. Given how poorly the season started for Javy Vazquez, you couldn't help but feel good for the guy after his strong start in Detroit and big time relief appearance on Monday. He was returning to his National League roots tonight, so things were in his favor right from the get go, and he took advantage.
Even though his velocity sat in the high-80's for most of the night, Vazquez cruised into the 4th inning having allowed just one baserunner, a 6 pitch walk to Alex Cora. Walking the worst non-pitcher hitter in the other team's lineup is pretty inexcusable, so of course Javy walked him again (on four pitches!) to lead off the 4th. However, he managed to escape the inning on a pair of fly outs and a caught stealing, which was a common theme on the night. Javy was getting easy outs, nothing too difficult for the fielders, nothing that hard hit, it was all going according to plan.
The Mets didn't pick up their first hit until there was one out in the 5th, and Vazquez pitched right around that baserunner and cruised through six innings of work on 70 stress-free pitches. It was a complete game pace, which was something the Yankees would have welcomed with open arms. Unfortunately Vazquez never got a chance to complete the game, or even start the 7th inning because he suffered a bruised right index finger laying down a sacrifice bunt in top of the frame. Thankfully, x-rays were negative, though his next start is in question until further notice.
It's just par for the course these days.
Squandered Opportunities
The Yanks have developed a bad habit of not capitalizing on scoring opportunities, and that trend continued tonight. Frankie Cervelli led off the 3rd with a hard fought walk after falling behind 0-2, and Russo followed with a single. Vazquez bunted Russo over (Cervelli went first to third on the single), giving Derek Jeter a chance to drive in a run even by making an out. Instead, the Cap'n took three strikes (out of five total pitches) to gift Mets' starter Hisanori Takahashi the second out of the inning, and Brett Gardner wrapped up the frame with a relatively weak ground out to third. Leaving men in scoring position would soon become the theme of the night.
With runners on first and third with one out in the very next inning, Nick Swisher swung and missed at three junk balls in a five pitch at-bat when a moderately deep fly ball would have given the Yanks a lead. The speed on those three pitches he swung through: 80, 70, and 79. Just brutal, he was out in front of everything. The inning ended one batter later when Cervelli flied out harmlessly to center.
Fast forward to the 6th, when Alex Rodriguez started a late rally by doubling to right with two outs. It was a pure hustle double given Jeff Francoeur's strong arm. I guess you could say he needed all four legs to beat it out. Robbie Cano fought valiantly to work the count full, but he swung through an 80 mph somethingball (Gameday says it was a sinker, but whatevs) to end the frame.
The Yankees lineup is far too good to keep squandering these opportunities, but it's definitely cost them over the last week, and it wasn't far from costing them again tonight.
Things That Were Good
How about that Joba Chamberlain character? After a pair of dreadful outings, he came out and grunted and farted his way to a pair of huge strikeouts to end a 7th inning threat, then he came out to work a completely uneventful 8th inning. Five batters faced, three strikeouts, one ground out, and one lazy fly. Just like Joe Girardi drew it up.
Russo and Vazquez saw 18 pitches combined in the 5th inning. Even though they both made outs, what more could you ask for from your 8-9 hitters? All told, Vazquez had three productive at-bats (for a pitcher) when you add in the two sacrifice bunts.
Just because it needs to be mentioned: Russo is the sixth player from the Yanks' 2006 draft class to make it to the big leagues. That's an unreal number just four years out. Zach McAllister and Colin Curtis are right on the doorstep as well.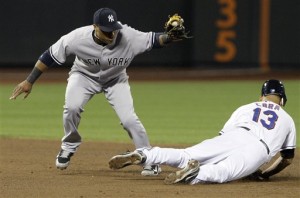 How about Cervelli throwing Cora out at second from his knees to end the 4th? From his knees!
Things That Were Bad
Gardner squaring around to bunt with Jeter on first base in the 1st (!!!) inning. That's just terrible. Just because you're in an NL park doesn't mean you have to play an NL style.
Two walks to Cora? Two?! C'mon Javy, you're better than that.
This was my first time at CitiField ever, and it seems like balls hit to the outfield just die here. I can't imagine how frustrating it must be to play 81 games in this place.
WPA Graph & Box Score
MLB.com has the old school box score, FanGraphs the new school funny acronyms.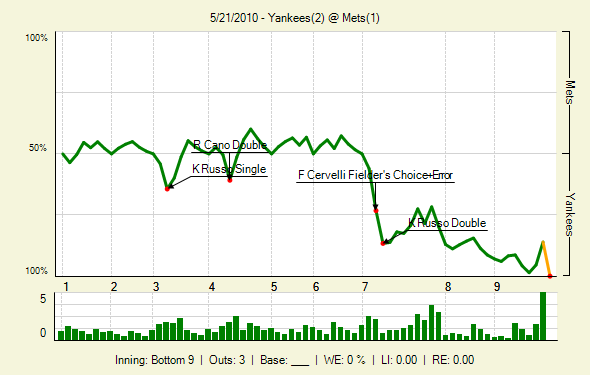 Up Next
Same two teams tomorrow night in a rare Saturday night game. FOX will have the prime time broadcast, and Joe will be in the press box to bring you everything your heart desires. Phil Hughes vs. Mike Pelfrey in a battle of former first round picks.