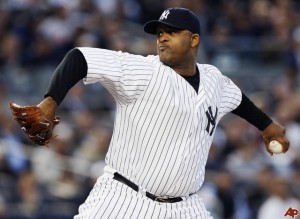 Remember when the year started? We began in Boston with Yankee ace Sabathia throwing the first game. Well, CC didn't do so hot. He was bludgeoned with 5 runs in only 5 1/3 innings. We saw him struggle to start the year in 2009 as well. No reason to panic, right? By the end of April, fans and sportswriters were calling for Sabathia's head on a pike. Well, as you may also remember, after the Boston series, Hey ZZ did fairly well, blowing out the Rays in April with an oh-so-close no-hitter that wasn't. He followed it up with a gem of a game against the Rangers with nine strikeouts in 7 2/3rds of 3-hit ball. Things were looking good. And then the outings started to drop a bit. Oakland saw him issue six walks, Baltimore hit him 11 times and each successive game seemed to feature Sabathia "gritting" out a victory but not looking too sharp, or getting tagged for 5 runs in 5 or 6 innings. Over his last five starts, Sabathia has only had a positive WPA in one of them (the start against Boston on the 18th).
Let's take a look at CC's peripherals and see if we can figure out what's at least changed, even if there's nothing to worry about. What exactly has gone wrong?
The first thing you'll probably notice with CC's year thus far is his strikeouts and walks. He's striking out less than seven batters per game (6.81 k/9) while giving up more walks than we've seen since 2004 (2.90 BB/9). His groundball rate is an oddly high 49% on the year, up 7 percentage points from 2009. Still, he threw up a GB% of 49.5 in 2004, so it's not completely unheard of. And we'll get to more of that later. He's also benefited from fairly good defense and luck. His BABip is .272, which is the lowest it's been at any point in his big league career.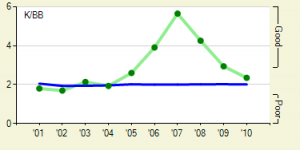 He's currently outperforming his peripherals with his ERA, which comes in at 4.16 on the season. His FIP in 2010 is a decidedly un-CC-like 4.46. The rub here though is his xFIP, which basically normalizes home runs and adjusts the FIP. Here we see CC fall in line closer with his ERA, notching a 4.11 xFIP. Why would this be? Well, his HR/FB rate is a wacky 13%, easily a career high by a fairly wide margin. This is not to say CC's pitched like the guy we know he can, but he's definitely been burned by the home run, and trends suggest it likely won't continue at such a rate.
But here's where it gets weird: you know how we talk about pitchers using all of their pitches effectively and mixing up counts to stymie hitters? Sure you do! Generally we say it about Hughes and his proclivity to  go fastball-cutter-fastball-cutter. Or Joba and the guess-what-3-2 slider. Well, Sabathia hasn't fallen down that path. No, he's gone the other way. Generally a guy known to throw his potent four-seamer 60% of the time, Sabathia has been throwing it 48% of the time this year. Instead, he's been relying on his two-seam fastball 18% of the time, up from 3% last year. Unfortunately, no data is available (that I'm aware of) to suggest a trend or an outlier, but whatever the case, it's clear that CC isn't as comfortable with his primary fastball this year, unlike that of the recent past. Could it be that he's feeling some tiredness due to his extreme workload the past few seasons?
On the year his velocity has been down by about 1 mph on the fastball. We're only on the doorstop of June so as the weather heats up, we should expect it to rise in line with what we've seen in the past. Take a look at his average velocity through this point last year and in the two previous seasons. He's been consistently higher in velocity, even in his first 10 starts of the season (where we'd expect the weather to be of similar natures). But it hasn't been by concerning numbers. Remember, we're talking about 1-2 mph and many pitchers go through periods of variation. Luckily, CC doesn't seem to have much issue with velocity. He was consistently hitting 95-96 yesterday, though many of them were fouled off and the pitch count ran high. So the velocity issue may be overblown.
From March to June in '08, Sabathia averaged 93.4 on the fastball, threw it 60% of the time and saw hitters swing at the pitch 45% of the time, whiffing 5% of swings. He had great movement, too. His fastball had 9.11 inches of vertical rise and it moved horizontally 6.66 inches. In '09 in the same time period Sabathia averaged 93.9 on the fastball, threw it in 57% of the time, saw hitters swing 46% of the time and miss 5.3% of the time. He averaged 9.41 inches of vertical movement and 5.45 horizontally.
In 2010, he's averaging 93.1 on the fastball, throwing it for less strikes and getting less whiffs on the pitch, down to 4.6%. The movement has registered at 9.28 inches vertically and only 3.81 horizontally. Slower and less movement.
So according to this, his fastball hasn't been what it should be, even when only looking at the colder beginning months of the last two seasons (where PitchFX data is available). And I think he knows it, which is why he's throwing it less often. Well, what about other data points we can get by the pitches themselves? Fangraphs has a nifty little pitch values chart, which essentially rates how effective pitchers are with their offerings and how hitters fare against them. His fastball this year rates as a negative pitch (-1.8) while his slider and changeup both rate as positives (3.2 and 3.5 respectively). So what about that two-seamer he's been so fond of lately? Well, I believe that's included in the overall fastball rate. Per Texas Leaguer's Pitch FX data, it seems like it's been effective for him. He's getting 8% whiffs on it, has thrown it for strikes and often elicits groundballs.
The two-seamer seems to explain the uptick in groundballs, now approaching 50% on the year, as I previously mentioned. We know that pitchers need to evolve as they get older, so getting more groundball outs could be a way for CC to put less strain on his arm and adjust to hitters that see him many times over the years. Or it could be that he's thrown it in the past but they haven't classified the pitch as a two-seamer (or in TX Leaguers, a sinker). Hard to say.
Another odd point in the year is that lefties are hitting an extraordinary line against the big Californian, known to be death to lefties. A career .236/.297/.358 against southpaws, he's been lit up for a line of .283/.377/.472. That absolutely cannot continue for the big fella to be a successful ace in New York. That's almost Gaudin-ian.
Lastly, the plate discipline. CC isn't getting batters to chase as many pitches he's thrown but they've made contact at higher rates than we've seen in a while, checking in at a 79% contact percentage. His swinging strike percentage is also down to 8.5% – he's usually in the double digits.
Now this could all be nothing. Again, when he got off to a poor start last year, people echoed similar concerns. "He's thrown too many innings," "stuff just isn't the same" and the like.  But it's too early to say anything is awry. Sure, we haven't seen his struggles extend so far into the season yet, but CC has never been known as a 1st half pitcher. Maybe he just needs an extra month (like Teixiera?) to get hot and he'll start looking like the CC we saw last year. The home runs will come down, the velocity should move up and it looks like he's now relying on a pitch more to get grounball outs. How he approaches left-handers and the look of his four-seam fastball should be large factors in how CC does moving forward. He needs to be the ace on this staff.