Yesterday's off-day came at a convenient time. The Yankees just suffered their toughest week of the year, so getting a night away from their struggles is probably a good thing. They'll pick things up tomorrow night in Minneapolis, starting with a tough assignment against the Twins and then hitting a stretch of schedule where they play just one team above .500 — and even the Blue Jays might be reeling by then. For now, though, let's take a step back and see where the Yankees stand compared to their AL East peers.
1st Place: Tampa Bay Rays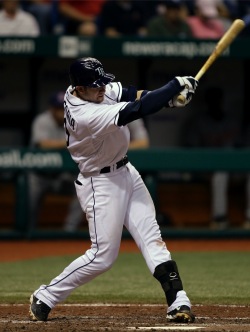 The Rays have come out of the gate quicker than any other team in the majors, and with a 32-13 record are on pace for a 115-win season. Whether they get there will be largely dependent on 1) how they fare against their tougher AL East opponents, and 2) whether they remain reasonably healthy for the rest of the season. For now, though, they remain the kings of the league.
Their ascension — or re-ascension — to the top of the AL East should come as little surprise. The Rays had a good team last year but caught a few unlucky breaks, likely making up for their incredibly lucky 2008. Once Scott Kazmir returned that May they used only five starting pitchers. Last year they only used seven, but Andy Sonnanstine lost his command and Scott Kazmir lost it in general. They've used only five starters this year, three of whom have an ERA under 3.00. James Shields is at 3.08. Wade Davis was at 3.35 before the Red Sox tore into him last night. They lead the AL in runs per game allowed by a significant margin.
On the other end, their offense has been killing the ball. Evan Longoria and Carl Crawford have been offensive juggernauts, posting wOBAs of .414 and .392. Ben Zobrist, despite his lack of power, still has a .385 OBP and a .375 wOBA. Like the Yanks, they've gotten production from unexpected players. John Jaso, called up to replace the injured Kelly Shoppach at catcher, currently sports a .446 wOBA, and Hank Blalock, recalled from AAA to replace Pat Burrell at DH, has opened his Rays career with a bang. They're also seeing excellent production from former top prospect Reid Brignac.
On one side, the Rays will certainly lose some of that production. Jaso stands no chance of maintaining his .446 wOBA once he gains more playing time. He'll be an upgrade over Dioner Navarro, which is all the Rays really need. Blalock might hit decently, but not .407 wOBA good. On the other end, though, both B.J. Upton and Carlos Pena have proven to be better than their current numbers suggest. If they recover it can help offset the effect of Jaso coming back to earth.
Where the Yanks have to be really concerned is with the Rays pitching. Shields and Garza have proven themselves as top performers, and David Price has started looking like a player worth of the top overall pick. Combine that with a second soid year from Jeff Niemann and they don't need Wade Davis to be lights out. He might be, though, which will cause problems for every team in the AL East — hell, for every team in the majors. I'm not sure if the Rays are this good, but they're good enough to finish the season with the league's best record.
2nd Place: New York Yankees
Not that we need to harp on the Yankees, since we do that every day. We know the story: slumping and injured. The pitching, which dazzled early in the season, took a couple of rough turns through the rotation. After the Twins series, though, they hit a patch of lesser teams, during which they should get Granderson and Posada back. If the pitching gets back on track, the Yanks will do just fine from here on out.
3rd Place: Toronto Blue Jays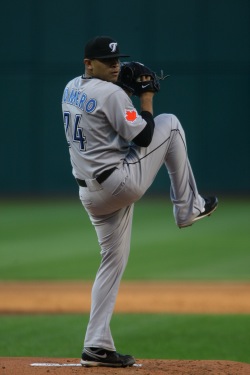 During the off-season, I wrote about no other non-Yanks team more often than the Blue Jays. They're a fascination of sorts. J.P. Ricciardi never seemed to have a concrete plan in constructing his roster. I'm sure he did, but from afar it didn't seem like a solid one that would propel the Jays to the front of the AL East. Instead it seemed like he was trying to make little gains every year, and that just won't happen when the top two teams in the division spend a combined $350 million on payroll.
Like last year, though, it's unlikely that the Jays are as good as their early season record indicates. They have received unprecedented production from a number of players, and we're almost certain to see that drop off in the coming months. John Buck and Alex Gonzalez are notably playing above their heads. There is little, if any, chance that either finishes within 20 points of their current wOBA rates, .379 for Buck and .367 for Gonzalez. Their wOBA leader, Vernon Wells, could be for real, though. He has the talent to put up those numbers,
On the other end, though, they have a few underperforming players, Adam Lind chief among them. If he, Lyle Overbay, and Aaron Hill pick up the production they might compensate for the declines of Buck and Gonzalez. I doubt it will be enough to keep them third in the AL in runs per game, but they'll likely remain above average.
Their pitching has been good, though sprinkled with poor performances. Shaun Marcum and Ricky Romero have both been excellent. They won't make Toronto fans forget about Roy Halladay, but they're doing a good job in his stead. Brett Cecil has made some strides this year, and his peripherals look far better than his 4.98 ERA. If Brandon Morrow can manage to stop walking hitters so frequently they could have a more than formidable top of the rotation. The pitching staff could actually be the reason they stay afloat this season and possibly finish above .500.
I never thought I'd type that last sentence before the season started. Shows how much I know.
4th Place: Boston Red Sox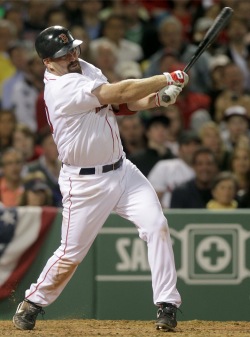 A 25-21 record isn't terrible for a team that lost two of its outfielders and its No. 1 pitcher for a while, but that's not what matters right now for the Red Sox. They're clearly a better team than their record reflects, but games in the bank are games in the bank. Then again, the 2009 Yankees were just one game better, 26-20, through 46 games, so the Sox certainly have a chance. In fact, they found themselves at the same place, six games over .500, a month later. In other words, it would be foolish to count out the Sox right now.
Despite the slow start, despite the focus on defense over offense this off-season, despite injuries to two of its starting outfielders, despite a terrible start for David Ortiz, and despite an equally slow start for Victor Martinez, the Red Sox still rank fourth in the AL in runs scored. Nos. 1 through 3 are all AL East foes. Run scoring has not been even a slight problem for the Sox. In fact, if their run prevention plan had not hit a few bumps in the road, they might be up there with the Rays right now.
Red Sox pitchers, before last night's game, ranked 13th out of 14 AL teams in runs allowed. John Lackey has had a rough go in Boston so far, and Josh Beckett got off to a horrible start and is now on the DL with back problems. Daisuke Matsuzaka was on the DL to start the season and has been hot and cold since returning. Jon Lester gave up tons of runs in his first few starts, exacerbating the Sox's woes, though he has more than gotten back on track in his past few. Add to that an effective Clay Buchholz and an unsurprisingly league average Tim Wakefield, and it's a good rotation that has faced a few unexpected problems.
What scares me about the Sox is that few of their hitters are playing above their heads. A 1.071 OPS would represent a career year for Kevin Youkilis, but he's still capable of achieving it. Victor Martinez will almost certainly improve on his numbers, too. In other words, the Sox could maintain their offensive production throughout the season. If Lackey turns it around and Beckett comes back fully healthy, well, the Sox could surge like the 2009 Yanks did. They have a long way to go with both the Yanks and the Rays out in front, but I wouldn't count them out until the math says they're eliminated.
5th Place: Baltimore Orioles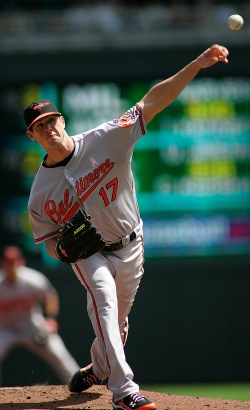 I didn't think the Orioles were in for a 2008 Rays-type run, but I didn't think they'd be this bad. Maybe that's because I overestimated their young pitching. That's not a long-term overestimation, though, but merely a short one. Kevin Millwood and Jeremy Guthrie have done an admirable job as the veterans on the staff, but all of their young pitchers — Brian Matusz, David Hernandez, and Brad Bergesen — have struggled in the first month and a half of the season. It also doesn't help that they feature one of the league's worst bullpens.
As of today, May 25, the Orioles are done. They've been done, really, most of the season. That's not a completely bad thing, though. It affords them the patience necessary to deal with growing pains for Matusz and Bergesen. It also means they can take their time with their other top pitching prospect, Chris Tillman, who has had ups and downs in AAA this season. It might get frustrating when the bullpen blows wins for them, but maybe that will be part of their learning process.
It's on offense that the Orioles have truly struggled. If not for Ty Wigginton's unexpectedly insane level of hitting, a .407 wOBA, the Orioles might be in an even worse place right now. Miguel Tejada has been good at times, but on the hole hasn't been anything special. Adam Jones is having a terrible time this season, as is Nolan Reimold, whom the Orioles recently optioned to AAA (perhaps to play more first base and take over for the horrible Garrett Atkins). Matt Wieters has not impressed with the bat, either. Nick Markakis remains the only other bright spot on the offense, and even he has faced some issues. His .123 ISO isn't up to his career standard, though his .406 OBP represents an improvement in his discipline from last season.
The Orioles still have a strong group of young players and a good farm to back them up, but this just won't be their year. With the Yanks, Rays, and Sox established, and the O's and Jays on the rise, though, we could see quite a battle emerge in the AL East as soon as next year.