Normally when you see an 8-0 final score you figure it's a combination of offense and pitching that gets the job done. Yet for the first eight innings it was all pitching. The Yanks manufactured two runs early, and from there Phil Hughes took control. It wasn't until the top of the ninth that the Yanks' offense broke out and scored six runs. Hopefully that starts a variant of the O'Neill Effect and spurs the offense to another big day tomorrow.
Biggest Hit: Teixeira hits it where they ain't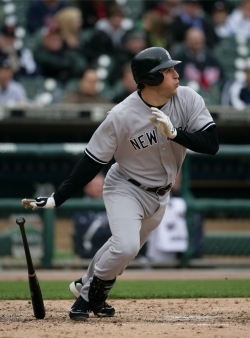 Many teams employ a shift against Mark Teixeira when he bats lefty. It makes sense. Just look at his spray chart against righties. With Derek Jeter standing on second, though, the Tigers couldn't really afford to do this. They had to play him with just two defenders on the right side, and that left a hole ripe for a ground ball. Teixeira didn't hit it well, really, but it was good enough to get past Miguel Cabrera and into the outfield. Jeter came around to score, giving the Yankees a 2-0 lead.
Teixeira has been heating up lately, though he hasn't hit full breakout mode. Despite his poor numbers so far, he has actually been superb with runners in scoring position. Before the first game today he was hitting .321/.500/.536 when in position to drive home a run, which explains why he now has 23 RBI even while hitting far below his abilities.
WPA doesn't consider external factors like the lineup or the pitcher, but if it did this hit would have been even more important. With Phil Hughes on the mound and cruising, the Tigers couldn't afford to give up that run. Hell, the way things ended up they couldn't really afford the first-inning run.
Biggest Pitch: Brennan Boesch loads them up
Only once did Phil Hughes run into a problem. In the fourth inning, not long after the Yanks spotted him a second run, he made his first mistake of the game by walking Johnny Damon with none out. Magglio Ordonez followed with a single of his own, and after Miguel Cabrera lined out to short Brennan Boesch grounded one to right field. It was hit hard enough that Damon couldn't score from second, but it still set up the Tigers with an opportunity to get back in the game.
The Tigers have a potent offense, but it starts to tail off after Boesch. Hughes took advantage of the weak part of the lineup, striking out Alex Avila on three pitches and then getting Don Kelly to pop up. Hughes has certainly impressed with men on base this year. It seems like he always has the situation under control, which is a huge change from 2008, when it seemed like death every time he let a runner reach base.
Biggest Out: Hughes quells the minor threat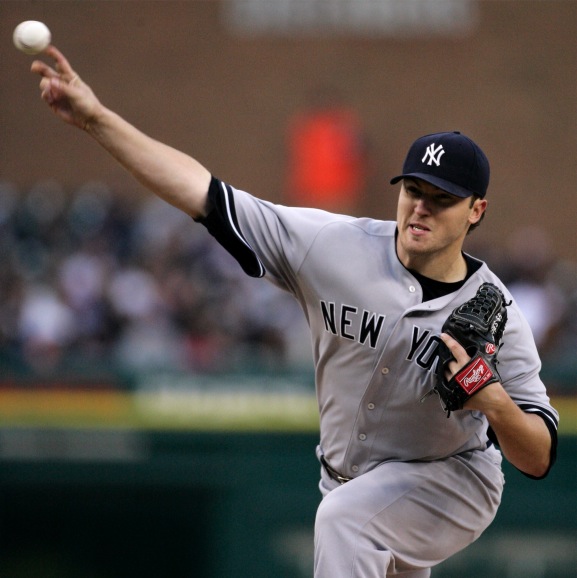 While Hughes rolled through the first six innings, the Yanks offense didn't do a ton to help him. They scored two runs to that point, far below what we've come to expect from this crew. So when Boesch reached out and hit a bouncer up the middle, he gave the Tigers another chance. Unfortunately, though, that same weak bottom of the order that killed the fourth inning rally was again due up.
Hughes threw a cutter down and in to Avila, and he grounded it right to Pena at short. A flip to Cano and a throw to first erased both Tigers, killing a potential rally. It was the last trouble Hughes would face. Though Kelly blooped one to keep the inning alive, Hughes got Ramon Santiago to hit an infield pop up, ending the inning.
Hughes kept a rollin', all night long
No recap would be complete without fawning over the performance of Phil Hughes. His seven-inning shutout lowered his ERA to 1.38. He added to his gaudy strikeout total by fanning eight, and walked only one Tiger. Only Miguel Cabrera connected for an extra base hit, which is always excusable. Dude could be the AL MVP this year.
The best part about Hughes's performances is that his peripherals justify his results. No, he's not going to sustain a 1.38 ERA. Pitchers just don't do that these days. But if he keeps up his current strikeout, walk, and home run rates — and even if the home run rate increases — he'll be just fine so long as the defense doesn't revert to 2005 form.
After the game he sports a 2.61 FIP, which certainly bodes well for his future starts. His xFIP sits a bit higher because he has allowed just one homer all year, but I do wonder how much of that is skill-based. He has used the cutter later in the count, preventing hitters from squaring up pitches. He'll hang a curve or let a fastball get too much of the plate from time to time, but the way he's pitching now I expect his home run rate will remain below league average.
Joys
Other than Hughes? A-Rod's single in the first was quite nice. He hasn't hit for much power this year, but he can still knock home a runner on second with a well-placed single. It's not the height of his value, but it will do for now.
Teixeira hitting right into where the shift would have been.
Greg Golson's first major league hit was pretty sweet. He had a nice looking looper in his next at-bat, too.
Seeing Mariano for the first time in what feels like all season.
Starters in the double-header: 14 IP, 10 H, 2 R, 2 ER, 3 BB, 15 K. Bullpen: 3 IP, 1 H, 0 R, 0 ER, 0 BB, 3 K. How the hell did they split?
Annoyances
Swisher day to day? Seriously? These nagging injuries happen, so under normal circumstances it wouldn't be annoying. I suppose having Park, Aceves, Granderson, and Johnson on the DL makes it sting a bit more.
Really, though, was there anything to be annoyed with in this game?
WPA Graph and Box Score
I could totally dirtbike down this WPA graph.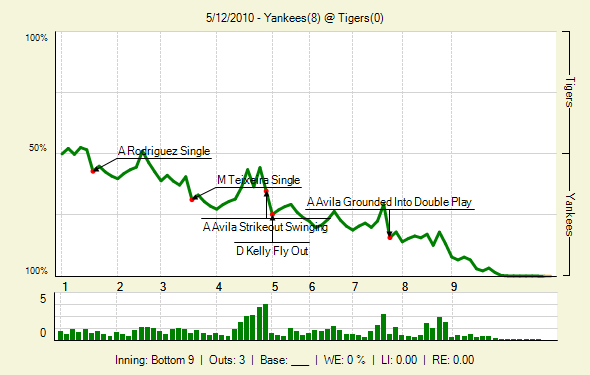 I could not, however, dirtbike down the boxscore.
Up Next
They keep saying that tomorrow's game will be rained out, but I've never trusted a weatherman before, and I don't plan to start now. Game's at 1, and it's CC vs. Verlander. In one way, I hope they get it in. In another, I'm going to the games on Friday and Sunday, and I'd rather see CC and Pettitte rather than Burnett and Mitre.