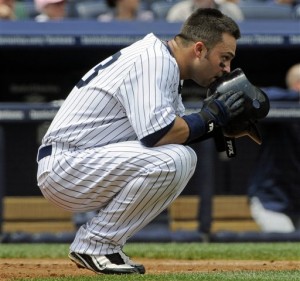 The Yankees broke out of their offense slumber on Friday night, and there was plenty of reasons to feel good about Saturday's game with CC Sabathia on the mound against one of the game's worst teams. The offense was there again, putting 11 runs on the board, but the pitching staff completely blew this one, especially the bullpen. This might have been the Yanks' worst loss of the season, but it feels like we've said that half a dozen times in the last two weeks.
What's This … A Rally?
The game was very much in the Yankees' favor early on, with Sabathia cruising and the offense pushing three runs across in the first three innings. The last place Indians wouldn't go quietly though, putting a three spot on the board in the top of 4th to tie things up. Despite the eight run outburst on Friday, the Yanks' are still trying to find some some consistency with the bats, so coughing up an early three run lead really stung.
Thankfully, the offense showed what made it the game's base last season. Kevin Russo singled to left-center but ended up on second when Austin Kearns muffed the play, and 11 pitches later the bases were loaded following walks to Brett Gardner and Derek Jeter. A fly ball to bring in a run would have sufficed, but Nick Swisher got greedy, battling back from 0-1 and 1-2 counts to draw a walk and force in a run. Reliever Aaron Laffey then plunked Mark Teixeira after getting ahead 0-2 to bring another run in, but the big hit didn't come until two batters later.
Alex Rodriguez swung through an 88 mph fastball for out number two, but the Yanks' hottest hitter came to the plate with a trio of ducks on the pond. Laffey started him off with three straight fastballs, all off the plate for balls. Cano was taking all the way as Laffey threw a slider over for a strike, but he jumped all over the next pitch and drove it to the opposite field for a two run double.  Cervelli, up for the second time in the inning, bounced a ball back through the middle for two more runs after Marcus Thames walked, putting the Yanks up by six.
It was the team's first sustained rally in who knows how long, probably going back to the 1st inning against Daisuke Matsuzaka 12 days ago. It was the first time the Yanks scored in the double digits since that game, so I feel good about my guess.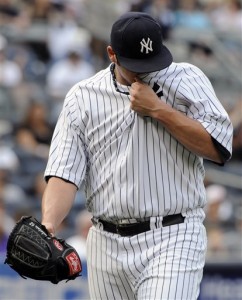 The Bullpen Of Doom
Entering the 7th inning, the Yankees had a still comfortable five run lead and Joe Girardi was probably thinking about which veteran to pull for some extra rest in the late innings. David Robertson started the frame, but left after just seven pitches with a minor back strain. Sergio Mitre inherited a 1-0 count and threw three wide ones to put two men on with one run already in. Damaso Marte did his job by getting pinch hitter Russell Branyan to fly out, but then Girardi brought in Joba Chamberlain.
Ever since he exploded onto the scene in 2007, we've all expected to see great things from Joba. More than two full years later, those expectations still haven't been met, and he's not much more than another guy with a great arm failing to deliver on his promise. He entered today's game with men on first and second, two outs, and a four run lead, and he yet he couldn't preserve it. Let's recap…
Mark Grudzielanek singled in a run.
Matt LaPorta walked on five pitches to load the bases.
Lou Marson doubles in two after being behind in the count 0-2.
Jason Donald doubles in two on a 0-1 count.
Trevor Crowe singles in a run on a 1-2 count.
Shin-Shoo Choo struck out to the end the inning.
Four hits and a walk scored six runs for the Indians, all with Joba on the mound and all with two outs. Three of the four hits, including the two doubles, came after Chamberlain got ahead of the hitter. His PA for the contest? How about -.701. This is the the third lead he's either blown or contributed to blowing in his last five outings.
Joba's been up and down all season, and given his performance in recent weeks, I can't see how the Yankees could trust him in the late innings of a close game right now. At the very least, they should perhaps move him down in the pecking order into some lower leverage spots, but I also hope they're seriously considering a demotion to Triple-A Scranton. You can't keep running him out there if he's going to keep blowing big leads, and you can't let him sit around and think his job is safe.
If nothing else, hopefully this outing shows people who are hung on velocity that it isn't everything. Joba was throwing 96-97 this afternoon, but it didn't do him any good.
The Good
Cano and Swisher continue to mash, mash, and mash some more. They combined to go 6-for-9 with four runs driven in and three runs scored. Add in Jeter and A-Rod, and those four batters combined to go 11-for-18 with eight runs driven in. Tex was the only one of the top five batters in the lineup without multiple hits (or a single hit, for that matter), though he did reach twice on a walk and the hit by pitch mentioned above. When the top of your lineup does that, you should win.
It was good to see Shelley Duncan play in the game, he'll always be a fave.
The Bad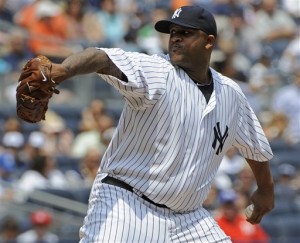 CC Sabathia wasn't good Saturday afternoon, continuing a trend that goes back four starts now. After cruising through the first three innings on just 31 pitches while allowing just a lone hit, Sabathia really had to labor over the next three frames, needing 82 pitches to record to the next nine outs. Five runs in six innings is pretty bad, and it's certainly not what we've come to expect from CC. He flirted with a 4.00 ERA until early August last year, so there's no cause for concern. But when you start your ace against the third worst team in baseball, you have to win that game. Period.
Brett Gardner getting picked off first in the 5th inning. Can't do that Brett, especially not with a righty on the mound. He now has one stolen base in the last 16 days. One! If he's not stealing bases, then what is he good for?
The Ugly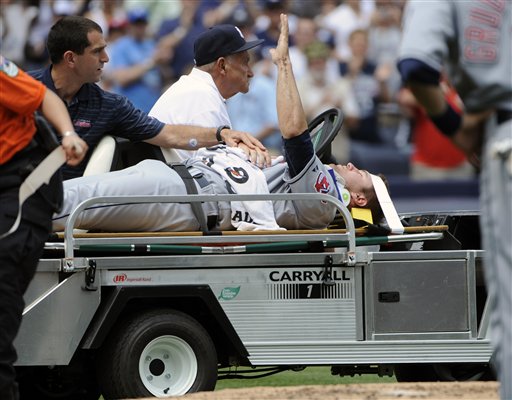 No, not the bullpen, this was much more serious. With men on first and second and one out in the 3rd, A-Rod took a first pitch changeup up in the zone from Indians' start David Huff, and smacked it right back up the middle. Huff couldn't get out of the way, and the ball hit him above the left ear and deflected all the way down the rightfield line. It was a double and a run for the Yanks, but no one seemed to care about that.
Huff laid on the mound faced down for a few minutes before being taken off the field on a stretcher. Updates after the game said that he never lost consciousness or experienced memory loss, and that the CT Scan came back negative. He was kept in the hospital for a few hours as a precaution, but has since been released. It sounds like Huff will be okay, but still, that was a really scary moment.
WPA Graph & Box Score
Brutal. Just brutal.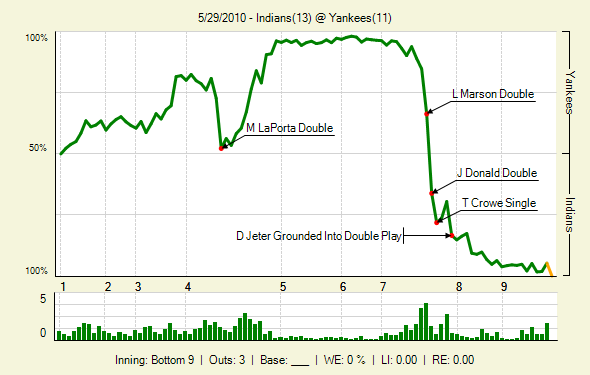 MLB.com has the traditional box score, FanGraphs the nontraditional box score.
Up Next
Another day game tomorrow, with A.J. Burnett taking on former Red Sox Justin Masterson. First pitch of the third game of this four game set is scheduled for 1:05pm ET. The Yanks need a big outing from their number two starter.