Two things happened for the first time of the season today: the Yankees were shutout, and Javy Vazquez pitched well. Like really really well, but we'll get into that in a bit. It's also the first time since the final series of the 2009 regular season that the Yanks have lost three consecutive games, and just the second time in 2010 that they scored fewer than three runs in a game. The good news is that they'll have a chance to correct all the wrongs later tonight in game two of the doubleheader.
Biggest Hit (by the Tigers): Damon sets it up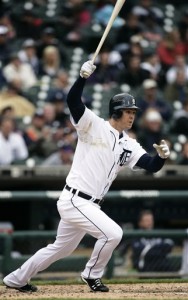 Considering that both starting pitchers came into this afternoon's game sporting seven-plus ERA's, it's only natural that we were scoreless into the 6th inning. BABIP king Austin Jackson led off the frame with a bonafide single to left-center on a hanging breaking ball, one of Vazquez's few mistakes. After feeding arch-nemesis Johnny Damon fastballs and changeups in his first two at-bats, the Yankee righthander broke out the curveball the third time around for a first pitch strike. The next pitch was actually pretty good, a changeup that faded down and away and probably would have been taken for a ball by most mere mortals, but Damon's inability to do anything wrong allowed him to hook the pitch into right.
No runs scored on that play, by Jackson cruised into third and set the Tigers up with men on the corners and zero outs in the inning. Teams have scored just about two runs in similar situations this year, which is exactly what Detroit pushed across after the series of ground balls found some holes. Damon's single improved his team's chances of winning by almost 13%, more than either of the two run scoring plays.
Biggest Out (by the Yanks): Take your pick, Ramiro Pena edition
Even though they were shutout, the Yankees were not without opportunities to score in this game. They loaded up the bases in the 2nd inning on two singles and a walk, but Pena fouled off a pair of low-90's heaters before harmlessly flying out to center on a third fastball to end the inning. The out decreased the Yanks' chances of winning by 7.6%.
Fast forward to the 7th inning, when the Yanks put themselves in a position to immediately answer Detroit's runs with some of their own. Randy Winn singled with one out to reach base for the third time of the game, but Pena again got beat by a fastball, this time grounding it to short for a basic and easily turned 6-4-3 double play. This one decreased the Yanks' chances of a win by 7.8%.
Not to pick on the young utility infielder, but his three at-bats combined for more than one-fifth of a loss. Tough day, but that's why he's a part-timer.
Good To Jav You Back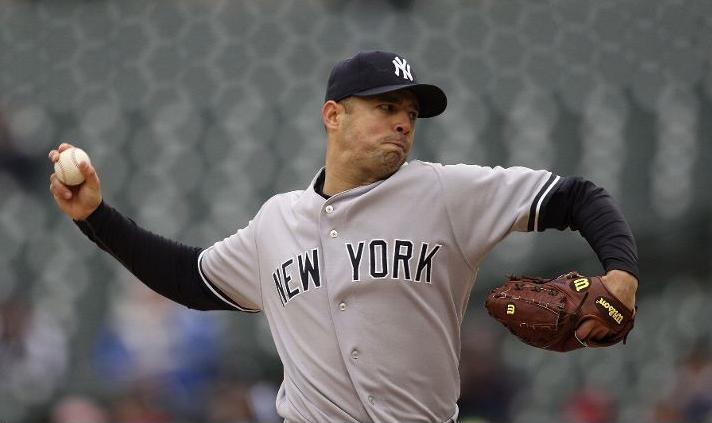 After five um, less than stellar starts, Vazquez was back at it today after nine days of rest and two intense bullpen sessions. Whatever he and Dave Eiland worked on during that time seemed to make a world of difference.
Even though his fastball again sat more in the upper-80's than the low-90's, Vazquez threw all of his pitches with what appeared to be much more confidence, and perhaps just as importantly, he worked at a very quick pace. There was no mindless walking around on the mound, no shaking off, Vazquez just got the ball and threw it. Exactly what he needed to do.
Somewhat wild in the first inning, Javy settled down beautifully and began hitting Jorge Posada's glove with all four pitches. After retiring 14 of the first 15 men he faced, Vazquez rather inexcusably walked Ramon Santiago and Gerald Laird with two outs in the 5th, though he rebounded after a visit from Eiland to strikeout Adam Everett on three pitches. Granted, Everett is basically an automatic out, but in his last few starts, that's a situation that Javy would have allowed to spiral out of control.
The final line includes seven innings, five hits (all singles), just the two walks, and seven strikeouts. Hitters swung and missed 16 times, an outstanding number, and Javy threw first pitch strikes to all but eight of the 27 men he faced. More than two-thirds of his pitches were strikes, and quite frankly this was the Javier Vazquez the Yankees acquired back in December. He was saddled with his fourth loss of the year, but he pretty damn good this game, and has something to build on. I hope he has his head up in the clubhouse.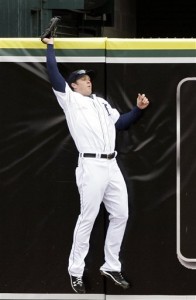 Things That Made Me Not Smile
Comerica was eating balls hit to the outfield alive this afternoon. Alex Rodriguez hit a ball on the screws and had it caught at the wall, ditto Derek Jeter. On a bright and sunny days, those two shots are in the people.
Joe Girardi had Boone Logan warming up in the 6th in case he needed him to come in and put the fire out. He's pretty much the last guy I'd want to see on the mound in that spot. Even the 8th inning, Logan was brought in to keep a winnable game close. He did the job, but sheesh. Roll of the dice.
Nick Swisher being unable to reach base after hitting the line drive off Rick Porcello to lead off the 7th. The replay showed that he ran hard out of the box, the bounce just went Detroit's. So it goes.
Kevin Russo pinch running for Posada in the 9th. If Greg Golson's not going to be used in that spot, then send him back to Scranton. Ridiculous.
Michael Kay singing Jay-Z in the booth. Just stop it, man.
Things That Made Me Smile
Swisher is really doing great a great job of hanging in against offspeed stuff this year. I dunno if that's because of the work he did with Kevin Long to quiet his stance or whatnot, but it's working. He stayed back well and solidly singled to center on a changeup in the 2nd.
Brandon Inge dropping Posada's foul pop up in the 4th. One pitch later, the ball's in the gap and Jorge's on second. They didn't score in the inning, obviously, but capitalizing on those mistakes is a good habit to get into.
Two two out walks for Winn plus the single later on. Good stuff. Too bad the offensive black hole was hitting behind him.
WPA Graph & Box Score
MLB.com has the box score, FanGraphs the nerdier stuff.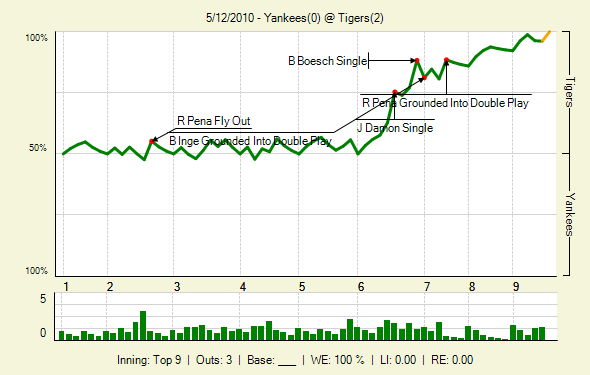 Up Next
Right back at it with game two of today's day-night doubleheader set to begin at 7:05pm ET. That one will feature Phil Hughes and Jeremy Bonderman. This is Bonderman's eighth year as a big leaguer, but he's less than four full years older than Hughes. Crazy, huh?