With the loss to Tampa Bay last night, the Yankees fell below .500 on their latest home stand, to 3-4. Thankfully, they still have three more pseudo home games to go. While they won't be playing in the friendly confines of Yankee Stadium, they'll still have a hometown crowd behind them this weekend as they face off with the Mets at Citi Field. A bout with the National League might be just what the Yanks need to rebound from a tough week at the Stadium.
The Teams
The New York Mets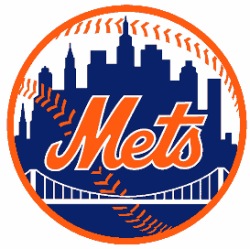 At 20-22, the Mets currently reside in the NL East's basement. That's not as bad as it sounds, of course, since there are more than a few terrible NL teams. Five teams have fewer wins than them, one has the same number, and two have just one more, so the season is far from lost for the Flushing faithful. They need a strong series just as much as the Yanks.
Batting stats (NL rank)
BA: .246 (13th)
OBP: .320 (14th)
SLG: .385 (12th)
wOBA: .315 (13th)
The Mets lineup features a number of poor bats, including right fielder Jeff Francoeur, who has cooled off considerably after a torrid start. Management finally wised up and jettisoned Mike Jacobs and replaced him with Ike Davis, and the difference has been tremendous. Jose Reyes has also turned in an underwhelming season so far.
Pitching stats (NL rank)
ERA: 3.97 (7th)
FIP: 4.37 (12th)
K/9: 7.70 (5th)
BB/9: 4.54 (16th)
WHIP: 1.49 (13th)
LOB%: 76.5 (4th)
That last number pretty much explains the rest of them. The Mets have a good team ERA, but that's because they've been able to strand the inordinate number of batters they've walked. This appears a bit odd, considering the Mets have the third lowest ground ball percentage in the league. Keeping the ball on the ground can help prevent base runners from advancing more than one station. Still, the Mets have fared well with men on base, and it has helped their run prevention unit considerably.
New York Yankees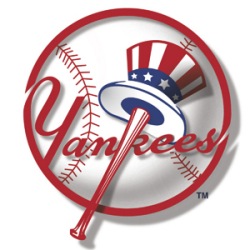 Even after the rough homestand the Yankees still own the second best record in the AL at 25-16. A few teams are close — Toronto has as many wins but two more losses — so the Yankees have to make a quick turnaround after a rough patch. They're still missing Jorge Posada, Nick Johnson, and Curtis Granderson, but will have Nick Swisher back for the weekend series.
Batting stats (AL rank)
BA: .279 (1st)
OBP: .365 (1st)
SLG: .453 (3rd)
wOBA: .364 (1st)
Even while missing a number of starters in recent weeks, the Yanks have only gone through one real dry spell with the bats. Otherwise they've hit the cover off the ball, as their AL ranks indicate. For what it's worth, and it's probably only worth something to die-hard statheads, the Yanks are obliterating the rest of the league in advanced metrics. Their wOBA lead is by .010, and they've produced 13 more wRAA than the next closest team.
Pitching stats (AL rank)
ERA: 3.93 (3rd)
FIP: 4.41 (9th)
K/9: 6.88 (7th)
BB/9: 3.35 (6th)
WHIP: 1.30 (3rd)
LOB%: 74.0 (4th)
Like the Mets, the Yankees have prevented a good number of runners from scoring, at least relative to the league. They have also done a good job of preventing hits on balls in play — their .280 BABIP ranks second lowest in the AL. Part of that low BABIP comes from a high groundball rate, 44.9 percent, which ranks fourth best in the AL. This is even better, because the Yanks have the highest HR/FB ratio in the bigs. Keeping that fly ball rate down, then, means fewer home runs.
Offensive Matchups
Backstop
The Yankees have again lost their starting catcher, Jorge Posada, to the 15-day DL. Posada actually missed last year's initial interleague series, that one with the Phillies, because of a DL stint. Francisco Cervelli was his replacement then, too, but he's hot hitting nearly as well as he's been this season. Part of that is an impossibly high .397 BABIP, a number that has fallen quite a bit in just the past few days. He's been a solid contributor at the plate, though, and while he's no Jorge, he's the best the Yankees could have expected from a backup.
2010 stats: .357/.432/.471
After signing a horde of backup catchers this winter, the Mets finally inked Rod Barajas to be their starter. He got off to a slow start, but has been a major contributor to the Mets since the end of April. In May he has five home runs and four doubles, giving the Mets plenty from a position that normally doesn't carry much power. His OBP might be in the dumps, but the rest of his line looks fine. Another plus: he has kept the ball in the air this year, a quality attribute for a guy who would otherwise probably ground into a ton of double plays.
2010 stats: .276/.306/.586
Corner infielders
The Yankees feature perhaps the heaviest hitting corner infield combination in the game. Alex Rodriguez has become his normal beastly self lately after a largely powerless April. In his first 126 PA he hit just two home runs, but in his next 52 PA he has hit four. His overall season line might look pedestrian for the three-time MVP, but he has put the slow start behind him and has absolutely murdered the ball in May. That includes a .333 batting average, .413 OBP, and .551 SLG. He has also played excellent defense at third base, a nice reversal from his statuesque performance in 2009. It looks like his surgically repaired hip is back to 100 percent.
2010 stats: .288/.371/.490
For some reason, Mark Teixeira has been unable to hit the ball well in April as a Yankee. He got off to a slow start in 2009 but more than made up for it from May through September, finishing second in the AL MVP voting. His start this year seems a bit worse, though it's really not. Since the calendar flipped to May he's been hitting much better. Even when he makes an out it looks like he's hitting it on a line. Like his corner infield partner, Teixeira has turned it on in May, hitting .295/.375/.538, which is much more like his real self than his horrendous April.
2010 stats: .214/.335/.396
If there's one thing that drives fans batty, it's the strikeout. A high strikeout hitter can be effective — in fact, some of the best hitters in the league strike out at rates far above average. Still, fans can see it as a sign of weakness, as if the hitter can't keep up with the pitcher. To that end David Wright has disappointed, as he's struck out in a career high 37.9 percent of his at-bats. His walk rate is up, though, as is his power. This has made Wright one of the Mets' biggest contributors. He took a seat on Wednesday because he'd struck out a bunch in his past few games, but came back Thursday night to go 1 for 4 with a double and no Ks.
2010 stats: .262/.376/.503
Since his call-up on April 19, Ike Davis has been something of a revelation for the Mets. He represents an enormous upgrade over Mike Jacobs, and has helped the Mets solidify their corner infield situation. He has recorded a hit in 21 of his 29 games, and is even drawing his share of walks. The power seems to be there, too, as he's hit four homers and seven doubles in his 116 PA. Oftentimes top prospects struggle upon hitting the bigs, but Davis has made a nearly seamless transition.
2010 stats: .289/.397/.485
Middle infield
Where the Mets have been strong with their corner infielders, they've been incredibly weak up the middle. Luis Castillo doesn't have the lowest wOBA among NL second basemen, but he's close. At .303 he ranks above Skip Schumaker of the Cardinals and Akinori Iwamura of the Pirates, but he's far away from being even average with the bat. His value lies mostly in his .341 OBP, which will have to suffice until his contract expires. His defense has also been right around league average, according to both UZR and DRS.
2010 stats: .256/.341/.299
Jose Reyes opened the season on the DL, but he made a quick return, playing in his first game on April 10. He has been anything but a solid contributor since then, though. His OBP peaked at .314 in late April and hasn't been over .300 since April 28. He also hasn't hit for much power. UZR pegs him as a tick below league average at short, and DRS has him a bit above average, so I'd guess he's right around average. He's too good a hitter to not break out at some point this season, though. If nothing's wrong, that is.
2010 stats: .216/.264/.284
While the Yankees' middle infield dominated in April, both Robinson Cano and Derek Jeter have slumped in May. Cano still ranks atop AL second baseman, along with Ty Wigginton, in wOBA with a .417 mark, but that has come down a bit in recent weeks. Once hitting over .400, Cano is down to .338 now, thanks to a .267/.338/.387 line in May. We've seen this before from Cano, and chances are he'll continue hitting at a brisk pace for the rest of the season. There will be streaks and slumps, but he's been nothing but a positive for the Yanks this year, as both UZR and DRS have him at a bit above average.
2010 stats: .338/.390/.588
In his second season back in the leadoff spot, Derek Jeter got off to a hot start. In fact, with a 3 for 4 performance on April 30 he brought his line up to .330/.354/.521. There was a bit of concern that he was swinging at the first pitch too much and not working the count, but with results like that it's tough to complain. In May, though, his luck ran out, and he is 18 for 84 on the month. He's walked a bit more, six times so far after walking three times in April. He's certainly changed his approach, working counts a bit more, and it has resulted in an eight-game hit streak.
2010 stats: .275/.319/.399
Outfield
Heading into the off-season the Mets had a tough situation in the outfield. Jeff Francoeur and Carlos Beltran were holdovers, but both had issues. Francoeur had dropped off a cliff after a strong start to his career, and Beltran battled knee problems throughout 2009. To shore up the unit they signed left fielder Jason Bay, in hopes that he could he could add some power to a slap-hitting offense. That hasn't happened so far, as Bay has just one home run on the season. It certainly re-raises the question of how Citi Field affects power for righties, but David Wright, the subject of criticism on that front last year, has hit eight homers this season. Bay's other numbers look good, and once the power comes he'll be a big contributor for the Mets.
2010 stats: .281/.371/.405
Late in the off-season, after they learned that Beltran would miss significant time, the Mets traded for Gary Matthews to help shore up center field. He's been as bad as advertised, but thankfully for the Mets someone else has stepped up. Angel Pagan broke out last season, hitting .306/.350/.487 while mostly filling in for Beltran. That was the most playing time he'd received in his then four-year career. He has kept up the production this year, and has been as good a Beltran replacement as the Mets could have asked for. He has even contributed with his speed, stealing 16 bases in 18 attempts.
2010 stats: .271/.344/.407
And finally, Jeff Francoeur. There's no doubt that Omar Minaya made a good move by trading Ryan Church last season, much as many of us mocked him for acquiring the undisciplined Francoeur. The move looked even better early this year, as Francoeur was hitting .327/.407/.612 through 13 games. Best of all, he'd walked eight times in that span. That was a short-lived trend, though, as Francoeur has hit .172/.216/.269 since April 19, walking just three times. He'll streak again and bring up those numbers, but he remains a disappointment. The change of scenery might have been good for him, but he almost certainly won't reach the ceiling the Braves envisioned when they selected him with the 23rd pick of the 2002 draft.
2010 stats: .225/.286/.387
For the Yankees, a shift in the outfield was necessary. Brian Cashman took care of that early in the off-season, trading for Curtis Granderson. He made a quick impression, hitting two home runs, including a game-winner, in the season opener against the Red Sox. After a hot couple of weeks Granderson entered a nasty slump, in which he hit .108/.250/.108 in 45 PA. That ended when he came up limping while rounding second in a game against the White Sox. He's been on the DL ever since, though it looks like he could get into a rehab game next week. The outfield, which has featured Randy Winn and Marcus Thames, could use him.
2010 stats: .225/.311/.375
One bright spot on the 2010 Yankees is their temporary center fielder and regular left fielder Brett Gardner. He started the season in a platoon with Marcus Thames, but he soon forced his way into the lineup every day. A 3 for 4 day against the Rangers in mid-April got him kickstarted, and since then he's hit .342/.412/.444 with two homers. He has also played excellent defense in center, tracking down almost anything hit in his area. He likely won't keep up his .400+ OBP for the season, but if the early goings are any indication he can be a solid contributor, even from a corner outfield spot.
2010 stats: .321/.399/.407
Only one regular remains in the Yankees outfield from their 2009 World Championship team. Nick Swisher has made a few adjustments to his approach in 2010, which has yielded early returns. He's walking much less, but he's making contact more, which has led to many more balls in play turning into hits. His current .291 average sits far, far above his .247 career mark. To this point he has essentially turned a number of walks into singles, as his OBP sits at .375, right around the .371 mark he was at last year. Swisher has also hit for plenty of power, including seven home runs. He sat out a few days with a sore biceps, but made his return last night.
2010 stats: .291/.375/.528
Pitching matchups
Hisanori Takahashi vs. Javy Vazquez
Takahashi made the move from NBP to the majors this off-season, signing, with the Mets. He has appeared in 15 games so far, all in relief. The results have been there, as he's allowed just nine runs in 26 innings. He has kept the ball in the park, allowing just one home run, despite allowing a 41 percent fly ball rate. He's racked up the strikeouts, 11.4 per nine, but has a nasty penchant for walking guys, 4.8 per nine. The Yanks, AL leaders in bases on balls, could certainly take advantage of that.
Vazquez got off to a rough start in his return to New York, but in his last two appearances he has looked more like the guy the Yankees traded for in December. he held the Tigers to just two runs in seven innings, striking out seven. He also picked up a win in his subsequent appearance, a four-pitch, one-out job against the Red Sox, a prelude to a walk-off ninth inning. Vazquez, who got his share of NL Cy Young votes last year, didn't fare too well against the Mets, allowing seven runs in 13.2 innigns. Home runs were the culprit, as he allowed three.
Mike Pelfrey vs. Phil Hughes
Years ago, Yanks and Mets fans jawed at each other over who was the better prospect, Phil Hughes or Mike Pelfrey. Baseball America answered that one, rating Hughes its No. 4 prospect in 2007. Since then both have had ups and downs, though for the most part 2010 has been on the upside for both.
The only downside to Pelfrey's season has been the shoulder trouble he's battled. Other than that, he's been pretty good, a 3.02 ERA to this point. May has been a bit rougher than April, but no pitcher will sustain the run he had that month. He was strong last time out against Atlanta, holding them to two runs in 7.2 innings. He has increased his strikeouts this year, no doubt aided by his splitter.
Hughes has been a knockout for the Yanks in his seven starts. The Red Sox roughed him up last time out, but even then he very nearly escaped with minimal damage. In 44 innings this year he has allowed just 28 hits, only three of which have left the park. He has struck out 42 to just 15 walks, and in his last four starts has walked only four batters while striking out 24.
Johan Santana vs. CC Sabathia
What better match-up for a Sunday Night game of the week? The two lefty aces will go head to head for the fifth time in their careers. The previous four came when Sabathia pitched for the Indians and Santana for the Twins. In those games Sabathia is 3-1, allowing eight runs in 28 innings, while Santana allowed 13 runs in 25 innings. Both pitchers have struggled at times this year, but the results have evened out. Santana has a 3.72 ERA in 55.2 innings, while Sabathia has a 3.43 ERA in 60.1 innings.
Meaningless prediction: Yanks lose tonight and take the next two.