Three games at Fenway, three blowouts. The Yanks, thankfully, found themselves on the winning end of two, leaving the Red Sox another game back. It doesn't matter much at this point in the season, but it's encouraging to be ahead early. The 24-6 advantage in the series' first two games certainly made the 9-3 loss easier to handle.
Biggest Blunder: Thames can't track it down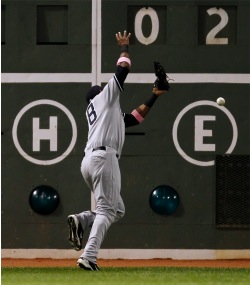 Marcus Thames is a DH, and he reminds us of that nearly every time he plays left field. Last the Red Sox hit plenty of balls his way, including one that got them started. With J.D. Drew standing on second and two outs in the second, Jeremy Hermida took a 2-1 fastball the other way. Marcus Thames couldn't handle it, and it dropped in for a two-base error. Burnett got out of it by throwing three straight curveballs to Darnell McDonals, and it didn't seem like much to worry about at the time.
This didn't feel like the tuning point of the game, though. It was just one run, and Burnett did get the next hitter. Maybe it was the biggest statistical swing, but the biggest emotional swing clearly came an inning later. First with the Ortiz ground-rule double, then with the Beltre double. It hurts to give up anything to David Ortiz these days, especially when it really gets the Sox going.
Biggest Hit: A-Rod ties Frank Robinson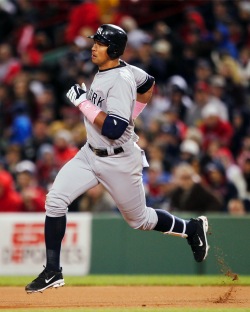 The only blemishes on Jon Lester's performance came in the fourth, when his team already had a 6-0 lead. Nick Swisher led off the inning with a home run, and then two batters later Alex Rodriguez hit his third of the season. Lester was pretty sharp the rest of the way, allowing just two hits, walking a guy, and hitting another. The Yanks put up a fight at times, but they were short lived.
A-Rod's home run was, as you surely heard on the broadcast or the highlights, was his 586th, tying him with Frank Robinson on the all-time list. That was just his third of the season, giving him one every 43 PA. That pace should start to pick up. He has a few more to hit before he reaches No. 6, Sammy Sosa, at 609. If he picks up the pace a bit he could accomplish that this year.
Umpiring bad, but no excuse
Arguing with an umpire over balls and strikes is a fool's errand, but I don't blame Joe Girardi for registering his complaints with Tim McClelland. His strike zone extended as low as the shins at times, and that pitch to Thames was clearly outside. I'm sure that Girardi didn't get tossed over one bad call, though. I'm sure he was miffed at how McClelland's zone affected his starter.
A poor strike zone, though, doesn't excuse a performance like Burnett's. The Red Sox seemed to have a plan, hitting almost everything to the left side. Of the 26 batters Burnett faced, 19 put balls in play, and nine hit safely. Another was the Thames error. The three walks didn't help either. All three of those batters came around to score.
As well as Burnett has pitched this year, a start like this was inevitable. If you choose to read the outlets that publish them, you'll likely see an article or two about Burnett's poor performances at Fenway Park. It's poor timing, for sure. The Yanks had a chance at a sweep and set back the Red Sox even further. But as long as he reverts to his dominant form next start it won't matter much in the long run.
Annoyances
Two out runs. Six of the Red Sox nine runs came across with two outs on the board. Yes, two-out runs will happen. They're part of the game. That doesn't make them any less annoying.
Ortiz's ground rule double. I know I mentioned it before. It was that annoying.
Joys
A-Rod and Swish moving up on the all-time HR list. (Swisher now has 140, tied with Joe Crede, Pinky Higgins, Terry Pendleton, and Adam LaRoche for 464th all-time).
Romulo Sanchez enforcing. He took his job seriously, retiring 11 of the 13 Red Sox he faced, striking out three. Even if the Yanks send him back tomorrow in exchange for a fresh reliever, he'll get another shot this year.
WPA Graph & Box Score
This one's not so bad if you ignore everything from 3 on.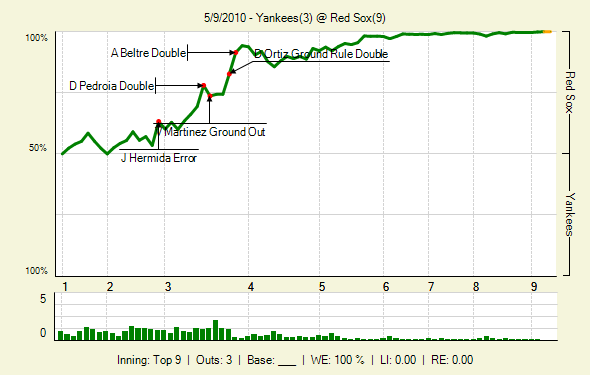 Up Next
The Yanks fly to Detroit to meet up with some old friends for the next four days. The Sergio Mitre Experience plays the warm-up set tomorrow night against Dontrelle Willis.