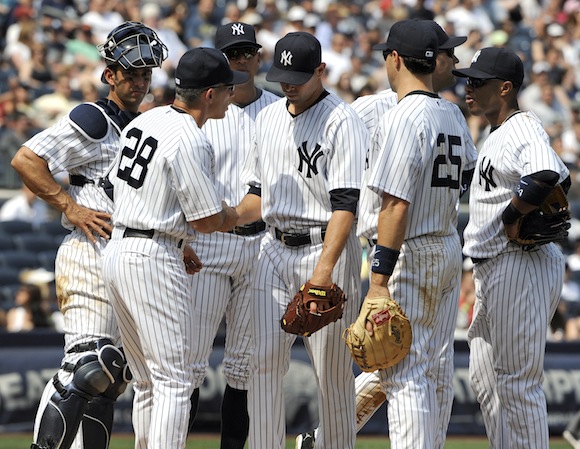 Updated (4:54 p.m.): With the luxury of an off-day this Thursday, the Yankees have chosen to push back Javier Vazquez's next outing. Instead of pitching on Friday in Boston, the beleaguered starter will take the ball on Monday in Detroit (and then again on Saturday, May 15 at home against the Twins). "We'll give him a couple days to catch his breath, Joe Girardi said to the beat writers.
Vazquez, unfairly blamed by many Yankee fans for the 2004 ALCS collapse, has had a rough reintroduction to the Bronx. He's 1-3 with a 9.78 ERA, and in five starts, he's thrown just 23 innings. He hasn't pitched out of the fourth inning since April 20, and he retired just nine of the 19 White Sox he faced on Saturday. Instead of throwing him to the Fenway wolves, the Yankees will have Vazquez throw a side session later this week before he can pitch with the luxury of a vast Comerica Park outfield behind him.
After Saturday's outing, Frankie Piliere, a former scout and current FanHouse author, speculated that Vazquez's troubles were mechanic in nature, and the team seems to agree with this assessment. "I believe he's healthy," Girardi said.
According to reports from the clubhouse, Vazquez asked for the ball on Friday, but the Yankees wanted him to take a few extra days. When asked if Javy's problems are mental or physical, Joe Girardi said, "It becomes both." While I would prefer to see the team skip him in Boston, I have to wonder then if this obvious lack of faith will impact that mental side of the game.
Meanwhile, a closer examination of the numbers — albeit in a small sample — raise some eyebrows. The Tigers have emerged as one of the league's top offensive teams. Detroit is hitting .281/.362/.432 overall and .282/.372/.426 at home. Boston is hitting .260/.333/.438 overall but just .246/.318/.415 at Fenway. While the Red Sox have historically been good fly-ball hitters at home, early data this year indicates that Detroit could pose more of a problem for Javy than the Red Sox. If this move is about mental composure, the Yanks could see this backfire. If it is about getting Javy's mechanics back in line, they can use the off day to have him throw an extended bullpen session to work out the kinks.
Girardi, meanwhile, urged everyone to look past the team's opponents. "Everybody's going to think it's the Red Sox," he said. "At some point you've got to do something a little bit different."
As an added bonus, though, by pushing Vazquez back a few days, the Yankees will also give Andy Pettitte an extra day off. He'll pitch on Tuesday in Detroit instead of Monday, and Phil Hughes, CC Sabathia and A.J. Burnett will match up with Josh Beckett, Clay Buchholz and Jon Lester in Boston.