Even though teams have been selecting players for roughly 11 hours or so over the past two days, the 2010 MLB Draft is only 60% complete. The remaining 40% will be polished off today, but the Yankees and scouting director Damon Oppenheimer have made their intentions very clear: go big or go home. We're used to seeing Oppenheimer mitigate his risky picks with high probability and safe college players in the middle rounds, but the proverbial dice have been rolled this year. Those middle rounds have instead been filled by very high risk, very high reward players that fill organizational holes created through trades, graduation, and attrition.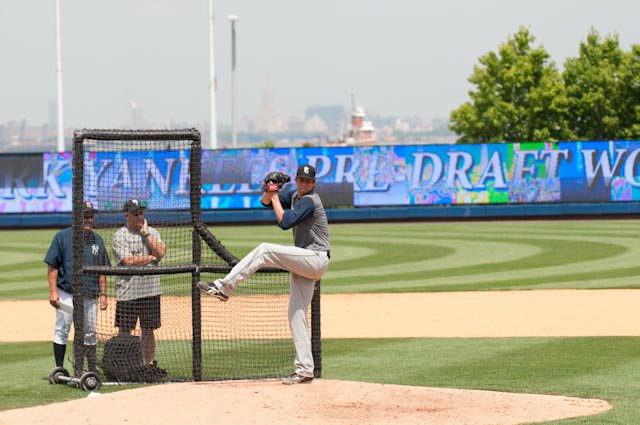 Give Me Upside Or Give Me Death
As outsiders, it's easy to say the Yanks should go after guys with significant ceilings as much as much as possible. We're not the ones dealing with the budget nor are our jobs on the line. The farm system is sorely lacking up-the-middle athletes with upside, so Oppenheimer deviated from his usual college-heavy approach and really focused on athleticism and future projection.
This all starts at the top with the Cito Culver, the highly criticized first round pick. "I had basically over 100 years of scouting experience go in and see this kid," said Oppenheimer. "We were ahead of the game because we knew so much about him." A switch hitter that the Yankees project to be an above average hitter down the road, Culver can not only stay at short long-term, but field the position at an above average clip.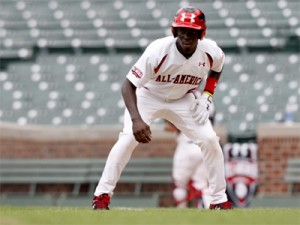 The pursuit of upside certainly didn't end there, as prep centerfielders Angelo Gumbs (2nd round) and Mason Williams (4th) basically kicked off the Yanks' selections in day two. Gumbs has true five-tool potential, with blazing speed that works both ways and bat speed that allows him to catch up to the very best fastballs. Only 17-years-old, he's a project considering his limited experience against quality offspeed offerings, but the potential return is enormous. The only thing Williams lacks is power, though he produces consistent hard contact with a sweet swing while providing above average defense in the middle outfield spot. He was expected to be drafted in the top three rounds, but last until the fourth.
Despite all of the potential offered by those three I just mentioned, centerfielder Kevin Jordan (19) just might be the best prospect they draft this year. Brian's son, Kevin started the year as one of the best high school players in the country before missing time with a flu-like illness that cost him 15 lbs. off his already lean 6-foot frame. The lefty swinger is an explosive athlete that shows very good raw ability on both sides of the ball with the innate ability to center the ball on the barrel of the bat. Jordan offers the same tremendous ceiling as Gumbs, though he's further in the process of turning his physical gifts into baseball skills.
Jake Anderson (7) and Tyler Austin (13) are raw defensively in the outfield and behind the plate, respectively, but feature refined offensive approaches for kids their age. If just one of these six players makes good on their promise, they Yanks will have had themselves a successful draft. They're all teenagers out of high school, and in fact 11 of the 30 players Oppenheimer has selected this year come from the prep ranks. He selected just a dozen high schoolers last year, and never more than 14 in his five previous drafts as scouting director. He should fly right by that total later today.
You Can't Teach Arm Strength
As much as the Yanks' system lacks position players with considerable upside, they might be hurting for pitchers with premium velocity even more. That problem has been addressed in a big through the first 30 rounds of the draft, with college arms surprisingly leading the way.
JuCo righty Tommy Kahnle (5), one of Keith Law's top 100 draft prospects (sub. req'd), impressed in the Cape Cod League last summer by touching 97 with his fastball and teaching his changeup to stop in mid-air. College closers Dan Burawa (St. John's, 14) and Kevin Jacob (Georgia Tech, 18) have both hit 98 with life in the past while backing up their gas with a put-away offspeed offering, so they should jump right on the fast track. Jacob will be especially tough with his deceptive delivery. Prep right Taylor Morton (9) sits comfortably in the 92-94 range and has shown more in the past, but his arm strength takes a back seat to his changeup and pitchability.
And after all that, the best pure arm the Yanks have drafted may belong to Loyola Marymount righty Martin Viramontes (27), who peaks at 96 with a split-change hybrid and a power breaking ball. Standing 6-foot-5, 190 lbs., and still just 20-years-old, there's still room and time for him to fill out and add even more velocity. Nearly a third of the 17 pitchers Oppenheimer has taken so far have run their fastball up to 96 in the past, which is a rather staggering number.
Signability
Always on the look out for bargains, the Yanks drafted several promising players lower than where their talent warranted. Williams, Morton, Taylor, and Viramontes lead that group, but they're not the only ones. Prep righty Gabe Encinas (6) has a strong commitment to Loyola Marymount, but a high six figure offer could be enough to bring his supreme pitchability into the organization. Tulane third baseman Rob Segedin (3) has added leverage as a draft eligible sophomore, and prep righty Josh Dezse (28) has scholarship offers from several Big Ten programs in hand. Canadian lefty Evan Rutckyj (16) is off in his own unique signability world because he yet to commit to a school, but the talent is undeniable.
Keep in mind that both Jacob and Viramontes are Scott Boras clients, and those guys never come cheap.
What's Left?
Oppenheimer and the Yankees appear to have achieved their goal of adding upside and power arms to the farm system, though they still have 20 more rounds to play with. As ridiculous as it sounds, they could stand to add another "veteran" (i.e. college) catcher to Shane Brown (23) just to help take the load off all the young catchers in the lower levels of the system that do not yet have a full season of squatting behind the plate to their credit. A few more college starters to soak up innings would be welcome as well, but beyond that they should just keep gunning for athleticism, upside, and arm strength.
Once the draft concludes later today, the Yanks will shift their focus to signing as many of these players as possible. Teams will traditionally sign about 30-35 of their picks, so the Yanks are going to end up letting some talent walk away after the August 16th signing deadline. The key is signing the right players, the guys ready for the rigors of pro ball and with the potential to become great. They may not have landed the big sexy names everyone hopes for, but Oppenheimer & Co. very shrewdly put together the making of a great haul highlighted by high ceilings.