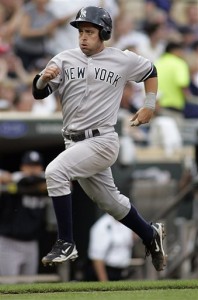 When the season started, the stock line said the Yankees' farm system had thinned out considerably over the last year because of trades, graduation, and general attrition. It was certainly true, but I think it was still a shock to everyone to see just how weak the rosters of the four full season affiliates were once the season started and DotF returned. There's certainly some good players on each of the teams, but there's a lot more filler and a lot fewer gotta-see-how-they-did names.
That's the price a team pays to not just put together a World Championship club, but to sustain one. Free agent signings prior to the 2009 season robbed the Yanks of three high draft picks, and trades this past winter took away several young and talented players. The good news is that the Yanks do still have some impact prospects, though most of them are further down the ladder. Of my top eight prospects, just two are above A-ball.
This pre-draft list is more of a status update than a re-ranking, just because the season is only seven or eight weeks old and not much can change in that time. Most of the movement at the top of the list is a result of players showing us exactly what we wanted to see coming into the year rather than guys disappointing and taking a step back. Only two players from my preseason top 30 list are ineligible for this one: Frankie Cervelli because he's eclipsed the 130 at-bat rookie limit, and Jamie Hoffmann because he was returned to the Dodgers at the end of the Spring Training.
The Yanks simply don't have the depth that they once did, so the bottom third of the list consists of some players coming back from injury and others who project to be little more than marginal big leaguers. Don't get too caught up in the exact placement, many of these guys are interchangeable. If you think the #29 prospect is better than the #22 prospect, you won't get much of an argument. There's just not much of a difference.
The level listed is where the kid is currently playing, but everything else is self-explanatory.
Jesus Montero, C, AAA: no, the numbers are not where we'd like them to be (.293 wOBA), but I'm not going to dock him for struggling during his first two months in Triple-A as a 20-year-old
Austin Romine, C, AA: he just keeps on getting better and better each day … like most Thunder players, he's performed much better on the road (.380-.418-.576) than at Waterfront Park (.247-.326-.351)
Slade Heathcott, CF, A-: finally promoted to a full season league this past Wednesday, he's the system's best combination of athleticism and baseball ability
Jose Ramirez, RHSP, A-: handling his first assignment to a full season league with aplomb … 55-13 K/BB ratio and 47 hits allowed in 56 IP, but the biggest number of all is the zero homers allowed
Manny Banuelos, LHSP, injured: has yet to pitch this year because of an appendectomy

Andrew Brackman, RHSP, A+: he's gotten better as he's gotten further away from Tommy John surgery … after 6.4 BB/9 last season, he's cut that down to 1.3 this year
J.R. Murphy, C, A-: like Heathcott, he was a late add to a full season league, but there's a case to be made that he's the best pure hitter in the system after Montero
Graham Stoneburner, RHSP, A+: dominated Low-A hitters just like he was supposed to … I was high on him out of the draft last year, and so far he's making me look smart
Zach McAllister, RHSP, AAA: solid but unspectacular during his first taste of Triple-A … the strikeouts are down (just 5.8 K/9), ditto the groundballs (40.7%, down about 10% from his career mark)
Hector Noesi, RHSP, AA: seems to get better each time out … you gotta love the 61-9 K/BB ratio in 55 IP
David Adams, 2B, injured: completely destroyed the Eastern League (.392 wOBA) before suffering an ankle injury trying to break up a double play
Mark Melancon, RHRP, AAA: we've pretty much said everything that needs to be said over the last few years, just needs a chance
Adam Warren, RHSP, A+: rock solid but I'm kinda surprised he's still in Tampa … the 6.7 K/9 is low, but the 58.7 GB% is through the roof
Corban Joseph, 2B, A+: we know he can hit, but we're still not sure what else he has to offer
Kelvin DeLeon, OF, ExST: will report to one of the short season leagues later this month
Bryan Mitchell, RHSP, ExST: ditto DeLeon's comment
Ivan Nova, RHSP, AAA: got his first taste of the big leagues last month … nice piece of inventory to have stashed away at Triple-A
Brandon Laird, 3B/1B, AA: simply annihilating the Eastern League (.381 wOBA), but he's going to have to learn to play an outfield corner to be anything more than trade bait for the Yanks
Bradley Suttle, 3B, A+: his bat has been disappointing (.291 wOBA) after missing all of 2009 with a pair of shoulder surgeries, but let's give him the rest of the season before passing judgment
David Phelps, RHSP, AA: the 440th overall pick in the 2008 continues to surprise … just 59 baserunners allowed in 63.1 IP this year
Jeremy Bleich, LHSP, injured: going to be down for a while after having surgery to repair a torn labrum … has a 86-62 K/BB ratio in 106.1 IP at Double-A over the last two seasons
Kevin Russo, UTIL, MLB: I'm sure he's much happier riding the bench in the big leagues than he was playing every day in Triple-A
Romulo Sanchez, RHRP, AAA: the walks are definitely too high at 5.0 BB/9, but he can miss bats and provide length out of the bullpen, and there's value in that
D.J. Mitchell, RHSP, AA: Double-A hasn't been kind to him, but he still has time to improve the 6.4 K/9, 4.5 BB/9, and 10.5 H/9
Caleb Cotham, RHSP, injured: dealing with yet another knee injury, so you have to start worrying about it becoming a chronic problem for the power pitcher
Greg Golson, OF, AAA: fast, great defense, can't hit to save his life … an outfield version of Ramiro Pena
Dan Brewer, OF, AA: he's not hitting for average (.239) or getting on base (.312) like we've come to expect, but he's on pace for 46 steals, more than double his career high of 22
Dellin Betances, RHSP, injured: supposedly he'll be back with one of the affiliated teams any day now
Chad Huffman, 1B/OF, AAA: his track record suggests on-base skills (career .382 OBP) and decent power (career .182 ISO), so he has value off the bench or as the righty half of a platoon
Wilkin DeLaRosa, LHRP, AA: his progress has stalled since his breakout 2008 season, but he's still a guy to watch because he's lefthanded and throws pretty hard
Bleich is the big fall-off because of his very serious injury, but overall the top three is very good. The next tier is solid but not particularly deep, and after that you have a lot of up-and-down pieces that are probably more valuable to the Yankees as trade bait than on the field.  I'll revisit this list soon after the August 16th signing deadline (the 15th is on a Sunday, so they pushed it back a day) to incorporate all the "new hires," if you will.